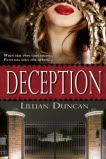 Deception: As children and identical twins, they played the game of Deception. Now, it's not a game. It's a matter of life and death.
Before we talk with today's author, I want to announce that the winner of the signed copy of
Firethorn
, by Ronie Kendig, is:
judyjohn2004@ . . .
Congratulations! I'll contact you today for your snail mail address, and we'll get your book to you right away.
I encourage readers to keep commenting and/or subscribe at right (above my list of books) in order to participate in future book give-aways!
Now let's revisit novelist
Lillian Duncan
, author of
Deception
(HarbourLight Books, December 2011). Lillian, please tell us five random things we might not know about you.
--I love animals. I have four parrots and two dogs and would have more if I lived in the country.
--My bird whispers good morning to me every morning as I pass his cage.
--I am fluent in American Sign Language.
--I've been to 48 out of 50 states, many different countries, and three continents.
--I wish I were taller.
Please tell us a bit more about the plot of Deception.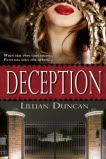 Deception is the story of Patti who is estranged from her twin sister. When she gets a phone call from a niece she knows nothing about, she begins a journey to find her sister. On the journey, she must accept her share of the responsibility for why she has no relationship with her sister.
She assumes her sister is missing because of her usual irresponsible antics but the more she searches for her the more she comes to understand that her sister is in great danger. The authorities urge her to step back and let them do their job but her love for her sister knows no limits and she refuses.
Twins are supposed to have an unbreakable bond, but Patti and Jamie have serious "relationship issues." Patti hasn't seen Jamie since her twin ruined her upcoming nuptials years before. When a niece she knows nothing about calls, Patti must unravel the yarn of Jamie's life and her disappearance.
Detective Carter Caldwell takes his job seriously, and it's his job to keep Patti and her adorable niece safe. But Patti is determined to help find her sister. Each step brings her closer to the truth, but pulls her further into a web of danger and deception.
They must find the courage and faith to continue the search for her sister. Her journey will take her down a road of deception where they will have to fight for her life and the lives of countless Americans.
What is it about Patti that will make your readers care about her?
Her love for her sister is so strong, she refuses to give up her quest to find her.
Complete this sentence: If I had known 20 years ago what I know today, I would have …
... stuck to my diet; gone back to church sooner; moved back home; and started writing.
What is the last book you read that you would recommend?
I'm reading
Messages
by Jon Michael Hileman and even though I'm not finished I would recommend it. I'm loving the story and I think most people who like suspense will love this story.
What are you working on now?
I'm working on a nonfiction project entitled
Smarten Up Your Kid
. It's a book with strategies on how to improve children's language skills which in turn will help them be better students. To learn more go to: www.speechtherapyexplained.weebly.com
Where else can readers find you online?
www.lillianduncan.net
www.lillianduncan.wordpress.com
Twitter: @LillianDuncan
The book can be found in fine bookstores and can be purchased online via these buttons:
CBD.com
Finally, what question would you like to ask my readers?
How important is it for the books you read to have a happy ending? Can you enjoy and recommend a book if it doesn't have a happy ending.
Thank you, Lillian, for visiting with us and telling us about your novel.
Readers, Lillian has offered to give a signed copy of her book to the winner of our drawing on Monday, February 6.
To enter, leave a comment below in answer to Lillian's question, above. "Please enter me" won't get you entered.
Leave your email address, in case you win, like so: trish[at]trishperry[dot]com.
Be sure to check out my post about
Jean C. Gordon
, below. Leave an appropriate comment at the bottom of the post to enter the drawing for a signed copy of her book.
And I'd love it if you'd connect with me on Facebook. Just click on my name at the right of today's post.
Annoying legal disclaimer: drawings void where prohibited; open only to U.S. residents; the odds of winning depend upon the number of participants. See full disclaimer
HERE
.