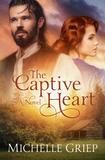 A proper English governess flees London for the Colonies, but when her employer never arrives to make good on his promise, she must settle for an offer of marriage to a man she's never met—one who is rumored to be a murderer.
Before we meet today's featured author, I want to announce that the winner of the free ecopy of
The Broken Trail
, by Christa MacDonald, is:
ahenderson312@...
Congratulations! We'll get your book right out to you.
I encourage readers to keep commenting and/or subscribe at right (above my list of books) in order to participate in future book give-aways! Subscribers are entered a second time when they comment.
And now let's revisit with novelist
Michelle Griep
, author of the historical romantic suspense novel,
The Captive Heart
(Shiloh Run, October 2016).
Michelle Griep's been writing since she first discovered blank wall space and Crayolas. She seeks to glorify God in all that she writes—except for that graffiti phase she went through as a teenager.
She resides in the frozen tundra of Minnesota, where she teaches history and writing classes for a local high school co-op. An Anglophile at heart, she runs away to England every chance she gets, under the guise of research. Really, though, she's eating excessive amounts of scones while rambling around a castle.
She is the author of
The Captive Heart, Brentwood's Ward, A Heart Deceived, Undercurrent
and
Gallimore,
which are all historicals. But she did veer off the path to pen a cozy mystery,
Out of the Frying Pan.
Please tell us three random things we might not know about you.
-- I hate fruit. No, really. Not even strawberries tempt me. It's a texture thing.
-- Rollerblading is my exercise of choice.
-- Boxers (as in the canine variety, not Fruit of the Loom) are my favorite pets.
Now, why did I immediately picture underwear, not dogs,when you first said that? I appreciate the clarification.
Please tell us a bit more about the plot of The Captive Heart.
On the run from a cruel British aristocratic employer, Eleanor Morgan escapes to America, the land of the free. But freedom is hard to come by as an indentured servant, and impossible when she's forced into an even harsher contract—marriage to a man she's never met.
Backwoodsman Samuel Heath doesn't care what others think of him—but his young daughter's upbringing matters very much. The life of a trapper in the Carolina backcountry is no life for a small girl, but neither is abandoning his child to another family. He decides it's time to marry again, but that proves to be an impossible task. Who wants to wed a murderer?
Both Samuel and Eleanor are survivors, facing down the threat of war, betrayal, and divided loyalties that could cost them everything, but this time they must face their biggest challenge ever . . . Love.
What is it about Eleanor that will make your readers care about her?
Sometimes life isn't fair. Other times it's downright harsh. Everyone struggles with issues that are impossible to overcome. Drawing on God's strength for courage, Eleanor faces her trials head on—and she's got many. She fails frequently, especially when she tries to do things on her own, but for the sake of the little girl that's in her care, she keeps trying.
If you were the casting director for the film version of your novel, who would play your lead roles?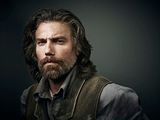 Anson Mount is definitely my hero Samuel Heath.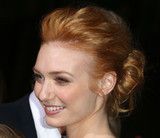 Eleanor Tomlinson would make a great Eleanor Morgan.
Love her! Poldark is one of my favorite shows.
Let's fantasize that your publisher is sending you to explore the setting of a new novel. Where are they sending you? Why that setting?
I'm going to Ironbridge in England. One word for the place: enchanted. Set on the ridges of the Severn Valley River Gorge, this little town is unbelievably picturesque and loaded with history, most notably the birthplace of the industrial revolution. I'm itching to write a story set there, and what intrigues me most is the little toll house at the end of the bridge.
Ah, you do tempt me. My Mom is British (war bride), and I have yet to get over there. You make it sound so beautiful.
What is the last novel you read that you would recommend?
The Pursuit of Tamsen Littlejohn
by Lori Benton. I'm always behind on my reading, so this isn't a new release, but it is one sweet read. I love the history and I especially love the relationship between the main characters. Lori Benton pulls of tension between the hero and heroine like none other.
What are you working on now?
I'm working on the first book of a series of 3 entitled Once Upon a Dickens Christmas series. Set in merry ole Victorian England, each story revolves around a "second-chance coin." Here's a blurb:
On a stormy night 2,000 years ago, a baby was born and a coin was forged—both the bearers of a second chance. The God-man returned to heaven, but the coin yet roams the earth, passing from hand to hand, hope to hope.
And hope is a precious commodity for Benjamin Lane. Imprisoned unjustly, he wants nothing more than freedom and a second chance to claim the woman he loves—but how can Clara Chapman possibly believe in the man who stole her family's fortune and abandoned her at the altar? Brought together under mysterious circumstances for the Twelve Days of Christmas, Clara and Ben discover that what they've been striving for isn't what ultimately matters . . . and what matters most is love.
Where else can readers find you online?
If you'd like to keep up with my escapades, find me at
www.michellegriep.com
or
www.writerofftheleash.blogspot.com
or stalk me on Facebook, Twitter, or Pinterest.
The book can be purchased online via the following buttons:
CBD
Finally, what question would you like to ask my readers?
Personally, my favorite era to read is Regency. Which period of history do you love most to read about?
Thanks, Michelle, for telling us about your novel. Readers, Michelle has offered to give a signed copy of her book to the winner of our drawing on Monday, October 31.
To enter, leave a comment below in answer to Michelle's question, above. "Please enter me" won't get you entered.
The drawing is done by email, so leave your email address, like so: trish[at]trishperry[dot]com.
Also, I'd love it if you'd connect with me on Facebook. Just click on my name at the right of today's post.
Annoying legal disclaimer: drawings void where prohibited; open only to U.S. residents; the odds of winning depend upon the number of participants. See full disclaimer, as well as my Disclosure of Material Connection
HERE

.