Can a once-bad boy convince the grieving widow of a war hero that he can be the best husband for her and best father for her twins.
Before we visit today's author, I want to announce that the winner of the signed copy of
Chapel Springs Revival
, by Jane Kirkpatrick, is:
saubleb@ . . .
Congratulations! I'll email you today to get your mailing address, and we'll get your books to you right away.
I encourage readers to keep commenting and/or subscribe at right (above my list of books) in order to participate in future book give-aways! Subscribers are entered a second time when they comment.
And now let's revisit with novelist
Carolyne Aarsen
, author of
Her Montana Twins
(Harlequin Love Inspired, August 2014).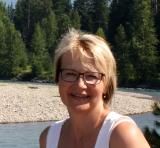 Raised in the city, Carolyne moved to the country to follow her farmer husband. As his jobs changed so did her own resume. Wife, gardener, mother, chaser of cows, rider of horses, keeper of the accounts, foster mother and then, writer. Her life has been blessed and challenged by her four children, numerous foster children and, lately, grandchildren.
Her faith has been the constant bedrock on which she and her husband leaned through the tears and laughter and disappointments of their lives. It is this faith that she hopes shines through all the stories she tells.
Please tell us three random things we might not know about you.
-- I won first place in a moose calling contest!
-- I overpurchase craft items whenever I start a new craft. So there's an abundance of embroidery floss, wool, quilting fabric, doll patterns, card-making supplies, scrapbooking stuff for my granddaughters to craft with and my kids to get rid of when I die.
-- Sometimes my work means staring out the window and watching the leaves blow in the wind.
Please tell us a bit more about the plot of Her Montana Twins.
Raising twins on her own hasn't been easy for widowed mom Hannah Douglas. But she's determined to see her family succeed. Still, there are times she wishes for someone to lean on. To her surprise, Brody Harcourt, the town's favorite firefighter and one-time bad boy, is always there when she needs him. But Hannah's not sure she's willing to take another chance, especially with someone whose jobs puts him in harm's way.
For his part, Brody isn't sure he can step into the shoes of Hannah's first husband, a war hero. Can they overcome their own doubts to make their own family?
What is it about Hannah and Brody that will make your readers care about them?
Hannah is a single mother of twins, trying to make it on her own and get past the death of her soldier husband. She's determined and strong, yet, when it comes to her children, vulnerable.
Brody is a hero in his own right and is attracted to Hannah and her adorable twins, but isn't sure he wants to fight the fire of an old flame, Hannah's first husband.
If you were the casting director for the film version of your novel, who would play your lead roles?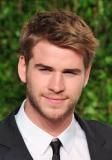 I always pictured Liam Hemsworth as my hero firefighter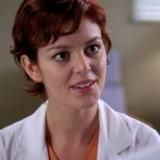 and Norah Zehetner (the late Dr. Reed from
Grey's Anatomy
) as Hannah Douglas.
If you could set your next novel absolutely anywhere you'd like, where would you set it? And during what time period? Why?
Up here, in my farming community because I know it so well. The rhythms of the seasons and the characters. It would be a contemporary novel because I love my modern conveniences and would like to grant my character the same.
What is the last novel you read that you would recommend?
The False Prince
, a young adult faux history story by Jennifer A. Nielson. Loved it. Great characters, vibrant writing and engaging storytelling.
What are you working on now?
I'm finishing the third in a new series for Harlequin Loved Inspired, called
Refuge Ranch
. Two sisters and a brother, with pain and sorrow in their life, return to their home ranch in Montana for their own reasons but end up facing their deepest secrets and fears in the process.
Where else can readers find you online?
I have a website that I dabble in from time to time –
www.carolyneaarsen.com
The book can be purchased in fine book stores and online via the following buttons:
CBD.com
Finally, what question would you like to ask my readers?
Do you look for a 'takeaway' factor when you read a fiction book or are you willing to simply go along for the ride?
Thanks, Carolyne, for visiting with us and telling us about your novel. Readers, Carolyne has offered to give a signed copy of her book to the winner of our drawing on Monday, September 22.
To enter, leave a comment below in answer to Carolyne's question, above. "Please enter me" won't get you entered.
Leave your email address, in case you win, like so: trish[at]trishperry[dot]com.
Be sure to check out my interview with
Gina Welborn
, below. Leave an appropriate comment at the bottom of the post to enter the drawing for a free copy of the book.
Also, I'd love it if you'd connect with me on Facebook. Just click on my name at the right of today's post.
Annoying legal disclaimer: drawings void where prohibited; open only to U.S. residents; the odds of winning depend upon the number of participants. See full disclaimer
HERE
.