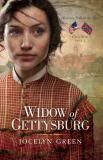 Become immersed in a time when the reality of war and prejudice is met by unfailing love.
Before we revisit with today's author, I want to announce that the winner of the signed copy of
A Heartbeat Away
, by S. Dionne Moore, is:
friendwife@ . . .
Congratulations! I'll email you today to get your mailing address, and we'll get your book to you right away.
I encourage readers to keep commenting and/or subscribe at right (above my list of books) in order to participate in future book give-aways!
Now let's revisit with novelist
Jocelyn Green,
author of
Widow of Gettysburg
(River North Fiction, May 2013).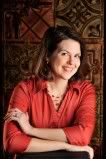 Award-winning author Jocelyn Green inspires faith and courage in her readers through both fiction and nonfiction. A former military wife herself, she offers encouragement and hope to military wives worldwide through her Faith Deployed ministry.
Her novels, inspired by real heroines on America's home front, are marked by their historical integrity and gritty inspiration. Her first novel,
Wedded to War
, is a double finalist for the Christy Awards this year and
Widow of Gettysburg
was rated Top Pick by RT Reviews.
Jocelyn graduated from Taylor University in Upland, Indiana, with a B.A. in English. She loves Mexican food, Broadway musicals, Toblerone chocolate bars, the color red, and reading on her patio. Jocelyn lives with her husband Rob and two small children in Cedar Falls, Iowa.
Please tell us three random things we might not know about you.
--I only drink Diet Coke when I'm writing a book in the summer time. When I'm not writing, I generally don't drink soda/pop, and if I'm writing in the winter, coffee will do just fine.
--I try to draw spiritual analogies with my seven-year-old daughter when I'm gardening with her, but I sometimes just end up confusing her. I'll keep trying, though. ☺
--I used to sell scrapbook supplies but I haven't even scrapbooked myself for about four years now. I'll get back into it some day . . .
I love the well-meaning, but sometimes stumbling approach to finding spiritual analogies with your daughter, Jocelyn. I think a lot of us mothers do that, especially those of us who read a lot or who write. Hang in there!
Please tell us a bit more about the plot of Widow of Gettysburg.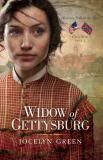 When a horrific battle rips through Gettysburg, the farm of Union widow Liberty Holloway is disfigured into a Confederate field hospital, bringing her face to face with unspeakable suffering--and a Confederate scout who awakens her long dormant heart.
While Liberty's future crumbles as her home is destroyed, the past comes rushing back to Bella, a former slave and Liberty's hired help, when she finds herself surrounded by Southern soldiers, one of whom knows the secret that would place Liberty in danger if revealed.
In the wake of shattered homes and bodies, Liberty and Bella struggle to pick up the pieces the battle has left behind. Will Liberty be defined by the tragedy in her life, or will she find a way to triumph over it?
Inspired by first-person accounts from women who lived in Gettysburg during the battle and its aftermath,
Widow of Gettysburg
is Book 2 in the Heroines Behind the Lines series.
What is it about Liberty that will make your readers care about her?
Liberty is a widowed young woman trying to carve a path for her future when the battle rips through her land and changes everything. Readers will be able to identify with her struggle to put life back together again. We get to watch as she goes through a transformation from a girl who is unsure of her place in the world to a woman whose strength matches the demand—which is huge.
If you were the casting director for the film version of your novel, who would play your lead roles?
Liberty Holloway would be played by Jessica Alba (but with blue eyes and black curly hair).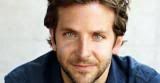 And Silas Ford would be played by Bradley Cooper.
Let's fantasize that your publisher is sending you to explore the setting for a new novel. Where are they sending you. Why there?
Vienna, Austria. I've had this hankering to write a contemporary novel inspired by own experience of epic failure as an English teacher living with a Viennese family. This was right out of college for me, and the experience was so bizarre I think I could use it as launch pad for a novel.
That sounds like a fun book, Jocelyn!
What is the last novel you read that you would recommend?
The Frontiersman's Daughter
by Laura Frantz! I know Laura has more recent titles, but this is a gem, too! I absolutely love her word pictures, character development, and settings. I recommend it for the total immersion quality that is a hallmark of Laura's writing.
What are you working on now?
Book 3 in the Heroines Behind the Lines series--
Yankee in Atlanta
!
Where else can readers find you online?
My web site:
www.jocelyngreen.com
The book series web site:
www.heroinesbehindthelines.com
Facebook
Pinterest
The book can be purchased in fine book stores and online via the following buttons:
CBD.com
Finally, what question would you like to ask my readers?
My question: At one point in
Widow of Gettysburg
, a character says, "You don't know what you can do until it's required of you." When has this been the case in your own life?
Thought provoking question! I'm eager to see some of the answers.
Thanks, Jocelyn, for visiting with us and telling us about your novel. Readers, Jocelyn has offered to give a signed copy of her book
to the winner of our drawing on Monday, May 27. To enter, leave a comment below in answer to Jocelyn's question, above. "Please enter me" won't get you entered.
Leave your email address, in case you win, like so: trish[at]trishperry[dot]com.
Be sure to check out my interview with
Rachel Hauck
, below. Leave an appropriate comment at the bottom of the post to enter the drawing for a signed copy of the book.
And see my post about an exciting new
cell phone plan
I started using in 2012. I'm thrilled with it--unlimited talk, text, and data for $49/month, with no contract. Send me an email through the "Email Trish" button, above, if you'd like me to send you a link to learn more about the phone plan and the income opportunity it presents.
Finally, I'd love it if you'd connect with me on Facebook. Just click on my name at the right of today's post.
Annoying legal disclaimer: drawings void where prohibited; open only to U.S. residents; the odds of winning depend upon the number of participants. See full disclaimer
HERE
.