Dynamo appears to be about a nasty, five-gaited stallion, but the real main characters are Jeth and God. They seriously tangle, but in the end, God wins. ☺
Before we visit today's author, I want to announce that the winners of the signed copies of
The Guy I'm Not Dating
, by yours truly, are:
strgth4yu@ . . .
and
ABreading4fun@ . . .
and the winner of the signed copy of
A Captain for Laura Rose
, by Stephanie Grace Whitson, is:
pattymh20009@ . . .
Congratulations! I'll email you today to get your mailing addresses, and we'll get your books to you right away.
I encourage readers to keep commenting and/or subscribe at right (above my list of books) in order to participate in future book give-aways! Subscribers are entered a second time when they comment.
And now let's visit with
Eleanor Gustafson
, author of
Dynamo
(Whitaker House, April, 2014).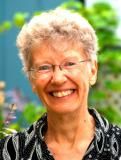 Eleanor K. Gustafson began thinking up stories when she was five or six. When she started to read, God drew her to Himself with, yes—a story. Her fascination with story continued, but after reading early written attempts, friends and even her mother told her straight out to stick to music as a career. She pushed manfully along, however, and began publishing both fiction and nonfiction in 1978.
Dynamo
is her fifth novel and builds off her lifelong love of horses. Her previous title with Whitaker House is
The Stones: A Novel of the Life of King David
.
A graduate of Wheaton College in Illinois, Eleanor has been actively involved in church life as a minister's wife, teacher, musician, writer, and encourager. Additional experiences include gardening, house construction, tree farming, and parenting—all of which have helped bring color and humor to her fiction.
One of her major writing goals has been to make scriptural principles understandable and relevant for today's readers through the undeniable power of story.
Please tell us three random things we might not know about you.
—I am addicted to Sudoku.
—I was Miss Branchville in the 1954 Sussex County Farm and Horse Show.
—My skeleton in the closet is a distant (as in 14 generations) genealogical connection with Al Gore, through the Schooley family.
So that's your inconvenient truth, is it, Eleanor?
Please tell us a bit more about the plot of Dynamo.
Jeth Cavanaugh is searching for a new life along one of Pennsylvania's mountain ridges when he stumbles upon a stable of show jumpers owned by Rob and Katie Chilton. Throw in a volatile gaited stallion named Dynamo, and Jeth will do anything to work there. He earns his living by training and showing Rob's jumpers, but Dynamo is his primary passion.
Everything changes when God enters his life—in the unconventional form of a hard slap by an old girlfriend—and ignites a new, greater passion within him. But along with fervor comes fear at the undeniable evidence of God's hand on his life. Inexplicable events, both good and bad, make him moan plaintively, "Why does God do this to me? I get the feeling I'm being set up for something."
He is, indeed. Jeth's life is anything but predictable, much like the God he serves. The real Dynamo and his ultimate trainer emerge out of an excruciating mix of disaster and brokenness, which are never beyond the reach of redemption. This story is God in your face: Who is He, really? What does He ask of us?
What is it about Jeth that will make your readers care about him?
Jeth is real and has rough edges, both before and after his conversion. The story picks up on issues of anger, broken marriages, the pain of disaster, spiritual struggles, and teenage angst—and Jeth has to deal with all of them. But he has a heart for God and for people—a true servant.
What is your greatest distraction when you're trying to write? How do you overcome it?
Too many other things call for my attention—caring for missionaries, devotional time and prayer needs, responding to emails, food prep and other household chores, exercise (2-3 miles/day), church involvement, and, of course, the social networking necessary for publicizing books. Which of these do you recommend I give up on? ☺ My problem exactly.
Yes, we do what we must do, and we hope the rest will fall into place, right?
What is the last novel you read that you would recommend?
The Truth Teller
by Angela Hunt. It's well written; it grabs you right up front and won't let you go till the end.
What are you working on now?
My writing has gone on hold until after
Dynamo
comes out, but I do have a novel,
An Unpresentable Glory
, that is in pretty good shape, except that I have yet to find a reader who really likes it. A lot of work still ahead! ☺
You made me laugh with that comment about your work in progress, Eleanor. Everyone's a critic!
Where else can readers find you online?
My website is
www.eleanorgustafson.com
. I blog every other week (
www.eleanorgustafson.com/blog
) and have gotten good responses. Please check me out and bulk up my readership.
I'm also engaged in a Hartline Agency project of promoting each other's books on Facebook, the idea being to reach a wide selection of readers, rather than just authors. It's time consuming, but 40 sets of other people's Facebook Friends is significant publicity.
I am on Linkedin but have not yet tackled Pinterest or Twitter. I do have an
Author Page on Amazon
, and my email is egus@me.com.
The book can be purchased in fine book stores and online via the following buttons:
CBD.com
Finally, what question would you like to ask my readers?
Given a choice, would you opt to read literary or well-written genre-based fiction, and for what reasons?
Thanks, Eleanor, for visiting with us and telling us about your novel. Readers, Eleanor has offered to give a signed copy of her book
to the winner of our drawing on Thursday, April 24. To enter, leave a comment below in answer to Eleanor's question, above. "Please enter me" won't get you entered.
Leave your email address, in case you win, like so: trish[at]trishperry[dot]com.
Also, I'd love it if you'd connect with me on Facebook. Just click on my name at the right of today's post.
Annoying legal disclaimer: drawings void where prohibited; open only to U.S. residents; the odds of winning depend upon the number of participants. See full disclaimer
HERE
.