In a new land far from her home, Caroline St. James is forced to choose between love and justice.o
Before we revisit with today's featured author, I want to announce that the winner of the signed copy of
Walking on Sea Glass
, by Julie Carobini, is:
may_dayzee@...
Congratulations! I'll email you for your snail-mail address, and we'll get your book right out to you.
I encourage readers to keep commenting and/or subscribe at right (above my list of books) in order to participate in future book give-aways! Subscribers are entered a second time when they comment.
And now let's revisit with novelist
Renee Ryan
, author of the historical (Gilded Age) romance,
Journey's End
(Amazon's Waterfall Press, March 2016).
Renee Ryan is the author of eighteen inspirational, faith-based romance novels. She received the Daphne Du Maurier Award for Excellence in Mystery/Suspense, Inspirational Romantic division, for her novels
Dangerous Allies
and
Courting the Enemy.
She currently serves as the Secretary for Romance Writers of America national Board of Directors.
Ryan currently lives in Lincoln, Nebraska, with her husband and one large, fluffy cat many have mistaken for a small bear.
Please tell us three random things we might not know about you.
-- My only C in college was on an assignment in my creative writing course. I very quickly learned I am not gifted at writing to other people's vision.
-- I've gone sky-diving three times, which was two times too many!
-- I had dinner with Oprah.
I imagine intriguing stories behind all three of those items!
Please tell us a bit more about the plot of Journey's End.
Having grown up on the mean streets of nineteenth-century London, Caroline St. James is used to fighting to survive. So when her beloved mother—abandoned and ignored by her wealthy family—suddenly dies, the scrappy twenty-two-year-old devises a plan to right this terrible wrong.
With nothing to lose, she sails to New York to find the man who turned a cold shoulder to her mother's suffering: Caroline's grandfather. To settle the family score, Caroline infiltrates her grandfather's privileged world, hoping to sabotage his business from the inside.
As she sets her plot in motion, she meets Jackson Montgomery, a virtuous man who is struggling to recover from a family scandal of his own. As their friendship grows, and Caroline begins to piece together the motives that led to her mother's ruin, she is forced to decide: Should she risk everything in the name of justice? Or can she let love and forgiveness guide her instead?
What is it about Caroline St. James that will make your readers care about her?
Used to taking care of herself Caroline is strong and independent, but she doesn't realize how lonely she's become. She can't help befriending others weaker than herself, especially innocents who need her protection. She has a heart for justice and boldly rights terrible wrongs. Although her motive at the opening of the book is to seek revenge on the man who she thinks ruined her mother, when Caroline realizes her anger is misplaced she quickly embraces the very person she's come to harm.
If you were the casting director for the film version of your novel, who would play your lead roles?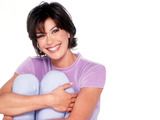 The closest would be Terry Hatcher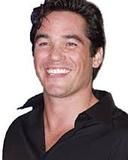 and Dean Cain from their
Superman
days together.
If you'd like to share the opening line or lines to your novel, we'd love to read them.
Ellis Island, 1901 "Oh, Caro, look. We're almost there. We're almost in America."
Caroline St. James made a noncommittal sound deep in her throat. Unlike the frail Irish girl leaning heavily on her arm, she knew arriving at Ellis Island was only the first step in the rigorous registration process. Frowning at Mary's sickly pallor, Caroline carefully guided her friend into the queue of fellow immigrants disembarking the ferryboat. Cautious by nature, honed by necessity, she watched for trouble, breaking down potential threats apparent in the mass of anxious humanity pressing in from every possible angle.
It would be too easy to lose her friend in this crowd. Where would Mary be then? The girl was already showing signs of exhaustion and they hadn't even made it off the ferryboat yet. Almost there…
What is the last novel you read that you would recommend?
Unleashing Mr. Darcy
, by Teri Wilson is a fun retelling of a classic. If you love dogs and want a modern take on an old favorite, this is the book for you.
What are you working on now?
The next book in the Gilded Promises series,
A Touch of Scarlet
.
Where else can readers find you online?
My website address is:
www.reneeryan.com
. I'm on Facebook as Renee Ryan and Twitter @ReneeRyanBooks
The book can be purchased online via the following buttons:
CBD
Finally, what question would you like to ask my readers?
Would you rather read two longer books by a favorite author or four shorter books?
Thanks, Renee, for telling us about your novel. Readers, Renee has offered to give a free signed copy of her book to the winner of our drawing on Monday, July 25.
To enter, leave a comment below in answer to Renee's question, above. "Please enter me" won't get you entered.
The drawing is done by email, so leave your email address, like so: trish[at]trishperry[dot]com.
Also, I'd love it if you'd connect with me on Facebook. Just click on my name at the right of today's post.
Annoying legal disclaimer: drawings void where prohibited; open only to U.S. residents; the odds of winning depend upon the number of participants. See full disclaimer, as well as my Disclosure of Material Connection
HERE

.