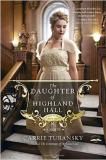 What if the title, the estate, the life of security and splendor… what if it isn't enough?
Before we visit today's author, I want to announce that the winner of the signed copy of
The Brickmaker's Bride
, by Judith Miller, is:
psalm103and138@ . . .
Congratulations! I'll email you today to get your mailing address, and we'll get your book to you right away.
I encourage readers to keep commenting and/or subscribe at right (above my list of books) in order to participate in future book give-aways! Subscribers are entered a second time when they comment.
And now let's revisit novelist
Carrie Turansky
, author of
The Daughter of Highland Hall
(Waterbrook Multnomah, October 2014).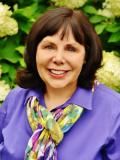 Carrie Turansky is the author of more than a dozen novels and novellas, and is the winner of the ACFW Carol Award, the Crystal Globe Award, and the International Digital Award. She has been the finalist for the Inspirational Readers Choice Award, the ACFW Carol Awards and Genesis Contest.
When she's not writing she enjoys working in her flower gardens, arranging flowers for special events, collecting teacups, and cooking healthy meals for family and friends.
She lives in New Jersey with her husband, Scott, who is a pastor, counselor and author. They enjoy traveling for ministry, research, and to see their five adult children and four grandchildren.
Please tell us three random things we might not know about you.
-- I know how to string and flower lei and enjoyed doing some praise hula when we lived in Hawaii.
-- I spent one summer in Belgium as a short-term missionary, mostly cleaning a huge retreat center/Bible College, and I loved it.
-- When I grow up I want to be like Beatrix Potter, paint animals and garden scenes, write stories for children, live in the Lake District in England, and raise prize-winning sheep.
Please tell us a bit more about the plot of The Daughter of Highland Hall.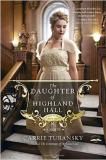 Book two in the Edwardian Brides Series,
The Daughter of Highland Hall
, follows 18-year-old Kate Ramsey on a journey of faith and self-discovery as she travels to London to make her debut in society. Her overbearing aunt insists she secure a marriage proposal from a wealthy, titled man to gain a position and secure her future.
As Kate begins making the round of balls and garden parties, she attracts the attention of Edward Wellington, who seems to have all the qualifications she is looking for, yet, she's not sure if he is the best choice. Will that lifestyle bring her true happiness?
When a shocking family scandal forces Kate out of the social spotlight, she has time to volunteer with medical student Jonathan Foster, the handsome and caring brother of her governess. Jonathan, a strong Christian, is determined to help the poor in London's East End.
As her friendship with Jonathan deepens and her faith grows, Kate begins to envision a different kind of future, one that includes Jonathan. Is she ready to make the sacrifices that choice would require? If she does, what will her family and society think?
What is it about Kate that will make your readers care about her?
I think readers will enjoy getting to know Kate Ramsey. They will identify with her as she faces the challenges of trying to please her family and meet society's expectations, while she's seeking to understand her own desires and motivations concerning her future. Some of the challenges she faced in 1912 may be different than the ones we face today . . . but many are the same. We all want to find purpose and meaning in life, and I hope readers will reflect on their own choices and path in life as they enjoy the journey with Kate.
If you were the casting director for the film version of your novel, who would play your lead roles?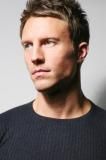 I would choose Doug Seibert to play Jonathan Foster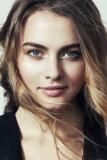 and Alex Ruby to play Kate Ramsey,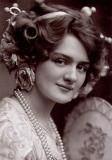 although I originally found a photo from the early 1900s of actress, Lily Elise, and she was the inspiration for Kate.
What story from recent news do you think would make a good basis for a novel?
I'm doing research on World War One in England now, so I was very interested when I saw an article about a battered suitcase found in a university cupboard that belonged to a British WW1 nurse, Margaret Maule, including photographs, letters, and a diary. One of the letters was from a German prisoner of war who she cared for while her own brother died in battle.
I'd love to write a time-slip story of someone who finds this suitcase and then I'd weave that together with the WW1 nurse's story. Doesn't that sound interesting? Here's a link to the story: http://www.dailymail.co.uk/news/article-2279716/Battered-suitcase-unlocks-story-World-War-One-nurse-cared-German-soldiers-brother-lay-dying-battlefield.html#ixzz3BM1T9QTT
That really does sound like an excellent story, Carrie. I'd love to read it!
What is the last novel you read that you would recommend?
I recently read
Blackmoore
by Julianne Donaldson. It's a pure and proper romance set in the Regency era and is beautifully written. I highly recommend it.
What are you working on now?
I'm writing Book 3 in the Edwardian Series,
A Refuge at Highland Hall
. It follows the Ramsey family into World War One and brings all the characters from the first two books together at the Ramsey' country estate. I've had a great time researching how the war impacted people on the home front and the story just rose up out of that research.
There's a dashing pilot who is the main hero, and Kate's younger sister Penny steps forward as the heroine. The downstairs staff have interactions with prisoners of war and all kinds of exciting things happen with them as well. That one comes out next year in October.
Where else can readers find you online?
I enjoy connecting with readers on my website and blog:
carrieturansky.com
Facebook
Pinterest
Twitter
The book can be purchased in fine book stores and online via the following buttons:
CBD.com
Finally, what question would you like to ask my readers?
Downton Abbey
has been a great inspiration for my series. I've tried to capture that same emotional connection with the aristocratic family upstairs and the loyal servants below stairs. Are you a
Downton Abbey
fan? Why do you think this show is so popular?
Love that show!
Thanks, Carrie, for visiting with us and telling us about your novel. Readers, Carrie has offered to give a signed copy of her book to the winner of our drawing on Thursday, October 30.
To enter, leave a comment below in answer to Carrie's question, above. "Please enter me" won't get you entered.
Leave your email address, in case you win, like so: trish[at]trishperry[dot]com.
Be sure to check out my interview with
Missy Tippens
, below. Leave an appropriate comment at the bottom of the post to enter the drawing for a free copy of the book.
Also, I'd love it if you'd connect with me on Facebook. Just click on my name at the right of today's post.
Annoying legal disclaimer: drawings void where prohibited; open only to U.S. residents; the odds of winning depend upon the number of participants. See full disclaimer
HERE
.