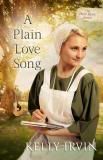 If Adah Knepp, a young Amish girl, pursues her dream of being a musician all the way to the music capital of Branson, Missouri, will she find happiness or lose everything that's important to her?
Before we visit today's author, I want to announce that the winner of the signed copy of
The Best Man's Secret
, by Gail Sattler, is:
pumpkinbabjane@ . . .
Congratulations! I'll email you today to get your mailing address, and we'll get your book to you right away.
I encourage readers to keep commenting and/or subscribe at right (above my list of books) in order to participate in future book give-aways! Subscribers are entered a second time when they comment.
And now let's chat with novelist
Kelly Irvin,
author of
A Plain Love Song
(Harvest House Publishing, July 2014).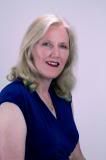 Kelly Irvin is the author of the Bliss Creek Amish series and the New Hope Amish series, both from Harvest Housing Publishing.
The Beekeeper's Son
, her first novel in the Amish of Bee County series from Zondervan/HarperCollins will debut in January 2015. She has also penned two inspirational romantic suspense novels,
A Deadly Wilderness
and
No Child of Mine.
The Kansas native is a graduate of the University of Kansas School of Journalism. She has been writing nonfiction professionally for thirty years, including ten years as a newspaper reporter. She has worked in public relations for the City of San Antonio for twenty years.
Kelly is married to photographer Tim Irvin. They have two young adult children, a new granddaughter, two cats, and a tank full of fish. In her spare time, she likes to write short stories and read books by her favorite authors.
Please tell us three random things we might not know about you.
--I became a grandma for the first time last September.
--I'm originally from Abilene, Kansas, hometown of Dwight D. Eisenhower and the greyhound capital of the world.
--I hate sweet potatoes unless they're in pie.
Congrats on your new Grandma status!! It's a fantastic club to join, isn't it?
Please tell us a bit more about the plot of A Plain Love Song.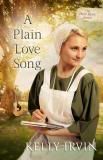 Adah Knepp wants nothing more than to make music. It's all she's ever desired—to sing and play the guitar and write her own songs. That's a dream that will never come true in the confines of her strict Amish community. But then she meets Jackson Hart, and suddenly she sees the chance for a different kind of life…a real stage, a real guitar, and a real opportunity to sing her songs to a real audience!
But pursuing her dreams means turning her back on her faith, her family, and her community—and saying goodbye to Matthew, the gentle Amish farmer she can't get out of her mind. Is it worth giving up the only home she's ever known to pursue her dreams?
What is it about you lead characters that will make your readers care about them?
Everyone has dreams. Adah's dream of writing songs and playing them is one many people have. Because of the life into which she was born, she tries to ignore that dream. I think readers will empathize with her struggle to do what she believes is right, knowing that it means she'll never have that dream.
Jackson Hart is a young man with a good heart who believes in what he's doing. He's passionate, he loves Adah, and he's a cute cowboy who plays the guitar and sings.
How can she resist? I think my female readers will be just as conflicted as Adah about what path she should take.
If you were casting director for the film version of your novel, who would play your lead roles?
Claire Bowen (Scarlett from the TV show
Nashville
) would play Adah. She's perfect because she's both an actress and a gifted singer.
If Brad Paisley, the country music singer who does some acting, were younger, I'd have him play Jackson Hart.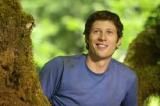 Zach Gilford (Matt Sorenson,
Friday Night Lights
) would be perfect for Matthew, again if he were younger.
Sometimes a writer's imagination can be triggered with word mapping. If I give you the word challenge, what three words first come to mind, and how would you word a sentence (or 2, if needed) using all four words.
Challenge. Obstacle. Overcome. Persistence. Prayer.
Everyone has challenges in their lives. The key to overcoming these obstacles is persistent prayer.
What is the last novel you read that you would recommend?
All for a Story
This Christy-nominated book by Allison Pittman is a historical novel filled with memorable characters. Allison has a beautiful, lyrical style of writing and she doesn't let her characters take the easy way out.
All for a Story
, set in the Roaring Twenties, is about a gossip writer named Monica Bisbane, who frequents speakeasies in Washington, D.C., for fodder for her column. The story unfolds around what happens when the former editor-in-chief of evangelist Aimee Semple McPherson's magazine inherits the tabloid newspaper for which Monica works and decides it should contain positive, uplifting stories. They're oil and water, fire and ice, and the sparks fly.
What are you working on now?
I've finished the first draft of the second book in the Amish of Bee County series I'm writing for Zondervan/HarperCollins. The working title is
The Bishop's Son
. I'll pause shortly to do the line edits for the first book,
The Beekeeper's Son,
which comes out in January 2015. This series is based on a small Amish district in South Texas, the only one in the state of Texas. The Amish families living there moved to Texas from Tennessee more than 20 years ago. It's a tough place to make a living from farming because of the lack of rain and rocky soil. The first book explores how the world's view of beauty is different from what God sees as beautiful.
Where else can readers find you on-line?
www.kellyirvin.com
Facebook
Twitter: @Kelly_S_Irvin
The book can be purchased in fine book stores and online via the following buttons:
CBD.com
Finally, what question would you like to ask my readers?
If an author you regularly read because you like their writing decides to try a new genre, would you follow him or her? Or are you a genre specific reader?
Thanks, Kelly, for visiting with us and telling us about your novel. Readers, Kelly has offered to give a signed copy of her book to the winner of our drawing on Monday, August 4.
To enter, leave a comment below in answer to Kelly's question, above. "Please enter me" won't get you entered.
Leave your email address, in case you win, like so: trish[at]trishperry[dot]com.
Also, I'd love it if you'd connect with me on Facebook. Just click on my name at the right of today's post.
Annoying legal disclaimer: drawings void where prohibited; open only to U.S. residents; the odds of winning depend upon the number of participants. See full disclaimer
HERE
.