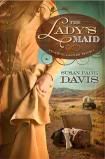 As a lady's maid, Elise will follow her mistress anywhere—even into America's Wild West.
Before we chat with today's author, I want to announce that the winner of the signed copy of Lillian Duncan's novel,
Pursued,
is:
pshock@ . . .
And the winner of the signed copy of Dan Walsh's novel,
Remembering Christmas,
is:
lubell1106@ . . .
And the winners of the three signed copies of my devotional,
His Grace is Sufficient...Decaf is NOT
, are:
jrs362@ . . .
robinbayne@ . . .
and
worthy2bpraised@ . . .
Congratulations! I'll contact you all today for your snail mail addresses, and we'll get your books to you right away.
I encourage readers to keep commenting and/or subscribe at right (above my list of books) in order to participate in future book give-aways!
Now let's revisit novelist
Susan Page Davis
, author of
The Lady's Maid
(Barbour, October 2011).
Susan Page Davis is the author of thirty-seven published novels. Prairie Dreams is her new series from Barbour Publishing. A Maine native, Susan now lives in Kentucky with her husband, Jim. She's a past winner of the Carol Award and the Inspirational Readers' Choice Contest.
Please tell us five random things we might not know about you.
--As a child, I had a huge collection of stuffed animals I called my "Nephew Club."
--I now collect old tea tins.
--I worked as a news correspondent for about 25 years.
--I have two new grandsons this year—Silas Davis and Fox Ballard.
--I'm a blue-eyed woman married to a green-eyed man.
What great names your grandsons have!
I love the Nephew Club idea. When my son was a little kid, he used to tell me stories about his adventures with "my boys and my buvvers" (brothers). All imaginary. Kids are just so cute.
Please tell us a bit more about the plot of The Lady's Maid.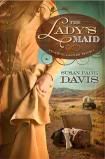 The Lady's Maid
is the first book in my new Prairie Dreams historical romance series. Elise Finster accompanies her young British mistress, Lady Anne Stone, on a voyage to America in 1855. Lady Anne's father has died, and her Uncle David is the new Earl of Stoneford—if he steps forward and claims the title. But David disappeared into the American West when Anne was a baby. Now it's up to her and Elise to find him. They join a wagon train in Independence, Missouri, not realizing they're leading a killer straight to David.
Exciting! What is it about Elise that will make your readers care about her?
Elise is a commoner, but she's lived most of her life in the home of an aristocratic family. When she and Lady Anne take to the wilderness, Elise feels great responsibility in keeping Anne safe and making sure they can both take care of themselves without a host of domestic servants.
Imagine God has led you to accept a contract to ghostwrite someone's autobiography. Whose is it? Why that person?
Princess Anne of England. I've always been fascinated by her as a person and a horsewoman.
What is the last book you read that you would recommend?
Make a Scene
, by Jordan E. Rosenfeld. It's a book for writers on writing scenes within your story. I found it very helpful in showing me where some of my scenes were lacking. For fiction, I'm reading through the Miracles of Marble Cove series from Guideposts, as they recently asked me to write book #12 in this series. I especially enjoyed book #4,
Beacon's Call,
by Leslie Gould.
What are you working on now?
Besides the Marble Cove book, I am finishing book 3 in the Prairie Dreams series, to follow
The Lady's Maid
and
Lady Anne's Quest
. The final book is called
A Lady in the Making
.
Where else can readers find you online?
I'd love to see you at my website,
www.susanpagedavis.com
.
The book is available at fine book stores and for online purchase through these buttons:
CBD.com
Finally, what question would you like to ask my readers?
In
The Lady's Maid
, Mrs. Harkness doesn't want to leave behind her grandmother's cupboard or the children's box of schoolbooks. Elise and Anne have to part with a portion of their extensive wardrobes. If you were taking a wagon train in 1855, what one thing would you refuse to leave behind?
I love that question. Sometimes I consider that, with regard to dashing out because of a house fire, etc. But in this case, you're letting people stop and really think. What do you say, readers?
Thank you, Susan, for visiting with us and telling us about your novel.
Readers, Susan has offered to give a signed copy of her book to the winner of our drawing on Monday, November 7.
To enter, leave a comment below in answer to Susan's question, above. "Please enter me" won't get you entered.
Leave your email address, in case you win, like so: trish[at]trishperry[dot]com.
Be sure to check out my interview with

DiAnn Mills

, below. Leave an appropriate comment at the bottom of the post to enter the drawing for signed copy of her book.
Annoying legal disclaimer: drawings void where prohibited; open only to U.S. residents; the odds of winning depend upon the number of participants. See full disclaimer
HERE
.