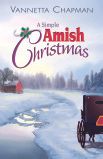 Annie is the woman who has a foot in each world, and her heart is split in two. Only God can help her find a way home.
Before we chat with today's author, I want to announce that the winner of today's drawing for
The Dragon and the Turtle Go On Safari
, by Donita K. Paul and Evangeline Denmark, is:
dlbrandmeyer@ . . .
Congratulations! I'll contact you today for your snail mail address, and we'll get your book to you right away.
I encourage readers to keep commenting and/or subscribe at right (below my list of books) in order to participate in future book give-aways!
Readers, please make note of the comment requirement, below!
Now let's meet novelist
Vannetta Chapman,
author of
A Simple Amish Christmas
(
Abingdon Press, October 2010).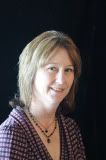 Vannetta Chapman has published more than 100 articles in Christian family magazines. She discovered her love for the Amish while researching her grandfather's birthplace in Albion, Pennsylvania.
Vannetta is a multi-award-winning member of Romance Writers of America. She currently teaches in the Texas hill country.
A Simple Amish Christma
s, a CBD fiction bestseller, was released in October 2010 as her debut novel.
Falling to Pieces
, a quilt shop murder mystery, will be released in fall 2011. Vannetta writes Amish novels for Zondervan, Harvest House and Abingdon.
Please tell us five random things we might not know about you.
-- I'm trying to tame a dragon (Dragon speech-to-text software).
-- I have a herd of deer in my yard.
-- I'm 47 (yippee).
-- My cat sleeps in my in-box.
-- I have 4 months left on my day job.
Please tell us a bit more about the plot of
A Simple Amish Christmas.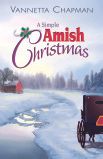 A Simple Amish Christmas
is the story of a young Amish girl who becomes a nurse before she joins the church. Then she's called home and she must find a way to integrate her skills into her community. In the process she falls in love with the man her community uses for their minor medical needs.
Annie has to trust that God has a plan for her life, has a future for her that will include her passions, her skills, and the man she has grown to love.
I came at this story with the idea that not all Amish women would be happy with an 8th grade education, but that didn't mean that they would want to leave their church or community either.
What is it about your lead character that will make your readers care about her?
I think we can all relate to trying to fit in, to wondering how God can possibly use who we are or what we are--where we are. It's a deep yearning.
Why will readers enjoy your novel?
This is a very upbeat, positive novel. That doesn't mean everyone skips across the pages, but it does mean that it's filled with hope, which is my main point in writing. Though any given story may have tragedy or sorrow in it, in the end we need to see God's hand and God's grace.
If you were the casting director for the film version of your novel, who would play your lead roles?
That's always fun when you're talking
Amish
characters, but I can see Emilie de Ravin (from
Lost
) as Annie.
And could I put a young Alan Jackson in for Samuel? I know he's a singer, but ...
Hey, we can use anyone we want in our dreams!
Who is one of your favorite fictional characters?
I love Edmond Dantes in
The Count of Monte Cristo
- I think because we see the growth and change in his character.
What is the last book you read that you would recommend?
I read a
lot
! This weekend I finished Ted Dekker's
Immanuel's Veins
. It was wonderful, but then everything I've read by him has been wonderful.
What are you working on now?
I'm doing copy edits on book one in my Shipshewana Amish Murder Mystery series. It's titled
Falling to Pieces
and is due out in September. I'm also finishing up writing book two, which will release six months later.
Where else can readers find you online?
vannettachapman.wordpress.com
vannettachapman.com
The book is available for online purchase through the following buttons:
CBD.com
Finally, what question would you like to ask my readers?
Any questions about Amish, Texas, or about writing in general?
Thank you, Vannetta, for visiting with us and telling us about your novel.
Readers, Vannetta has offered to give a signed copy of her book to the winner of our drawing on Monday, February 7.
To enter, leave a comment below in answer to Vannetta's question, above. "Please enter me" won't get you entered.
Leave your email address, in case you win, like so: trish[at]trishperry[dot]com.
Be sure to check out my interview with

Cara Lynn James

below, and leave a comment under her interview to be entered in a drawing for a signed copy of her book.
Annoying legal disclaimer: drawings void where prohibited; open only to U.S. residents; the odds of winning depend upon the number of participants. See full disclaimer
HERE
.