Before we meet today's novelist, I want to announce the five winners of my latest release,

Sunset Beach

:

cjarvis@ . . .
dheath211@ . . .
quzy@ . . .
cllyrics@ . . .
jchoppes@ . . .
Congratulations! I'll contact all of you for your snail mail addresses, and we'll get
Sunset Beach
to you right away. I encourage readers to
keep commenting and/or subscribe at right in order to participate in future book give-aways!
And now, let's revisit with novelist
Donita K. Paul
, author of
The Vanishing Sculptor
(WaterBrook/Multnomah, June 2009).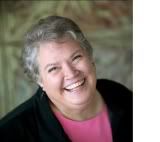 Donita K. Paul has written three Christian romances, four novellas, and six Christian fantasies, plus two picture books, short stories, and magazine articles; puppet plays and a melodrama performed one memorable night at her kids' high school. After an early retirement from teaching, she dove into a second career of writing. Her stories have captured the imagination of the students she left behind plus their parents and grandparents. With awards sprinkled here and there in her writing career, she feels compelled to share what has worked for her with authors just starting out in their careers. Therefore she mentors writers of all ages and is best at giving encouragement. Donita lives in a hobbit hole not far from Pikes Peak in Colorado. She enjoys cooking, beading, stamping, knitting, and her grandsons. Not necessarily in that order.
Donita, please tell us a bit more about

The Vanishing Sculptor.
Tipper is a young emerlindian who's responsible for the upkeep of her family's estate during her sculptor father's absence. She soon discovers that her actions have unbalanced the whole foundation of her world, and she must act quickly to undo the calamitous threat. But how can she save her father and her world on her own?
The task is too huge for one person, so she gathers the help of some unlikely companions--including the nearly five-foot tall parrot Beccaroon--and eventually witnesses the loving care and miraculous resources of Wulder. Through Tipper's breathtaking story, readers will discover the beauty of knowing and serving God.
Why will readers enjoy your novel?
I write with a lot of humor. My pre-readers say this is the funniest episode yet. Those who have fallen in love with the world in which Kale and Bardon battled to rescue Amara, time and time again, will enjoy the familiar things they find in Chiril. This tale is set on the same world, different continent, and different time. Two well-loved characters from the DragonKeeper Chronicles will make an appearance. I'm not telling who.
What facet of the writing craft comes easiest to you? What do you struggle with? Explain.
Characterization and dialogue are easy. These fictitious people are in my head. All I do is record their antics. Plotting is difficult at times because the fictitious people and I want to do all sorts of things that don't push forward the story line.
Choose an inanimate object to represent you. Explain what you have in common with that object.
An old phonograph album. I have three different speeds and sometimes I am trying to perform at the wrong speed. I go round and around, keeping very busy, but not really going very far. But I accomplish what I was made to do right where I am. Also, what comes out can be very beautiful, funny, poignant, or just plain awful, screechy, scratchy, and not worth keeping.
What kind of book do you read for your own pleasure?
I read a wide variety: mystery, westerns, romantic comedy, contemporary, women's fiction, fantasy, and science fiction. As long as they are clean, I'll give them a try.
Do you always finish a book you've started?
A resounding no. And that used to be a resounding yes. When I was younger, I just couldn't put a book aside without at least skimming to the end. Now, my priorities have changed and if the author doesn't give me the quality of story that was promised on the back cover, I put it aside. And that makes me more conscious of pushing myself to deliver what I've promised to my readers. Maybe that's why I'm getting all these gray hairs.
What are you working on now?
I'm working on the sequel to
The Vanishing Sculptor
. It is the
Wandering Artist
. I am also working on picture books with my daughter. We have two picture books coming out Spring and Summer of 2010. The books are about best friends, a turtle and a dragon. I'm also working on early readers for children who are just picking up reading or just and those who are becoming independent readers.
Where else can readers find you or your writing online? Please include the link for purchasing your book.
www.donitakpaul.com
Thanks, Donita, for telling us about The Vanishing Sculptor.
Readers, Donita has offered to sign a copy of her book for the winner of our drawing on Monday, July 13.
To enter, leave a comment for Donita
, below. Leave your email address, in case you win, like so: trish[at]trishperry[dot]com. If you subscribe to my blog, at right (or if you're already subscribed),
you'll be entered an additional time
to this drawing and all future drawings.
Be sure to read my interviews with Robin Shope, Missy Tippens, and Jean C. Gordon, below, and enter comments below their interviews to take part in the drawings for their latest novels!
And check back this Thursday, when we visit with Terri Kraus, author of
The Transformation.
Finally,
my $200 give-away contest is still ongoing! Keep sending your guesses about the foreshadowing event.
The winner of the $200 will be announced on August 1. For full details see
my June 4 post
. I give clues at the beginning of each week, and the clues are getting warmer and warmer. See my June 28 post for all of the clues given so far.