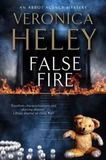 Bea investigates when fire disrupts a dinner party for two ten-year old girls and ends in multiple deaths, which may or may not have been intended.
Before we meet today's featured author, I want to announce that the winner of the free signed copy of
Murder is No Accident
, by Ann Gabhart, is:
dixiedobie@...
Congratulations! I'll email you to get your snail mail address, and we'll get your book right out to you.
I encourage readers to keep commenting and/or subscribe at right (above my list of books) in order to participate in future book give-aways! Subscribers are entered a second time when they comment.
And now let's revisit novelist
Veronica Heley
, author of gentle crime novel,
False Fire
(Severn House, March 2017).
Veronica Heley celebrates the publication of her 78th book in 2016, having been in the business for over 40 years. She is currently writing two gentle crime series; the Ellie Quicke Mysteries and the Abbot Agency series.
She also writes a short story once a quarter for the
Methodist Recorder
. Her early books, which include more crime and some historical novels, are currently being brought out as e-books.
She's involved with her local church and community affairs, likes to break for coffee with friends and does the garden when she has time.
Please tell us something random we might not know about you.
I love chocolate but hate coconut. My favourite colour is blue. I like to have something flowering all the year round in my garden.
I picture a lovely English garden at your home!
Please tell us a bit more about the plot of False Fire.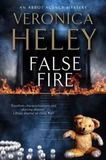 False Fire
starts with thirteen people for a dinner party which ends in multiple deaths – oh, and brings in a teddy bear who becomes a very important person in the lives of two poor little rich girls.
Bernice and Alicia may be heiresses but money can't buy the love that these ten-year old girls need – and there are reasons why some of their families might welcome their deaths.
Goodness! How intriguing.
What is it about Bea that will make your readers care about her?
Bea is a successful businesswoman, running a domestic agency whose watchword is 'discretion', but she has a nurturing nature and often finds herself taking on other people's problems.
Emily Dickinson said this about writing: "A wounded deer leaps the highest." How do you interpret that, and do you agree?
Fear can impel you to outdo whatever you think you can manage by yourself. And yes, I agree.
What is the last novel you read that you would recommend?
I re-read Terry Pratchett's
Guards! Guards!
The characterisation is marvellous, and his invention awe-inspiring.
He was truly original. What a loss to not have him with us anymore.
What are you working on now?
I'm working on another Bea Abbot novel, called
False Pride
. A family which has suffered from adverse publicity in the past, closes ranks against an investigation into stolen property, a death . . . and Bea's ten year old ward defies her authority.
Where else can readers find you online?
At
www.veronicaheley.com
The book can be purchased online via the following button:
Finally, what question would you like to ask my readers?
My editors are always urging me to find my heroines a man, but although that worked out all right in the Ellie Quicke mysteries when she came to know Thomas, Bea has not so far found anyone to invite into her life. When a suitable man comes knocking at the door, should she invite him in . . . or not?
How interesting that we had a recent guest, Ann Gabhart, ask something similar!
Thanks, Veronica, for telling us about your novel. Readers, Veronica has offered to give a free e-copy of her book to the winner of our drawing on Monday, April 3.
To enter, leave a comment below in answer to Veronica's question, above. "Please enter me" won't get you entered.
The drawing is done by email, so leave your email address, like so: trish[at]trishperry[dot]com.
Also, I'd love it if you'd connect with me on Facebook. Just click on my name at the right of today's post.
Annoying legal disclaimer: drawings void where prohibited; open only to U.S. residents; the odds of winning depend upon the number of participants. See full disclaimer, as well as my Disclosure of Material Connection
HERE