How can she accept his proposal when he only wants to marry her to gain his father's approval?
Before we meet today's featured author, I want to announce that the winner of the signed copy of
Designing Love
, by Kimberly Rose Johnson, is:
spowell01@...
Congratulations! I'll email you to get your snail mail address, and we'll get your book right out to you.
I encourage readers to keep commenting and/or subscribe at right (above my list of books) in order to participate in future book give-aways! Subscribers are entered a second time when they comment.
And now let's revisit novelist
Louise Gouge
, author of the inspirational historical romance,
Cowboy Homecoming
(Harlequin LIH, April 2017).
Florida author Louise M. Gouge writes historical fiction for Harlequin's Love Inspired Historical Romances. She received the prestigious Inspirational Readers' Choice Award in 2005 and placed in 2011, 2015, and 2016; and placed in the Laurel Wreath in 2012.
When she isn't writing, she and David, her husband of fifty-plus years, enjoy visiting historical sites and museums.
Please tell us one random thing we might not know about you.
When I was a child from four to eight years old, my family lived in a cozy country house on Mobile Bay in Alabama. In front of our house was a circular driveway lined with eighteen gardenia bushes. Every year they would bloom in profusion. I came to love the fragrance of gardenias more than any other flower and often mention the scent in my novels. After living in many other places, most too cold for those warm weather bushes, I finally have gardenias in my yard again. Each spring when they bloom, I am carried back to my happy childhood and those eighteen magnificent bushes.
They definitely have their own, distinctive fragrance, don't they? I love the way scents can immediately bring us back to childhood memories.
Please tell us a bit more about the plot of Cowboy Homecoming.
Love finds a home out West.
After two years, Tolley Northam returns home, transformed from a mischievous youth into an ambitious lawyer confident of winning his father's approval at last. But he soon begins to wonder if the only way to do so is to marry family friend Laurie Eberly—a woman his father has always liked. If only she weren't so adamant about refusing Tolley's proposal…
Laurie's childhood friend is now a handsome, accomplished lawyer with undeniable charm. But she can't accept Tolley's proposal; she believes it's just to earn his father's praise. First he'll have to prove to her that he wants her for a wife not because his father thinks she's the perfect match, but because he does.
What is it about Tolley that will make your readers care about him?
Tolley Northam is a former bad-boy who's straightened up and become a solid citizen and man of faith. And yet he has trouble convincing those who knew him in his younger days that he's changed his ways.
If you were the casting director for the film version of your novel, who would play your lead roles?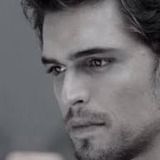 Diogo Morgado, who portrayed Jesus Christ in the recent miniseries
The Bible.
In your main character's voice, give us a statement about the subject of romance.
Tolley to Laurie:
Although we often joked about joining our two families with at least one marriage, it doesn't mean I don't love you. I do, no matter what your last name is. If you'll have me, I'll do everything in my power to see your dreams come true. Wherever you want to go, I'll go with you. I love you with all of my heart. Without you, there isn't any dream worth having.
What is the last novel you read that you would recommend?
I love anything by Laurie Alice Eakes. Most recently, I reread one of her early books,
Better than Gold
, which is newly available for Kindle at amazon.com (available by clicking on the title). I love her characters and settings. In all of her books, she really takes you there, wherever "there" may be.
What are you working on now?
I just finished the sixth book in my Four Stones Ranch series set in Colorado. It's great fun to develop a fictional community and build on it through a long series like this. My town of Esperanza is modeled on historic Monte Vista, Colorado, where I lived for many years.
Where else can readers find you online?
Web site at
blog.Louisemgouge.com
Facebook
Twitter: @Louisemgouge
The book can be purchased online via the following buttons:
CBD
Finally, what question would you like to ask my readers?
Do you like heroes who are wounded, damaged, and in need of redemption, or do you prefer a hero who has come through trials and is now on the straight and narrow?
Thanks, Louise, for telling us about your novel. Readers, Louise has offered to give a signed copy of her book to the winner of our drawing on Monday, April 24.
To enter, leave a comment below in answer to Louise's question, above. "Please enter me" won't get you entered.
The drawing is done by email, so leave your email address, like so: trish[at]trishperry[dot]com.
Also, I'd love it if you'd connect with me on Facebook. Just click on my name at the right of today's post.
Annoying legal disclaimer: drawings void where prohibited; open only to U.S. residents; the odds of winning depend upon the number of participants. See full disclaimer, as well as my Disclosure of Material Connection
HERE