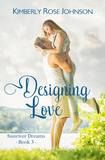 Someone is framing Sierra. Can Spencer Preston discover the true criminal before he loses her?
Before we meet today's featured author, I want to announce that the winner of the signed copy of
Home
, by Ginny Yttrup, is:
marypopmom@...
Congratulations! I'll email you to get your snail mail address, and we'll get your book right out to you.
I encourage readers to keep commenting and/or subscribe at right (above my list of books) in order to participate in future book give-aways! Subscribers are entered a second time when they comment.
And now let's revisit novelist
Kimberly Rose Johnson
, author of the contemporary romance,
Designing Love
(Mountain Brook Ink, April 2017).
Kimberly Rose Johnson married her college sweetheart and lives in the Pacific Northwest. From a young child Kimberly has been an avid reader. That love of reading fostered a creative mind and led to her passion for writing. She especially loves romance and writes contemporary romance the warms the heart and feeds the soul.
Kimberly holds a degree in Behavioral Science from Northwest University in Kirkland, Washington. She is a member of American Christian Fiction Writers.
Please tell us one random thing we might not know about you.
I can't have gluten. I know it's not exciting, but it's a big deal in my life and very random. ☺
Oh, I hear you, Kimberly. I try to avoid gluten, but I dearly love it.
Please tell us a bit more about the plot of Designing Love.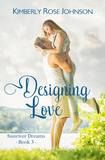 Sierra Robbins, single mother and interior design assistant, wants to provide a stable home for her teenage son and become a successful interior designer.
She's well on her way to both goals when she agrees to house sit a home in Sunriver, Oregon. It couldn't be more perfect. She'll be close to her job at Belafonte Designs while living rent-free. But things don't go as expected beginning on day one when a police officer responds to the alarm they set off at the house. Was that alarm a sign of trouble to come?
Spencer Preston, lives for his job as a police officer in Sunriver, but when he responds to a house alarm and finds Sierra and her son there everything changes. Suddenly he finds himself torn between the upholding the law and protecting the woman he believes is innocent.
What is it about your lead characters that will make your readers care about them?
Sierra cares about others and goes out of her way to help them. Spencer is a tough guy, but he has a soft side that is fun to get to know.
If you were the casting director for the film version of your novel, who would play your lead roles?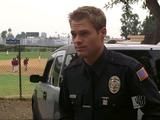 Although he is too tall, I think George Stults would make a great Spencer.
And here he is as a police officer!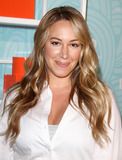 As for Sierra maybe Haylie Duff, although, lol, she might be too short.
In your main character's voice, give us a statement about the subject of romance.
I have nothing against romance, but my life is devoted to raising my son. I'm not in the market for romance.
What is the last novel you read that you would recommend?
The last book I read that I would recommend is
Her Baby's Protector
by Margaret Daley and Susan Sleeman. It's two separate novellas in one book put out by Love Inspired Suspense. I'm a fan of both of these authors. I love to read romantic suspense and these two novellas read like full-length novels. The stories are well developed and move fast.
It is difficult to produce that full-length novel feel with a novella, as you and I both know. Those are words of praise, for sure.
What are you working on now?
I am currently writing the sequel to
A Love Song for Kayla
.
An Encore for Estelle
, which I hope to release in June.
Where else can readers find you online?
My website
www.kimberlyrjohnson.com
I also blog at inspyromance.com. Readers can follow me on
Amazon
as well.
The book can be purchased online via the following buttons:
Finally, what question would you like to ask my readers?
What is it about inspirational romance that draws you?
Thanks, Kimberly, for telling us about your novel. Readers, Kimberly has offered to give a free e-copy of her book to the winner of our drawing on Monday, April 17.
To enter, leave a comment below in answer to Ginny's question, above. "Please enter me" won't get you entered.
The drawing is done by email, so leave your email address, like so: trish[at]trishperry[dot]com.
Also, I'd love it if you'd connect with me on Facebook. Just click on my name at the right of today's post.
Annoying legal disclaimer: drawings void where prohibited; open only to U.S. residents; the odds of winning depend upon the number of participants. See full disclaimer, as well as my Disclosure of Material Connection
HERE