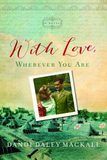 Based on the incredible, true story of the author's parents, With Love, Wherever You Are follows the whirlwind romance of a WW2 Army doctor and Army nurse, sent to different countries, surrounded by danger and desperately wounded patients, and only their letters to connect them for months at a time, as the war seems eternal—and their marriage a distant dream.
Before we meet today's featured author, I want to announce that the winner of the free signed copy of
My Heart Belongs in the Superstition Mountains
, by Susan Page Davis, is:
psalm103and138@...
Congratulations! I'll email you to get your snail mail address, and we'll get your book right out to you.
I encourage readers to keep commenting and/or subscribe at right (above my list of books) in order to participate in future book give-aways! Subscribers are entered a second time when they comment.
And now let's revisit novelist
Dandi Mackall
, author of the historical romance,
With Love, Wherever You Are
(Tyndale House, March, 2017).
Dandi Daley Mackall is the award-winning author of nearly 500 books for children and adults. She visits countless schools and presents keynote addresses at conferences across the United States. She is also a frequent guest on radio talk shows and has made dozens of appearances on TV.
Her awards include the Edgar Award, ALA Best Book, NY Public Library Top Pick,
Romantic Times
Top Pick, the Geoffrey Bocca Memorial Award, Dean Arts and Achievement Award, Outstanding Alumna Award from the University of Missouri. She is the 2016 Hall of Fame recipient of the Council of International Reading Association's Award.
Her novel
My Boyfriends Dogs
is now a Hallmark Movie.
Dandi writes from rural Ohio, where she lives with her family, including horses, dogs, cats, and an occasional squirrel, deer, or raccoon.
Please tell us one random thing we might not know about you.
I love to dance—fast, slow, rock and roll. I even dance to TV commercials. I just can't help myself.
I'm a repeat offender in that respect, too, Dandi! I love the release dancing brings!
Please tell us a bit more about the plot of With Love, Wherever You Are.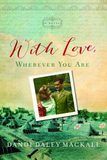 Publisher's Weekly
Starred Review:
Mackall (
My Boyfriends' Dogs
) provides a fictionalized account of her parents' World War II marriage in this well-researched page-turner. Nurse Helen Eberhart had no intention of getting married, but when she enlists in the Army to care for the wounded in 1944, she meets lieutenant and doctor Frank Daley and her plans soon change.
After a quick wedding in Chicago, the two are sent to different areas of Europe for what turns out to be the final year of the war. While they manage to arrange an occasional rendezvous, most of the time they are unaware of each other's locations and maintain their relationship through letters, writing two or three times a day and waiting eagerly for the unpredictable mail to come through.
The "Story Behind the Story" and discussion guide included in the back of the book offer a fascinating look at where real life ends and fiction begins. While one might expect a story written in homage and remembrance of one's parents to be overly sentimental and idealized, Mackall has admirably resisted that urge. Instead, she has crafted memorable, complex characters who courageously face the tragedy of war and the difficulties of cultivating a bond while separated. While the real people behind the characters pack additional punch, Mackall's heartbreaking narrative and precise prose alone will stay with readers long after the final page.
What a wonderful review, Dandi!
What is it about your lead characters that will make your readers care about them?
They're real. True, I'm telling my parents' story, but that's not what I mean. I inherited Dad's Army trunk full of letters they'd written to each other while overseas, in different countries, over 600 letters, tied in stacks with bootstrings, untouched since 1945. After reading those letters and discovering Young Helen and Young Frank, it became easy to care.
Separated for so long, they struggled to remain "real," for each other while caring for horribly wounded and dying soldiers, 18-year-old amputees, German POWs, and concentration camp survivors. Yet they never considered themselves exceptional or heroic.
If you were the casting director for the film version of your novel, who would play your lead roles?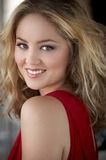 Erika Christensen (
Parenthood
) because she starred in my Hallmark movie, and she's delightful, as convincing in terror as she is in angst or love.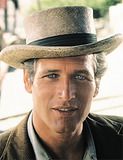 Could I please have a young Paul Newman
or Robert Redford, fresh from
The Sting
or
Butch Cassidy and the Sundance Kid
?
Absolutely! Ah, it was a pleasure seeking pictures of those two stunning gents.
Emily Dickinson said this about writing: "A wounded deer leaps the highest." How do you interpret that, and do you agree?
In a sense, this is a major theme in
With Love, Wherever You Are
. 2 Cor. 12, 9-10, ". . . my power works best in weakness. . . . For when I am weak, then I am strong." War and danger and tragedy can show us that we're not so powerful on our own. And that's when we're willing to see our need for God and let God be God.
What is the last novel you read that you would recommend?
A Great Reckoning
by Louise Penny. I'm always immersed in the locale, Three Pines, and the quirky, compassionate characters waiting for me on the park bench.
What are you working on now?
I'm dipping my toe into my Aunt Dot's remarkable story. She was an Army nurse in the Philippines when bombs were dropped on Pearl Harbor and then on her base and hospital. She had a whirlwind romance too, married in a foxhole, and saw her husband captured and sent on the Bataan Death March.
Wow. My parents met during the war, as well. Mom was a Brit, and Dad was a young fighter pilot. They both passed away very recently, just one month apart from each other. I love the durability of so many of the romances that began during World War II. A lovely generation.
But I'm also finishing a teen novel,
Just Sayin',
and a lively, rhyming picture book,
Rock Away Granny
!
Where else can readers find you online?
www.dandibooks.com
www.dandibooks.com/with-love-wherever-you-are/
Video trailer
Facebook
Twitter
Goodreads
Blog
The book can be purchased online via the following button:
CBD
Finally, what question would you like to ask my readers?
What fun! OK: What's the worst thing an author can do to a reader?
Thanks, Dandi, for telling us about your novel. Readers, Dandi has offered to give a signed copy of her book to the winner of our drawing on Monday, March 20.
To enter, leave a comment below in answer to Dandi's question, above. "Please enter me" won't get you entered.
The drawing is done by email, so leave your email address, like so: trish[at]trishperry[dot]com.
Also, I'd love it if you'd connect with me on Facebook. Just click on my name at the right of today's post.
Annoying legal disclaimer: drawings void where prohibited; open only to U.S. residents; the odds of winning depend upon the number of participants. See full disclaimer, as well as my Disclosure of Material Connection
HERE