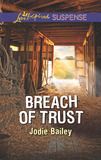 A former soldier teams up with the partner she thought was dead in order to expose a cybercriminal bent on terrorizing the US military.
Before we meet today's featured author, I want to announce that the winner of the free ecopy of
The Captive Heart
, by Michelle Griep, is:
nina4sm@...
Congratulations! I'll email you for your snail mail address, and we'll get your book right out to you.
I encourage readers to keep commenting and/or subscribe at right (above my list of books) in order to participate in future book give-aways! Subscribers are entered a second time when they comment.
And now let's meet novelist
Jodie Bailey
, author of the romantic suspense novel,
Breach of Trust
(Harlequin-Love Inspired Suspense, September 2016).
Jodie Bailey writes novels about freedom and the heroes who fight for it. Her romantic suspense,
Crossfire
, won a 2015 RT Reviewers Choice Award and her contemporary romance,
Quilted by Christmas
won a 2014 Selah.
She is convinced a camping trip to the beach with her family, a good cup of coffee, and a great book can cure all ills. Jodie lives in North Carolina with her husband, her daughter, and two dogs.
Please tell us three random things we might not know about you.
--I know how to ride a motorcycle and once owned a Harley. Now, I'm content to be a passenger and let my husband do all of the paying attention to the road.
--I love banana sandwiches on white bread with mayonnaise. My husband thinks that's weird. He's from Michigan. He doesn't understand.
--When I was 18, I started having panic attacks that kept me pretty much chained to my home for almost three months. On my 28th birthday, God completely freed me from fear.
Wow, that's a long time to be chained. What a blessing to have that release!
Please tell us a bit more about the plot of Breach of Trust.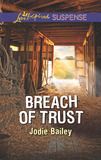 Former soldier Meghan McGuire is about to step into her dream running a home for troubled foster children. But when the partner she thought was dead steps out of the shadows, her life takes a sudden turn into a past he can never uncover.
Tate Walker never thought he'd see Meghan again, and he certainly never thought she'd be the target of a hacker who is determined to undermine the U.S. military. Now, Tate has to protect Meghan from an enemy who can't be seen while he searches for information she wants to keep hidden.
As the seconds tick toward a hacker's revenge, Tate and Meghan have to battle for their country… and for each other.
What is it about your lead characters that will make your readers care about them?
Tate and Meghan are both people with pasts they aren't exactly proud of. Meghan's is criminal. Tate's is relational. Both have been wounded and are fighting to come back from that, to become whole individuals. They've tried to do it for themselves forever, and both have to come to the realization that only God can heal them. And only with each other are they whole.
If you were the casting director for the film version of your novel, who would play your lead roles?
The pictures in my head can never quite match up to anything I find in the real world, but after a whole lot of trying, I think Tate is a lot like a young Gerard Butler.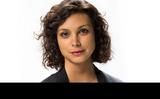 And Morena Baccarin—when her hair was chin-length—would fit Meghan.
Let's fantasize that your publisher is sending you to explore the setting of a new novel. Where are they sending you? Why that setting?
The novel I'm currently writing is set partially on the Outer Banks of North Carolina, on Hatteras Island. I've always wanted to set a book there. It's my favorite place in the world. As much as I've been there, they'd have to send me back because I really do want to capture the feel of the place. To be sitting there when I write the scenes. I love it there. I want it to be perfect and not to get one detail wrong. In fact, I think they should send me to live there for a whole year so I can really get a feel for what it's like to be an islander. Yep. Let's do that.
I love Hatteras, too. There's just something different, compared to other east coast beaches.
What is the last novel you read that you would recommend?
I was way behind the times on this one, but I finally read Jim Rubart's
Rooms
. I literally had to keep putting the book down to pray and hash some things out with God. I'm certain now that it took me so long to read it because God wanted me to read it when I did. It hit me right where I was. On a different note, I devoured the latest YA by Jenny B. Jones,
I'll Be Yours
. Wowza. I want to write like her when I grow up.
What are you working on now?
I'm working on the first book in a series about a Special Forces soldier and his sisters—a government researcher being hunted by a serial killer, and a humanitarian aid worker who finds herself at the center of a conspiracy—who are fighting to bring their father, who is in league with terrorists, to justice.
Where else can readers find you online?
I'm at
www.jodiebailey.com
. From there, you can find links to Facebook, Twitter, Pinterest… all of them!
The book can be purchased online via the following buttons:
CBD
Finally, what question would you like to ask my readers?
The series I'm working on now—a lot of my books, actually—deal with fear and how we overcome it. So… what are you most afraid of? And how have you overcome one of your greatest fears?
Thanks, Jodie, for telling us about your novel. Readers, Jodie has offered to give a signed copy of her book to the winner of our drawing on Monday, November 14.
To enter, leave a comment below in answer to Jodie's question, above. "Please enter me" won't get you entered.
The drawing is done by email, so leave your email address, like so: trish[at]trishperry[dot]com.
Also, I'd love it if you'd connect with me on Facebook. Just click on my name at the right of today's post.
Annoying legal disclaimer: drawings void where prohibited; open only to U.S. residents; the odds of winning depend upon the number of participants. See full disclaimer, as well as my Disclosure of Material Connection
HERE

.