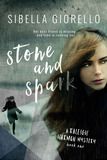 During the worst week of her life, Raleigh Harmon discovers her destiny.
Before we revisit with today's featured author, I want to announce that the winner of the signed copy of Virginia Smith's
Renovating the Richardsons
is:
gcwhiskas@ . . .
Congratulations! I'll email you for your snail-mail address, and we'll get your book right out to you.
I encourage readers to keep commenting and/or subscribe at right (above my list of books) in order to participate in future book give-aways! Subscribers are entered a second time when they comment.
And now let's revisit with novelist
Sibella Giorello
, author of the Young Adult novel,
Stone and Spark
(Running Girl Productions, November 2015).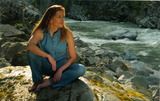 Sibella Giorello won the Christy Award for her first novel,
The Stones Cry Out
. Based on real events, that novel launched the best-selling mystery series featuring forensic geologist and FBI agent Raleigh Harmon.
A fourth-generation Alaskan, Sibella now lives in Washington state with her husband, author Joe Giorello, and their sons.
Please tell us three random things we might not know about you.
— I flunked out of college during a semester at the University of Hawaii. My dad diagnosed the problem as "beach brains."
— I have synesthesia, where one sensory response automatically triggers another. So certain letters and numbers always appear to me as certain colors. And words have smells. Weird, I know.
— I avoid snakes, rats, and people who think they have all the answers.
I was just reading about a currently popular rock musician who has synesthesia--the person's name escapes me now. I imagine there are quite a few artists among people with the condition.
Please tell us a bit more about the plot of Stone and Spark.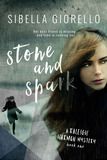 Raleigh Harmon's best friend is missing, and everyone says the girl ran away—including the police. But Raleigh knows different. For one thing, Drew Levinson is a smart-mouthed physics genius and the least impulsive person Raleigh knows.
Which leaves only three possibilities:
* Drew was meeting somebody in secret
* Drew was escaping her loony parents
* Or Drew didn't choose to leave.
Armed with an encyclopedic knowledge of city criminal codes, one rock hammer, and her stubborn streak as wide as the Chesapeake Bay, Raleigh scours her southern hometown for clues. Can she find Drew before time runs out?
Stone and Spark is the first book in the Raleigh Harmon mystery series. It introduces the girl who will grow up to become a forensic geologist and FBI agent—provided she survives her high school years.
I love the prequel aspect of the character's story!
What is it about Raleigh Harmon that will make your readers care about her?
Raleigh Harmon's life is never easy. Her mother's mentally ill, her long-suffering father can't always be there for his daughter, and life never seems to agree with Raleigh's wishes. But she never gives up, never gives into doubt, and always fights for the underdog.
Could you share with us a quote about writing that you find inspirational?
"You'll never plough a field by turning it over in your mind." —Irish proverb
Excellent. Just what I needed to hear today, having put off outlining my next novel!
What is the last novel you read that you would recommend?
Lost Light
by Michael Connelly. I would recommend almost all of Connelly's novels. They're among the best mysteries ever written.
What are you working on now?
The next Raleigh Harmon adult mystery, the book that follows
The Stars Shine Bright.
Readers have waited a long time for this one, and I'm very happy to write it. After that, I'll be writing the next young-adult Raleigh Harmon mystery. Fascinating to go back to her youth, knowing what she'll face as an adult.
Where else can readers find you online?
I hang out daily on my
Facebook page
And my website:
www.sibellawrites.com
Sometimes tweeting as @sibellagiorello
The book can be purchased online via the following buttons:
Finally, what question would you like to ask my readers?
Is there a real-life crime you would like to see solved—theft, missing person, murder?
Thanks, Sibella, for visiting with us and telling us about your novel.
Readers, Sibella has offered to give a signed copy of her book to the winner of our drawing on Monday, June 6.
To enter, leave a comment below in answer to Sibella's question, above. "Please enter me" won't get you entered.
The drawing is done by email, so leave your email address, like so: trish[at]trishperry[dot]com.
ONLY TWO DAYS LEFT! I invite you to see the post

below

, about Harvest House's offer of a $1.99 e-copy of my contemporary romance, Tea for Two, through May. Purchase links are provided below.
Also, I'd love it if you'd connect with me on Facebook. Just click on my name at the right of today's post.
Annoying legal disclaimer: drawings void where prohibited; open only to U.S. residents; the odds of winning depend upon the number of participants. See full disclaimer, as well as my Disclosure of Material Connection
HERE

.