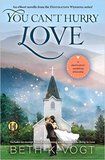 What if your long wait for love brings you back to a second chance with your first love?
Before we meet today's featured author, I want to announce that the winners of the e-copy of my latest novella,
Under the Dogwood Tree
, are:
tumcsec@ . . .
happygrammaof3@ . . . and
angelecolline@ . . .
Congratulations! I'll get your e-books right out to you via Amazon.
I encourage readers to keep commenting and/or subscribe at right (above my list of books) in order to participate in future book give-aways! Subscribers are entered a second time when they comment.
And now let's revisit with novelist
Beth Vogt
, author of the contemporary romance,
You Can't Hurry Love
(Howard Books, May 2016).
Beth K. Vogt is a non-fiction author and editor who said she'd never write fiction. She's the wife of an Air Force family physician (now in solo practice) who said she'd never marry a doctor—or anyone in the military. She's a mom of four who said she'd never have kids. Now Beth believes God's best often waits behind the doors marked "Never."
A 2015 RITA® Finalist and a two-time Carol Award finalist, Beth is a contemporary romance novelist with Howard Books. Her 2014 novel,
Somebody Like You
, was one of
Publisher's Weekly
's Best Books of 2014.
In 2015, Beth introduced her destination wedding series with both an e-novella,
Can't Buy Me Love
, and a novel,
Crazy Little Thing Called Love.
She continues the series in 2016 with the e-novella
You Can't Hurry Love
(May) and the novel
Almost Like Being in Love
(June).
A November Bride
was part of the Year of Wedding Series by Zondervan.
Beth enjoys writing contemporary romance because she believes there's more to happily-ever-after than the fairy tales tell us.
Please tell us three random things we might not know about you.
-- I'm a proud volleyball mom, thanks to my youngest daughter's commitment to year-round volleyball. I'm learning the lingo and spending lots of time at tournaments with hundreds of teen girls competing against one another.
-- I didn't enjoy coloring as a kid, but I'm trying out this whole "adult coloring book" craze. It's relaxing and I also gifted coloring books to all my daughters.
-- One of my favorite writing tools? My Bose headphones. They are a great way to block out the world while I write and I get to enjoy all my Spotify playlists. I usually make a playlist for each book I write.
Wow, I wish I could do that, Beth. I have to have complete quiet to write.
Please tell us a bit more about the plot of You Can't Hurry Love.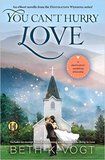 I rewrote
You Can't Hurry Love
so that it's a very different story from the one I originally plotted. One key facet that stayed the same: The heroine is Elisabeth Straker, who was the best friend of Bellamy, the heroine in my e-novella
Can't Buy Me Love.
You Can't Hurry Love
is second-chance-at-love story and combines several elements of my own romance with my husband. Elisabeth (Lis) and Jamie are involved in a long-distance romance because Jamie is in the military – and that was true for my husband and me when we were dating.
What is it about Elisabeth that will make your readers care about her?
Elisabeth is the penultimate "always the bridesmaid never the bride" friend. In the past two years she's been in nine weddings – always in the supporting role of bridesmaid or maid of honor. Here's an excerpt from the e-novella that explains her mindset:
She was content with her life. Well, that wasn't completely true, but she'd perfected the "always the bridesmaid, never the bride" role. No one suspected she wasn't satisfied being single, as she hosted her friends' bridal showers and purchased items off their gift registries. The gloss had worn off all things matrimonial, but she refused to let her deflated hopes ruin anyone else's wedding day.
If you were the casting director for the film version of your novel, who would play your lead roles?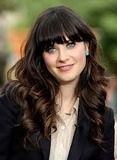 I always create a Pinterest board for my stories, including visuals of my main characters. I chose Zooey Deschanel for Elisabeth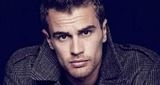 and Theo James for Jamie.
If you'd like to share the opening line or lines to your novel, we'd love to read them.
High School Senior Prom
Woodland Park, Colorado
Tonight was almost perfect.
Short of dismantling the basketball hoops at either end of the high school gym, the prom decorating committee had transformed the area into a glimpse of Hollywood from yesteryear.
Couples swayed to the music coming from the DJ's tower of speakers in one corner of the room. Strings of twinkling white lights and silver streamers hung from the ceiling. Round tables lined the perimeter of the room and black metal movie cameras were centered on the white tablecloths strewn with glittery gold stars. Faux strips of movie film wound around the camera bases and featured the graduating seniors' photos in retro black-and-white. HOLLYWOOD was spelled out in iconic large white letters against the back wall next to the photo area with a lush red curtain backdrop. The aroma of buttery popcorn from the old-fashioned electric popper scented the air.
With a soft sigh, Elisabeth snuggled closer to Jamie, his arms tightening around her. Now this . . . this moment couldn't be any better, even if it was the last dance of their senior prom. Mariah Carey crooned "Don't Forget About Us," and Elisabeth closed her eyes, imagining Jamie and she were alone under a star-filled sky. "Happy?" Jamie's whisper tickled her ear, the warmth of his breath trailing down her neck.
Elisabeth tilted her head up. Jamie's dark eyes sparkled in the reflection of the overhead lights. "Yes. This is just about perfect."
"Just about . . .?" He shifted, leaning away from her. "What's wrong?"
"I wish we had the whole summer—" Elisabeth pressed her lips together. She and Bellamy had talked about this earlier while they got ready for prom at Elisabeth's house. Don't let Jamie's leaving later this summer ruin tonight. Have fun. Her best friend was right. Saying her thoughts out loud didn't change the inevitable, even as Elisabeth's words shadowed the present.
"Me, too." Jamie's steps didn't falter as he continued to lead her in the dance. "But you know how hard I worked to earn the appointment to the Air Force Academy—"
"I know." She forced her smile to reappear, hoping it hid any sadness in her eyes. "I'm proud of you, too. I'm going to miss you, that's all."
"I'll miss you, too." Jamie bent to brush her lips with his, pulling her closer. "And besides, technically I'm not the one leaving the state to go away to college."
"You could have come with me to Biola."
"But the whole point is for me to fly jets in the air force. And lots of couples do long-distance relationships. The good thing is, we live in the same hometown, so we'll see each other for the holidays. And we'll have fun planning our future after we both graduate college and get married. We'll travel, and Uncle Sam will foot the bill." Jamie shook his head, his lazy grin appearing. "Why are we being so serious? Tonight's prom and we still have a few more weeks before I report to the Academy."
Now I'm intrigued as to how she ended up in the "always the bridesmaid, never the bride" role after this youthful plan!
What is the last novel you read that you would recommend?
I read an advance copy of Cathy West's upcoming release,
The Things We Knew
. Cathy is a close friend and I designate myself as her #1 fan. She's an incredibly talented writer and this novel examines the challenges of family relationships that are interwoven with secrets.
I like Cathy's work as well. And she's a total sweetheart.
What are you working on now?
I'm plotting a new novel, working on the long synopsis, trying to get to know the characters and the direction the story is taking me. These are early days yet.
Where else can readers find you online?
My website/blog:
www.bethvogt.com
Twitter
Facebook
Instagram
Pinterest
The book can be purchased online via the following buttons:
Finally, what question would you like to ask my readers?
Have you ever been in – or would you ever want to be in – a long distance relationship? If you have – what were the challenges you faced? If you wouldn't want to be in a long distance relationship – why not? What if your long wait for love brings you back to a second chance with your first love?
Thanks, Beth, for visiting with us and telling us about your novel.

Readers, Beth has offered to give a free e-copy of her book to the winner of our drawing on Monday, April 4. (The book won't release until May, but Beth will send your copy to you as soon as it's available.)
To enter, leave a comment below in answer to Beth's question, above. "Please enter me" won't get you entered.
The drawing is done by email, so leave your email address, like so: trish[at]trishperry[dot]com.
Also, I'd love it if you'd connect with me on Facebook. Just click on my name at the right of today's post.
Annoying legal disclaimer: drawings void where prohibited; open only to U.S. residents; the odds of winning depend upon the number of participants. See full disclaimer, as well as my Disclosure of Material Connection
HERE

.
As you scroll to the bottom of today's post to answer Martha's question, take a look at the excellent Inspirational fiction releasing this month!
Contemporary Romance:
A Twist of Faith
by
Pepper Basham
-- A high class speech language pathologist and an unrefined cattle farmer cause sparks in this modern retelling of the beloved classic My Fair Lady. (Contemporary Romance from Lighthouse Publishing of the Carolinas)
Coast Guard Sweetheart
by
Lisa Carter
-- Second Chance Sailor When coast guard officer Sawyer Kole is stationed again in Kiptohanock, Virginia, he's ready to prove to Honey Duer that he's a changed man--and the right man for her. But it's not smooth sailing when a hurricane blows their way. To save the family inn she's restored to perfection, Honey will ride out the storm. But can she handle the turbulence of seeing Sawyer again? Years ago he walked away, taking her dreams of love. Now as Hurricane Zelda barrels down, Honey may have no choice but to trust Sawyer to save her life and--just maybe--her heart. (Contemporary Romance from Love Inspired [Harlequin])
Better than Fiction
by
April W Gardner
and
Michelle Massaro
-- While creating a fictional romance, a novelist dissatisfied with her marriage falls prey to an emotional affair with her spiritual, sensitive friend, Curtis, who inspires her handsome hero. Meghan Townsend imagines the whole thing as harmless...until it isn't. Under Meghan's skillful pen, her characters, a 1916 heroine and a reckless racecar driver, embark on a thrilling, adventurous romance. But she finds that writing those love scenes with Curtis's face in mind takes her heart places it shouldn't go. Will she realize in time that real life can be better than fiction? (Contemporary Romance from Plaited Press)
Close to You
by
Kara Isaac
-- A disgraced scholar running from her past and an entrepreneur chasing his future find themselves thrown together--and fall in love--on a Tolkien tour of New Zealand. (Contemporary Romance from Howard [Simon & Schuster])
Historical:
Counted With the Stars
by
Connilyn Cossette
-- Sold into slavery by her father and forsaken by the man she was supposed to marry, young Egyptian Kiya must serve a mistress who takes pleasure in her humiliation. When terrifying plagues strike Egypt, Kiya is in the middle of it all. To save her older brother and escape the bonds of slavery, Kiya flees with the Hebrews during the Great Exodus. She finds herself utterly dependent on a fearsome God she's only just beginning to learn about, and in love with a man who despises her people. With everything she's ever known swept away, will Kiya turn back toward Egypt or surrender her life and her future to Yahweh? (Historical from Bethany House [Baker Publishing])
Historical Romance:
Stitching a Life in Persimmon Hollow
by
Gerri Bauer
-- Living with her aunt and uncle, housekeeper Josefa longs for the glamorous life of a fashion designer far beyond her small town. But her dreams alarm her Tia Lupita, who fears Josefa's ambitions are unrealistic for a girl of her station. When Lupita announces a plan for Josefa to move away from Persimmon Hollow to live with distant relatives in Texas and prepare for an arranged marriage, the headstrong beauty knows she has to make an audacious choice. And when a decision arises between two suitors, will she choose a rich man who could give her all the outward trappings she desires, or a quiet carpenter who has fewer material goods but a bigger heart? (Historical Romance from Franciscan Media)
The Lady and the Mountain Call
by
Misty M. Beller
-- Trapper Reuben Scott planned only a quick visit to his parents' homestead to tan his winter hides, but the strange woman standing at his mother's stove is a shock. And then this Cathleen Donaghue tells him his father's dead and his mother is losing her mind. The sad news may bring an end to the life he's loved--trapping, living in the wild freedom of these mountains, no one demanding he measure up. But he'll do anything for his family, even deal with this city woman since she seems to connect with his confused mother. When tragedy strikes Cathleen's family, this impassive mountain man may be the only one with the skills to save her. But can she trust him with her heart, too? (Historical Romance, Independently Published)
Where the Heart is Romance Collection
by
Andrea Boeshaar
,
Carol Cox
,
Rhonda Gibson
,
Sally Laity
,
Claire Sanders
,
Connie Stevens
,
Pamela Kaye Tracy
,
Erica Vetsch
, and Jane West -- Journey along with nine women who find themselves on the move out of their comfortable lives and into the unknown as they set up new homes, take on new jobs, seek out loved ones, and encounter romance. Will their faith endure the hardships, and will love form when life is in transition? Written by nine inspirational romance authors who have a passion for American history and faith. (Historical Romance from Barbour Publishing)
Mail Order Mix-Up
by
Christine Johnson
-- When school teacher Pearl Lawson sees an ad for a mail-order bride, she leaps at the opportunity to find a husband for her best friend. Roland doesn't know how an ad seeking a wife for his brother found its way into print. But now he has to handle the hopeful applicants--women who think he's the future groom. Not to mention the feisty, matchmaking schoolteacher who is just as determined not to marry as he is. Will this mix-up push Roland and Pearl to forget their plans of staying single and allow love into their lives? (Historical Romance from Love Inspired [Harlequin])
Losing Lincoln
by
Stephenia H. McGee
-- Among the thousands of captured and hopeless Confederates in Elmira prison, Annabelle searches to find the one man who could be the key to saving her inheritance. Matthew will do everything in his power to protect the woman he loves--even if it means keeping her from the truth. Especially given his ties to a desperate madman seeking vengeance. In the final dark days of war, Matthew sets his hopes on Annabelle. She could be the lighthouse that guides him out of the ever encroaching sea of chaos. But first they must allow love and trust to overcome their prideful hearts. (Historical Romance, Independently Published)
Rumors and Promises
by
Kathleen Rouser
-- Sophie Biddle, an heiress on the run with a child in tow, seeks to start over in a small town that doesn't like secrets. Reverend Ian McCormick has come to Stone Creek to escape past mistakes and prove himself a worthy servant of God and his congregation. They are drawn together by their love for music and her child, Caira, who Sophie tries to pass off as her little sister. Will the scandals of her past destroy his hope for their future? (Historical Romance from Lighthouse Publishing of the Carolinas)
The Reluctant Duchess
by
Roseanna M. White
-- Lady Rowena Kinnaird may be the heiress to a Highland earldom, but she has never felt good enough. After a shocking attack, she's willing to be forever an outcast if it means escaping Loch Morar. While Brice Myerston, the Duke of Nottingham, has never shied away from manor-born ladies, the last thing he needs right now is the distraction of Lady Rowena's desperate situation. When Rowena's father tries to trap Brice into marrying his daughter, Brice makes a surprising decision. Rowena wanted to escape the Highlands, but she's reluctant to marry a notorious flirt. And when she learns that Brice is mixed up in dangerous business with a stolen treasure, she feels pushed directly into the path of everything she was trying to avoid. (Historical Romance from Love Inspired [Harlequin])
Romantic Suspense:
Silence in the Dark
by
Patricia Bradley
-- Two years ago, Bailey Adams broke off her engagement to Danny Maxwell and fled Logan Point for the mission field in Chihuahua, Mexico. Now she's about to return home to the States, but there's just one problem. After Bailey meets with the uncle of one of the mission children in the city, she barely escapes a sudden danger. Now she's on the run--she just doesn't know from whom. To make matters worse, people who help her along the way find themselves in danger too--including Danny. Who is after her? Will they ever let up? And in the midst of the chaos, can Bailey keep herself from falling in love with her rescuer all over again? (Romantic Suspense from Revell [Baker Publishing])
Picture Perfect Murder
by
Rachel Dylan
-- When photographer Lily Parker escapes an attack, she doesn't want any help from the FBI agent who is convinced she's a serial killer's latest obsession. But after one of her photographs is found at a murder scene, it's clear that Special Agent Rex Sullivan was right. Lily, a former CIA agent, isn't used to relying on others, but she won't survive without Rex at her side. And Rex quickly sees that Lily isn't a typical victim in need of his protection, but a valuable partner who can help him bring down a madman. With the murderer growing bolder, Rex has to convince Lily to trust him with her safety--or she could become the killer's next victim. (Romantic Suspense from Love Inspired [Harlequin])
What Happened on Beale Street
by
Mary Ellis
-- When a talented musician is found dead in Memphis, Nate and Nicki are determined to find their friend's killer with a list of suspects longer than the Mississippi River. (Romantic Suspense from Harvest House)
Reunion Mission
by
Virginia Vaughan
-- Lured into a dark classroom, high school teacher Claire Kendall stumbles over the body of a dead student--and into the clutches of the killer. Certain she's about to die, Claire is shocked when DEA agent Matt Ross bursts in and rescues her. The former army ranger who broke her heart ten years ago is back in town to bust a drug trafficking ring operating at the school. With Claire being framed for the young informant's murder, she has to put aside their past and trust her handsome ex to keep her safe. But someone is dead set on bringing their hometown reunion to a permanent end. (Romantic Suspense from Love Inspired [Harlequin])
Speculative:
Tainted
by
Morgan L Busse
-- A young woman discovers she can control the laws of science, but every time she does, she kills a part of her soul. If she doesn't find a cure soon, her soul will die and she will become something else entirely. After a devastating personal loss, Stephen Grey leaves the World City Police Force to become a bounty hunter. He believes in justice and will stop at nothing to ensure criminals are caught and locked up. However, when Kat Bloodmayne shows up in his office seeking his help, his world is turned upside down. Together they search World City and beyond for a doctor who can cure Kat. But what they discover on the way goes beyond science and into the dark sphere of magic. (Speculative from Enclave Publishing)
A Desperate Escape
by
JC Morrows
-- The palace is scrambling to recover from a brutal assault . . . the country is in disarray . . . and the royal security team is on edge like never before. Kayden entered the palace under a lie . . . a lie that has now been exposed. Now Prince Dvarius has to decide what to do with his reluctant assassin. (Speculative from S&G Publishing)
The Xerxes Factor
by
Anna Zogg
-- USF special agent Kelli Layne has one goal in life—find the girl who was abducted on her watch. Confident and self-sufficient, she doesn't need anyone. Including God. When she is nearly killed, she is forced to question her ideology. Only one person believes Kelli wasn't involved in the kidnapping, fellow agent Jayden Song. He risks his career to help her follow the clues to Xerxes IX, an alien planet with a humanoid population. To rescue the missing girl, Kelli and Jayden have no choice but to become fugitives from the law. Can they save the child without forfeiting their own lives? (Speculative from Next Step Books)
Thriller/Suspense:
The Tenth Plague
by
Adam Blumer
-- Water turns to blood. Flies and gnats attack the innocent. Marc and Gillian Thayer's vacation resort becomes a grisly murder scene, with a killer using the ten plagues of Egypt as his playbook for revenge.
When their friend turns up dead, Marc and Gillian put their vacation on hold, enlist the help of a retired homicide detective, and take a closer look at the bizarre plagues as they escalate in intensity. Meanwhile, a stranger is after the Thayers' newly adopted baby. Will they uncover the truth behind the bitter agenda before the tenth plague, the death of the firstborn son? (Thriller/Suspense from Kirkdale Press)
Happy reading!