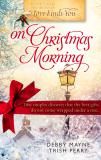 Two women receive marriage proposals in the same house — 85 years apart.
Before we consider today's novel, I want to announce that the winner of the signed copy of
The Christmas Joy Ride
, by Melody Carlson, is:
andantespirit08@ . . .
Congratulations! I'll email you for your mailing address, and we'll get your book to you right away.
I encourage readers to keep commenting and/or subscribe at right (above my list of books) in order to participate in future book give-aways! Subscribers are entered a second time when they comment.
Today I'm featuring the Christmas book I wrote with Debby Mayne a few years ago,
Love Finds You on Christmas Morning
(Summerside/Guideposts).
Next week I'll give away a signed copy
of the book to one of the commenters to today's post.
Here's a quick summary of the two-story set:
Two women receive marriage proposals in the same house— 85 years apart. Love finds a home on Christmas morning in two heartwarming holiday stories.
Deck the Halls
, by Debby Mayne
In 1925, the wealthy William Tronnier becomes smitten with the lovely but penniless Lillian Pickard. As Christmas descends on the picturesque town of Cary, North Carolina, William plans to make Lillian a proposal she can't refuse.
'Tis the Season,
by Trish Perry
In this contemporary romance, Nikki Tronnier moves back home to Cary, North Carolina, with plans to buy back the beloved Tronnier family home built by her great-grandfather, William, for his bride, Lillian. But before she is able to make an offer, the handsome Drew Cornell buys the house just before Christmas.
Here's a fun video about the book
:
Love Finds You on Christmas Morning video
You can purchase the book via the following links:
CBD
To enter the drawing for the signed copy of the book, share your comment with my readers about this: I love receiving novels as Christmas gifts, and I love Christmas shopping for book lovers. How do you feel about giving and receiving books at Christmas?
"Please enter me" won't get you entered.
The drawing is done by email, so leave your email address, like so: trish[at]trishperry[dot]com.
Also, I'd love it if you'd connect with me on Facebook. Just click on my name at the right of today's post.
Annoying legal disclaimer: drawings void where prohibited; open only to U.S. residents; the odds of winning depend upon the number of participants. See full disclaimer
HERE

.
Merry Christmas and happy reading!