Ellie Quicke's new housekeeper is heavily involved with the charismatic leader of a cult who aims to get money from Ellie's charitable trust . . . but tearful Claire's background turns out to be highly suspicious.
Before we visit today's author, I want to announce that the winner of the signed copy of
Firefly Summer
, by Kathleen Y'Barbo, is:
klmc_37@ . . .
Congratulations! I'll get your email address to Kathleen, and we'll get your book to you right away.
I encourage readers to keep commenting and/or subscribe at right (above my list of books) in order to participate in future book give-aways! Subscribers are entered a second time when they comment.
And now let's chat with novelist
Veronica Heley
, author of the gentle crime novel,
Murder by Suspicion
(Severn House Publishers, June 2015 UK, October USA).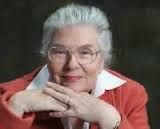 Veronica Heley celebrates the publication of her 75th book this year, having been in the business for over 40 years.
She is currently writing two gentle crime series; the Ellie Quicke Mysteries and the Abbot Agency series. She also writes a short story once a quarter for the Methodist Recorder. Her early books, which include more crime and some historical novels, are currently being brought out as audio and as e-books.
She's involved with her local church and community affairs, likes to break for coffee with friends and does the garden when she has time. She has been a member of a book reading club for 40 years, but has decided that life is too short to read depressing literature any more.
Please tell us three random things we might not know about you.
-- I reward myself with a piece of chocolate when I finish a piece of work.
-- I grow sweet peas in pots.
-- When I buy a new book, I have to get rid of an old one.
I'm so with you on the book exchange. At one point I kept every book I had, even after reading it. I finally realized that was selfish. I can't possibly live long enough to read every book I own, let alone re-reading any of them. Now I love giving books to the library as soon as I finish them.
Please tell us a bit more about the plot of Murder by Suspicion.
Ellie is desperate to find someone to look after their elderly housekeeper, whose health is failing, but Claire makes some bizarre changes to the household.
Claire also introduces Ellie to Pastor Ambrose, the charismatic leader of a cult, who is after money from Ellie's charitable trust. Ambrose is unstoppable in his quest for funds, and Claire dissolves into tears whenever her past is questioned . . . which includes her connection with two teenage girls who have disappeared.
Review, Kirkus, 1st August 2015:
Heley offers another solid outing for Ellie, who isn't slowed down a bit by the passage of time.
What is it about Ellie that will make your readers care about her?
Ellie is a widow who was always put down by her husband and scheming, ambitious daughter. She has inherited money, which she has learned to administer through a trust, but she has never learned to drive a car. She likes people and is good with them, but is not easily taken in by liars. A spot of gentle humour helps her through the day.
If you were the casting director for the film version of your novel, who would play your lead roles?
Ellie would be a good part for any of our older actresses who don't care too much about appearing fashionable. Likewise her second husband, the Reverend Thomas – who has a beard and a figure which is far from sylphlike.
What's one thing you would change about the current Inspirational fiction market?
I would steer more writers towards family values.
What is the last novel you read that you would recommend?
The Children Act
by Ian McEwan. A judge, who is a woman, has to decide some difficult cases involving minors. In each case, the welfare of the child is paramount, but this can lead to much heart-searching, and can affect the lives of all concerned – including the judge.
What are you working on now?
I have just finished another Bea Abbot story, called
False Wall,
and now I am turning back to Ellie Quicke, who is drawn into investigating a possible murder at a fashionable boutique. She discovers that no two people agree on exactly what happened and who is to blame, while the one person who could sort out the tangled relationships, has disappeared.
Where else can readers find you online?
My website is at
www.veronicaheley.com
. I send out a monthly newsletter with lots of news and views on it. A shortened version of this is later posted as a blog on my website,
blog.veronicaheley.com
Both can be accessed through the home page of my website.
The book can be purchased online via the following buttons and links:
Finally, what question would you like to ask my readers?
Some of my readers like the fact that Ellie Quicke remarried but some don't. Now my other heroine, Bea Abbot, is being forced to think about it. My agent thinks my readers would like her to have a love interest, but I'm not sure that's true. What do you think?
Thanks, Veronica, for visiting with us and telling us about your novel.
Readers, Veronica has offered to give an e-copy of her book to the winner of our drawing on Monday, October 5.
To enter, leave a comment below in answer to Veronica's question, above. "Please enter me" won't get you entered.
The drawing is done by email, so leave your email address, like so: trish[at]trishperry[dot]com.
Also, I'd love it if you'd connect with me on Facebook. Just click on my name at the right of today's post.
Annoying legal disclaimer: drawings void where prohibited; open only to U.S. residents; the odds of winning depend upon the number of participants. See full disclaimer
HERE

.