First, vampires in space. And now...zombies. Really?
Before we visit today's author, I want to announce that the winner of the signed copy of
Summer's List
, by Anita Higman, is:
happygrammaof3@ . . .
Congratulations! I'll email you today to get your mailing address, and we'll get your book to you right away.
I encourage readers to keep commenting and/or subscribe at right (above my list of books) in order to participate in future book give-aways! Subscribers are entered a second time when they comment.
And now let's revisit with novelist
Kerry Nietz
, author of the very entertaining science fiction (with a smattering of suspense/thriller, and a buggy-full of Amish) novel,
Amish Zombies from Space
(Freeheads, May 2015).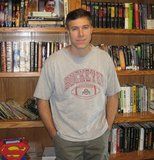 Kerry Nietz is a refugee of the software industry. He spent more than a decade of his life flipping bits, first as one of the principal developers of the database product FoxPro for the now mythical Fox Software, and then as one of Bill Gates's minions at Microsoft. He is a husband, a father, a technophile and a movie buff.
Kerry has one non-fiction book, a memoir entitled
FoxTales: Behind the Scenes at Fox Software
.
Amish Zombies from Space
is his sixth novel.
Please tell us several random things we might not know about you.
-- I once transported an alpaca in a minivan. She didn't wear a seatbelt.
-- We live in a woods, which means there is always some wildlife nearby that's worth watching. I once had a red fox walk through my front yard, and this year we had a robin nest on the windowsill of our upstairs bathroom. Fun for the kids. Though I think mother robin was a little nervous.
-- I've twice competed in a Pump and Run event. The goal is to do as many bench presses as you can and then run a 5K. A fun challenge.
-- I have a motorcycle license and a scuba license.
But did you have a license to transport an unsecured llama?
Please tell us a bit more about the plot of Amish Zombies from Space.
Amish Zombies from Space
is the sequel to last year's
Amish Vampires in Space
. That book follows a group of plain folk that find themselves forced into space. Unfortunately, aside from the spaceship's modern crew, there are less altruistic occupants onboard—vampires.
So there is this interesting conflict between the pacifism of the Amish, the caught-in-the-middle ship's crew, and the vampires who want to eat them all. Amish Vampires had a solid endpoint, but there were enough lingering questions that I, as a reader, wanted answered. Plus I was curious what happened to the surviving characters. Did they recover and flourish or were they forever scarred?
Amish Zombies
is my attempt at addressing all that. It takes place five years later. The Amish have a new planet named Resolve, and the other characters are all over the galaxy—flying private ships, running their own businesses, etc. One is getting out of jail.
An unexpected ship shows up on Resolve. Things go downhill from there.
I really enjoy tongue-in-cheek science fiction. Your titles alone signal that.
What is it about your lead characters that will make your readers care about them?
Amish Zombies is a bit unusual (well . . . maybe more than a bit ☺) in that it has more of an ensemble cast than the previous book. There are a handful of characters, each with their own important role to play. The two most important characters are an Amish man named Mark and a female doctor named Darly.
Darly is a problem-solver to the point of being obsessive. She's dependable and resourceful. One of those people everyone would like to know, I think.
Mark is the Bishop of his community and so has a lot of responsibilities. But he's also emotionally damaged. So he has all these things that are required of him, yet all he really wants is to be by himself. To heal. I think we've all had periods when we've felt like that.
If you were the casting director for the film version of your novel, who would play your lead roles?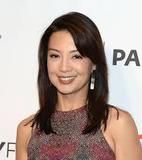 I think
Agents of Shield
's Ming-Na Wen would make a good Darly.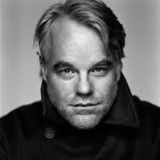 And Philip Seymour Hoffman would've made a good Mark, at least in temperament.
Imagine you've been contracted to write a novel about a real person. About whom would you most want to write?
One of my friends, Tosca Lee, writes novels based on biblical characters and does an amazing job at it. I think it would be fun to try something like that, but pick a more obscure character than she typically does. Maybe a John Mark, or a Jabez, or even Joseph the father of Jesus.
What is the last novel you read that you would recommend?
The last novel I finished was
The City of Gold and Lead
by John Christopher. It is the second novel in a series (the Tripod series) too, and takes place years after an alien invasion has occurred. All of humanity are servants of these aliens, and in fact, don't remember a time before them. At a young age people are required to have a skullcap installed that helps keep them in line. The main character is a boy who manages to avoid the skullcap, so he's one of the few free-thinking humans.
The City of Gold and Lead
is about his adventures inside an alien city. Lots of great world building and a tight, tense story.
The series is aimed at younger readers (7th grade and up) yet it is sophisticated enough that anyone would enjoy it. It has been around for decades, but somehow I missed it growing up. It's a fun read, and also short—maybe 200 pages. A good choice for when reading time is at a premium.
What are you working on now?
I've been working on Amish-something for the better part of three years now. Both books were large and complicated—around 300,000 words total—and I'm mentally exhausted. So lately I've been catching up on all the things I've let slide over the last three years. At least until something creative strikes me.
Where else can readers find you online?
Website:
www.kerrynietz.com
Facebook
Twitter: @KerryNietz
The book can be purchased in fine book stores and online via the following buttons and links:
Finally, what question would you like to ask my readers?
What crazy plot/subject/idea would you like to see a book written about? Or even better, what monster should I tackle next?
Thanks, Kerry, for visiting with us and telling us about your novel.
Readers, Kerry has offered to give a signed copy of his book to the winner of our drawing on Monday, August 3.
To enter, leave a comment below in answer to Kerry's question, above. "Please enter me" won't get you entered.
Leave your email address, in case you win, like so: trish[at]trishperry[dot]com.
Also, I'd love it if you'd connect with me on Facebook. Just click on my name at the right of today's post.
Annoying legal disclaimer: drawings void where prohibited; open only to U.S. residents; the odds of winning depend upon the number of participants. See full disclaimer
HERE

.