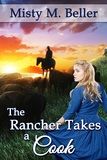 When a southern belle is forced onto a rough Texas cattle ranch, love is the last thing she expects to find.
Before we visit today's author, I want to announce that the winner of the signed copy of
The Deliverer
, by Sharon Hinck, is:
cdwilliams54105@ . . .
Congratulations! I'll email you today to get your mailing address, and we'll get your book to you right away.
I encourage readers to keep commenting and/or subscribe at right (above my list of books) in order to participate in future book give-aways! Subscribers are entered a second time when they comment.
And now let's visit with novelist
Misty Beller,
author of the Inspirational Historical Romance,
The Rancher Takes a Cook
(Prism Book Group, June 2015).
Misty M. Beller was raised on a farm in South Carolina, so her Southern roots run deep. Growing up, her family was close, and they continue to keep that priority today. Her husband and two daughters now add another dimension to her life, keeping her both grounded and crazy.
God has placed a desire in Misty's heart to combine her love for Christian fiction and the simpler ranch life, writing historical novels that display God's abundant love through the twists and turns in the lives of her characters.
Writing is a dream come true for Misty. Her family—both immediate and extended—is the foundation that holds her secure in that dream.
Please tell us three random things we might not know about you.
-- I was a music major my first year in college: Sacred Music, Piano Concentration.
-- I graduated from high school when I was 15.
-- I trained horses and riders professionally for a couple of years.
Sounds as if you were quite a go-getter, to have graduated at 15!
Please tell us a bit more about the plot of The Rancher Takes a Cook.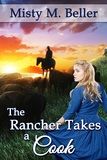 When their South Carolina home burns to the ground, Anna Stewart's only choice is to move with her younger brother to the wilds of a Texas ranch.
Their prospects are beginning to look better, until the rancher's son, Jacob O'Brien, shows up with his alarmingly blue eyes to put a kink in Anna's well-controlled plans.
When danger escalates in the form of a band of cattle thieves with deadly intent, can Anna learn to release control to God's capable hands…and those of the blue-eyed cowboy who's stolen her heart?
What is it about Anna and Jacob that will make your readers care about them?
Anna's lost so much—both parents, her home, and all of life as she knew it. The only tangible thing she has left is her younger brother Edward. And she's fiercely determined to protect him.
Love for the ranch and the life Jacob was raised in drives him. He's worked hard to keep women out of his life, because of the distraction they caused. The land, the animals, his ranch hands—they all needed him to stay focused. When his father brings Anna onto the ranch as the cook, he's pretty frustrated and keeps his distance.
As he gets to know Anna, though, he realizes that she's not a distraction, but actually a helpmate. She has the same dreams and goals he has, and together, life is so much sweeter.
If you were the casting director for the film version of your novel, who would play your lead roles?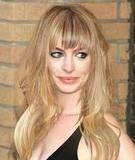 What a great question! I guess I'd say Anne Hathaway for the Anna's role (with lighter hair color).
For Jacob? It would be hard to match his crystal blue eyes, but maybe Ian Somerhalder?
Share with us one line or passage from your novel that gives us a good feel for its tone.
He shot her a scowl. "Even if you can't shoot a gun, you should at least carry it."
Her back stiffened. "Of course I can shoot a gun."
He ignored the look of indignation she shot him. "Then you'd better start carrying one. I'll ride back with you as far as the herd." Without looking at her, he turned Marshall and started in the direction of the cattle.
What is the last novel you read that you would recommend?
I'm almost finished reading the last book of Dee Henderson's The O'Malley Series,
The Rescuer
. I've loved it! Just the right mix of action, suspense, and certainly romance. And I love how she weaves in faith so naturally.
What are you working on now?
I'm finishing up final edits of
The Lady and the Mountain Fire
, and have plotting the next book in the Mountain Dreams Series. I think it will be titled
The Lady and the Mountain Promise
. Exciting!
Where else can readers find you online?
You can find me on my website, reader blog, marketing blog for authors, Goodreads, Twitter, Google+, and Pinterest.
The book can be purchased in fine book stores and online via the following buttons and links:
Finally, what question would you like to ask my readers?
What's your favorite era to read? Contemporary? Civil War? Biblical days?
Thanks, Misty, for visiting with us and telling us about your novel.
Readers, Misty has offered to give a signed copy of her book to the winner of our drawing on Monday, July 6.
To enter, leave a comment below in answer to Misty's question, above. "Please enter me" won't get you entered.
Leave your email address, in case you win, like so: trish[at]trishperry[dot]com.
Also, I'd love it if you'd connect with me on Facebook. Just click on my name at the right of today's post.
Annoying legal disclaimer: drawings void where prohibited; open only to U.S. residents; the odds of winning depend upon the number of participants. See full disclaimer
HERE

.