Charity Anderson is forced by circumstances to return to her hometown, and she is about to learn the truth of the adage, "You are only as sick as your secrets." Buck Malone may just be the man to help her heal from those old hurts.
Before we visit today's author, I want to announce that the winner of the signed copy of
Second Chance Hero
, by Winnie Griggs, is:
heidivargas@ . . .
Congratulations! I'll email you today to get your mailing address, and we'll get your book to you right away.
I encourage readers to keep commenting and/or subscribe at right (above my list of books) in order to participate in future book give-aways! Subscribers are entered a second time when they comment.
And now let's revisit with novelist
Robin Lee Hatcher
, author of
Whenever You Come Around
(HarperCollins Christian Publishing, May 2015).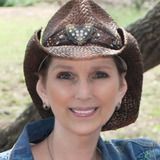 Best-selling novelist Robin Lee Hatcher is known for her heartwarming and emotionally charged stories of faith, courage, and love. The recipient of Lifetime Achievement Awards from both RWA and ACFW, Robin has authored over 70 books.
She and her husband make their home in Idaho where she enjoys spending time with her family, her high-maintenance Papillon, Poppet, and Princess Pinky, the DC (demon cat).
Please tell us three random things we might not know about you.
-- My dad died when I was an infant, but if he'd lived, I probably would have been raised on his sheep ranch in the mountains of Idaho rather than in the city.
-- I used to paint a lot, using acrylics and India ink.
-- I like to knit in the winter, but once the weather gets warm, I put away the yarn.
You certainly have tapped into several different creative processes, Robin! How lovely to have succeeded so well with your storytelling gift.
Please tell us a bit more about the plot of Whenever You Come Around.
Will writing a romance help this author find a real-life hero? Charity Anderson turned her back on Kings Meadow years ago, with good reason, and has avoided visits to her hometown whenever possible. But with her house in Boise damaged by floodwaters and a book deadline bearing down, staying in her parents' empty home seems her only option. However, being in Kings Meadow dredges up a painful secret, and old fears threaten to overwhelm her.
Charity's former high school classmate Buck Malone never left town, instead sacrificing his dreams to take care of his family. Now he enjoys an uncomplicated life as a wilderness guide and confirmed bachelor. The last thing on his mind is settling down.
When Charity's dog causes an accident that leaves Buck with a broken ankle and wrist at the start of prime tourist season, Charity has little choice but to render aid while he recuperates. Soon Buck becomes the inspiration for Charity's hero, both on the page and off. Can he also help her face and overcome her fears so they might find their own happily ever after?
What is it about your lead characters that will make your readers care about them?
Charity has been deeply wounded, and readers will want to see the healing of those old hurts so that she can be truly free. As for Buck, he's got a big heart and is a true cowboy. What's not to love about him?
If you were the casting director for the film version of your novel, who would play your lead roles?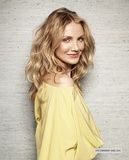 Charity would be played by Cameron Diaz.
Buck would be played by Ryan Reynolds.
Share with us one hard, cold fact about writing and one warm, fuzzy one.
Hard, cold fact: Writing never gets easier.
Warm, fuzzy fact: Readers make it all worthwhile.
Amen to both of those!
What is the last novel you read that you would recommend?
All the Light We Cannot See
by Anthony Doerr. The writing is exquisite and the story haunting.
I just came back from a trip, and I saw a number of people with that novel at the airport.
What are you working on now?
I am currently in the revision/editing stage of the third novel in the Kings Meadow Romance series.
Keeper of the Stars
will release in January 2016.
Where else can readers find you online?
www.robinleehatcher.com
Facebook
Links to Google+, Goodreads, Pinterest, and YouTube can be found on my website.
The book can be purchased in fine book stores and online via the following buttons:
Finally, what question would you like to ask my readers?
You are being sent to a deserted island. You can take your Bible and one novel. Do you reach for an old, well-loved favorite on your keeper shelf or do you reach for the novel everyone is raving about that you haven't had a chance to read yet?
Thanks, Robin, for visiting with us and telling us about your novel.
Readers, Robin has offered to give a signed copy of her book to the winner of our drawing on Monday, June 1.
To enter, leave a comment below in answer to Robin's question, above. "Please enter me" won't get you entered.
Leave your email address, in case you win, like so: trish[at]trishperry[dot]com.
Also, I'd love it if you'd connect with me on Facebook. Just click on my name at the right of today's post.
Annoying legal disclaimer: drawings void where prohibited; open only to U.S. residents; the odds of winning depend upon the number of participants. See full disclaimer
HERE
.