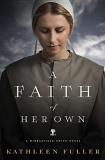 Can Anna Mae heed God's call on her life, even if it means leaving behind everything she knows… and everyone she loves?
Before we visit today's author, I want to announce that the winner of the signed copy of
Winning Over the Heiress
, by Narelle Atkins, is:
grandaddya@ . . .
Congratulations! I'll email you today to get your mailing address, and we'll get your book to you right away.
I encourage readers to keep commenting and/or subscribe at right (above my list of books) in order to participate in future book give-aways! Subscribers are entered a second time when they comment.
And now let's chat with novelist
Kathy Fuller
, author of
A Faith of Her Own
(HarperCollins Christian Publishing, March, 2015).
Kathleen Fuller is the author of over twenty-five novels, including the best-selling Hearts of Middlefield series.
She and her husband divide their time between Ohio and Arkansas. They are the parents of three awesome kids, three quirky dogs, and one overwhelmed cat.
Please tell us three random things we might not know about you.
-- I play several instruments—alto and baritone sax, flute, oboe, and piccolo.
-- I met my husband when we were both taking ballroom dancing lessons.
-- I'm a thyroid cancer and skin cancer survivor. ☺
Blessings with the healing, Kathy!
And how wonderful that you play so many instruments! So few of us can play even one.
Please tell us a bit more about the plot of A Faith of Her Own.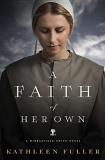 Ever since Anna Mae's childhood friend Jeremiah left their Amish community, she's questioned her own place in the Amish world. The Amish life feels as if it's closing in on her, and with her mother trying to set her up with potential suitors, Anna Mae feels trapped in a life she's not sure she wants anymore. But she's never told anyone that she longs for a tiny taste of freedom—freedom that could be very costly.
When Jeremiah suddenly reappears in Middlefield to help his mentor, Yankee veterinarian Dr. Miller, new questions surface for Anna Mae, along with feelings she'd never fully acknowledged before.
As Anna Mae and Jeremiah rekindle their friendship, old feelings take on new meaning. Yet the question still lingers: What is God's plan for her life? Should she stay, keeping loyal to her Amish family, or does God have a bigger plan—one that provides more freedom than she could imagine?
The answers do not come easily, and the answer to God's call may lie in different directions . . . for both of them.
What is it about Anna Mae and Jeremiah that will make your readers care about them?
Both Anna Mae and Jeremiah have had to make difficult choices that separate them from loved ones. I think anyone who's been faced with a hard decision will relate to both of these characters. I also think romance fans will enjoy Anna Mae and Jeremiah's romantic journey.
If you were the casting director for the film version of your novel, who would play your lead roles?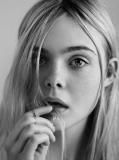 Fun question! I'm a fan of Elle Fanning, and even though she is young, she can play older characters.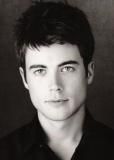 As for Jeremiah, I pictured a young Matt Long. So an older Elle and a younger Matt. ☺
Share with us one quote from a book other than yours that you admire.
"How do you spell love?" Piglet

"You don't spell it, you feel it." Pooh


From
Winnie-the-Pooh
by A.A. Milne
What is the last novel you read that you would recommend?
I'm doing a Goodreads reading challenge this year—100 books this year. So I've read a lot lately, some really good ones. If I have to recommend one it would probably be
A Sugar Creek Christmas
by Jenny B. Jones. Her books are always good, and this one is terrific.
What are you working on now?
I'm working on the second book in the Amish of Birch Creek series. The first book,
A Reluctant Bride
, releases this September. I don't have a title for the second book yet. Right now I call it
Joanna's Book
. ☺
Where else can readers find you online?
My website, where you can sign up for my newsletter:
www.kathleenfuller.com
. I'm also on
Facebook
,
Pinterest
, and Twitter: @TheKatJam. On Pinterest you can find my inspiration boards for my books, including one for
A Faith of Her Own
.
The book can be purchased in fine book stores and online via the following buttons:
CBD.com
Finally, what question would you like to ask my readers?
Where is your favorite place to read a book? When I can I enjoy reading while I'm outside. Inside, it's lying in bed, listening to music (or listening to a book) right before bed.
Thanks, Kathy, for visiting with us and telling us about your novel. Readers, Kathy has offered to give a signed copy of her book to the winner of our drawing on Monday, March 2.
To enter, leave a comment below in answer to Kathy's question, above. "Please enter me" won't get you entered.
Leave your email address, in case you win, like so: trish[at]trishperry[dot]com.
Also, I'd love it if you'd connect with me on Facebook. Just click on my name at the right of today's post.
Annoying legal disclaimer: drawings void where prohibited; open only to U.S. residents; the odds of winning depend upon the number of participants. See full disclaimer
HERE
.