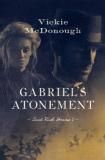 During the Oklahoma land rush days, a gambler seeking to absolve himself of guilt for accidentally killing a man, attempts to help the dead man's struggling widow, but she wants nothing to do with him, no matter how badly she needs him.
Before we visit today's author, I want to announce that the winner of the signed copy of
A Match for Meghan
, by Kimberly Rose Johnson, is:
sallyshupe1@ . . .
Congratulations! I'll email you today to get your mailing address, and we'll get your book to you right away.
I encourage readers to keep commenting and/or subscribe at right (above my list of books) in order to participate in future book give-aways! Subscribers are entered a second time when they comment.
And now let's revisit with novelist
Vickie McDonough
, author of
Gabriel's Atonement
(Barbour, January 2015).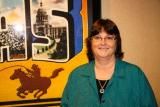 Bestselling author Vickie McDonough grew up wanting to marry a rancher, but instead married a computer geek who is scared of horses. She now lives out her dreams in her fictional stories about ranchers, cowboys, lawmen, and others living in the Old West.
Vickie is the award-winning author of thirty-five published books and novellas. Her books include the fun and feisty Texas Boardinghouse Brides series, and
End of the Trail
, which was the OWFI 2013 Best Fiction Novel winner.
Whispers on the Prairie
was a
Romantic Times
Recommended Inspirational Book for July 2013. She recently tried something different and wrote
Rancher Under Fire
, a contemporary suspense.
Vickie has been married 39 years to Robert. They have four grown sons, one of whom is married, and a precocious eight-year-old granddaughter. When she's not writing, Vickie enjoys reading, antiquing, watching movies, and traveling.
Please tell us three random things we might not know about you.
--My husband and I lived on a kibbutz in Israel for a year shortly after we were married.
--I always wear socks—except when I'm in the shower.
--When I was fourteen, I bought a Honda motorcycle with money I'd made babysitting.
Please tell us a bit more about the plot of Gabriel's Atonement.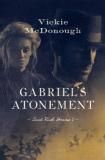 Gabriel's Atonement
is set during the days surrounding the first Oklahoma land run (April 22, 1889).
Gabe is a gambler, but he is an ethical one who doesn't cheat. He just reads people well. After he kills a man in self-defense, guilt riddles him. He decides to find the man's wife and return the money her husband lost to him, hoping to free himself of his guilt.
But Lara Talbot doesn't believe her derelict husband had any money. Gabe tries helping her in other ways, but Lara refuses his assistance. She has her hands full with her rebellious sixteen-year-old sister, an ailing grandfather, and her four-year-old son. One problem after another plagues her until she finds herself homeless. The land run is her only hope of getting property of her own.
A friendship slowly develops between Lara and Gabe, but she knows once the race starts, she will never see him again. She prays her grandpa will win land in the run—that they will finally have a place to call home.
What is it about Gabe that will make your readers care about him?
Though Gabe is a gambler who works in a saloon, he doesn't drink or dally with the dancing girls. A promise he made to his godly ma has kept him from many things most men enjoy. He's an honorable man who had a rough childhood. His noble and tenacious efforts to help Lara should win over readers.
If you were the casting director for the film version of your novel, who would play your lead roles?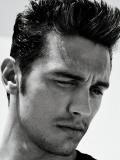 This is always a hard question for me, but I found a couple that would work. I think James Franco might make a good Gabriel even though he's older than Gabe,
and Brooke Butler for Lara.
What special effort do you want to make in 2015 to improve your writing?
I'd like to learn more about indie publishing—not sure if that counts as improving my writing. I've gotten the rights back on some of my novellas, and I'm hoping to get them put up as indie books by this fall.
I hear you on that, Vickie! I'm eager to learn that as well.
What is the last novel you read that you would recommend?
Big Sky Daddy
by Linda Ford. It's a historical set in Montana, and is a family feud story. It has some excellent conflict and a charming forbidden romance. The characters are very well developed, and there's a little boy who will steal your heart.
What are you working on now?
Book 3 in my Land Rush Dreams series. It's tentatively titled
Sarah's Emancipation,
but that may change. On January 1st, I turned in
Joline's Redemption
, book 2 in the series. It releases in November.
Where else can readers find you online?
Website:
www.vickiemcdonough.com
(There's a sign-up link for my newsletter on the Home page)
Facebook
Twitter
Pinterest
Heroes, Heroines, and History blog:
HHHistory.com
The book can be purchased in fine book stores and online via the following buttons:
CBD.com
Finally, what question would you like to ask my readers?
If you lived in the late 1800s and had the opportunity, would you ride in one of the land runs? What are your reasons why you would or wouldn't?
Thanks, Vickie, for visiting with us and telling us about your novel. Readers, Vickie has offered to give a signed copy of her book to the winner of our drawing on Monday, February 2.
To enter, leave a comment below in answer to Vickie's question, above. "Please enter me" won't get you entered.
Leave your email address, in case you win, like so: trish[at]trishperry[dot]com.
Also, I'd love it if you'd connect with me on Facebook. Just click on my name at the right of today's post.
Annoying legal disclaimer: drawings void where prohibited; open only to U.S. residents; the odds of winning depend upon the number of participants. See full disclaimer
HERE
.