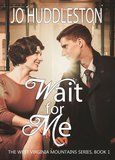 Can Julie, an only child raised with privilege and groomed for high society, and Robby, a coal miner's son, break the shackles of polite society and spend their lives together?
Before we visit today's author, I want to announce that the winner of the signed copy of
The Rancher Takes a Cook
, by Misty Beller, is:
teamob4@ . . .
Congratulations! I'll email you today to get your mailing address, and we'll get your book to you right away.
I encourage readers to keep commenting and/or subscribe at right (above my list of books) in order to participate in future book give-aways! Subscribers are entered a second time when they comment.
And now let's revisit with novelist
Jo Huddleston
, author of the Inspirational southern historical romance,
Wait for Me
(Forget Me Not Romances, a Division of Winged Publications, March 2015).
Jo Huddleston is a multi-published author of books, articles, and short stories. Her debut novels in the Caney Creek Series and her latest book,
Wait for Me,
are sweet Southern historical romances.
She is a member of ACFW, the Literary Hall of Fame at Lincoln Memorial University (TN), and holds a M.Ed. degree from Mississippi State University.
Jo lives in the U.S. Southeast with her husband, near their two grown children and four grandchildren.
Please tell us three random things we might not know about you.
--I don't like being in the dark.
--I can't jump rope.
--I played girls' varsity basketball in high school.
Please tell us a bit more about the plot of Wait for Me.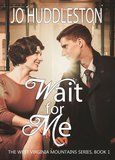 This is a tragically beautiful love story of a simple yet deep love between two soul mates, Robby and Julie.
The American South's rigid caste system and her mother demand that Julie chooses to marry an ambitious young man from a prominent and suitable family. Julie counters her mother's stringent social rules with deception and secrets in order to keep Robby in her life.
Can the couple break the shackles of polite society and spend their lives together? Will Julie's mother ever accept Robby?
What is it about Julie that will make your readers care about her?
Julie's mother is a snobbish socialite who criticizes Julie's every move. She forbids Julie to socialize with the coal miners' children, even though Julie lives in the coal community. Julie can never please her mother and never does anything correct in her mother's judgmental opinion.
Ugh. Some parents really don't deserve the role, do they?
If you were the casting director for the film version of your novel, who would play your lead roles?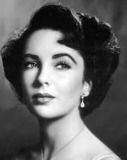 A young Elizabeth Taylor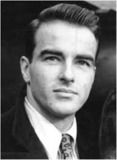 and a young Montgomery Clift.
Imagine you've been contracted to write a novel about a real person. About whom would you most want to write?
Amelia Earhart. I've always been fascinated by aviation and would like to write about how Amelia Earhart spent the last hours on her flight around the world. I would give her a happy ending.
The power of fiction, right? That would be terrific, to imagine a good end for such an interesting woman.
What is the last novel you read that you would recommend?
Beyond All Dreams
by Elizabeth Camden. It's a historical novel in which Elizabeth Camden writes beautiful descriptions and great characterizations laced with a thread of romance. I love her novels because she weaves historical events into her stories so well that the reader hardly notices that they are one of the engine that propels the story.
What are you working on now?
Book 2 in the West Virginia Mountains series of which
Wait for Me
is Book 1. I don't have a title for Book 2; I usually come up with the title from a scene or chapter as I write.
Where else can readers find you online?
Website
www.johuddleston.com
Blog
LifeLine Blog
Facebook
Goodreads
The Book Club Network, Inc.
The book can be purchased via the following button:
Finally, what question would you like to ask my readers?
After reading a book you really enjoyed do you ever think about the characters for a time?
Thanks, Jo, for visiting with us and telling us about your novel.
Readers, Jo has offered to give a signed copy of her book to the winner of our drawing on Monday, July 13.
To enter, leave a comment below in answer to Jo's question, above. "Please enter me" won't get you entered.
Leave your email address, in case you win, like so: trish[at]trishperry[dot]com.
Also, I'd love it if you'd connect with me on Facebook. Just click on my name at the right of today's post.
Annoying legal disclaimer: drawings void where prohibited; open only to U.S. residents; the odds of winning depend upon the number of participants. See full disclaimer
HERE

.
As you scroll to the bottom of this post to leave your answer to Jo's question, take a look at what's releasing in the inspirational fiction market this month!
Amish Romance:
Her Brother's Keeper
by
Beth Wiseman
-- Charlotte Dolinsky disguises herself as an Amish woman to investigate her brother's death never, expecting to fall in love with quiet Amish man Isaac Miller. (Amish Romance from HarperCollins Christian Publishing [Thomas Nelson and Zondervan])
Contemporary Romance:
The Cowboy's Surprise Baby
by
Deb Kastner
-- Navy veteran Cole Bishop returns to Serendipity Texas to make a new life with his son, only to find he has to work with his high school flame, Tessa Applewhite. (Contemporary Romance from Love Inspired [Harlequin])
A Father's Second Chance
by
Mindy Obenhaus
-- Businesswoman Celeste Thompson has one goal: to make her restaurant and hotel a success. She doesn't need any distractions, even from handsome contractor Gage Purcell and his two adorable little girls. (Contemporary Romance from Love Inspired [Harlequin])
Historical Romance:
Among the Fair Magnolias
by
Tamera Alexander
,
Shelley Shepard Gray
,
Dorothy Love
and
Elizabeth Musser
-- In the most turbulent decade of our nation's history, four Southern women--destinies forged by birth, hearts steeled by war--face near impossible choices on their journeys in life . . . and in love. (Historical Romance from HarperCollins Christian Publishing [Thomas Nelson and Zondervan])
The Daughters of Jim Farrell
by
Sylvia Bambola
- Three sisters seek to prove their father innocent of murder in spite of great danger and the possibility they will loose the men they love. (Historical Romance, Independently Published)
The Convenient Bride Collection
by Amanda Barratt,
Andrea Boeshaar
,
Mona Hodgson
,
Melissa Jagears
,
Maureen Lang
,
Gabrielle Meyer
, Jennifer Uhlarik,
Erica Vetsch
and Renee Yancy -- God can take the best-laid plans and turn them into something even better, as nine couples who marry for convenience soon learn. In fascinating settings from America's history, the convenient brides take their nuptials out of necessity. . .never dreaming that God might turn them into true love stories for His glory. (Historical Romance from Barbour Publishing)
The Lady and the Mountain Fire
by
Misty M. Beller
-- Care-giving granddaughter Claire Sullivan and Bryan Donaghue, a doctor with a bad reputation, can't seem to get along-until disaster strikes their wild Montana mining town, and Claire's desire to help lands her in the midst of the fire. (Historical Romance, Independently Published)
To Capture Her Heart (The Southold Chronicles)
by
Rebecca DeMarino
-- In 1653, when Heather Flower, a princess of the Montauk tribe, is kidnapped by a rival tribe, she finds herself rescued by handsome Dutch Lieutenant Dirk Van Buren. Torn between her affection for Dirk and her long friendship with family friend Benjamin Horton, Heather Flower must make a difficult choice--stay true to her friend or follow her heart. (Historical Romance from Revell [Baker Publishing])
A Bride at Last
by
Melissa Jagears
-- Can Silas, Kate, and Anthony's wounded souls bind them together as a family, or will past hurts and new resentments leave them lonely forever? (Historical Romance from Bethany House [Baker Publishing])
Irish Meadows (Courage to Dream)
by
Susan Anne Mason
-- Two O'Leary sisters search for love and independence from their domineering father in 1911 Long Island, New York. (Historical Romance from Bethany House [Baker Publishing])
The Cactus Creek Challenge
by
Erica Vetsch
When a sheriff and a schoolmarm swap jobs for a month, the town of Cactus Creek is thrown into an uproar. (Historical Romance from Barbour Publishing)
Romantic Suspense:
To Soar on Eagle's Wings
by
Renee Blare
-- Spring arrives to the Snowy Range and instead of relaxation, Rachel finds herself the center of a Timber Springs crime spree, but she isn't too upset when she discovers the new game warden's an old family friend. (Romantic Suspense, Independently Published)
Gone Without a Trace
by
Patricia Bradley
-- Homicide detective Livy Reynolds's cousin had disappeared from Logan Point. The last person she wants working the case with her is self-assured private investigator Alex Jennings. But when Alex contacts her with a lead, she'll have to find a way to work with him-before it's too late. (Romantic Suspense from Revell [Baker Publishing])
Emergency Reunion
by
Sandra Orchard
-- Paramedic Sherri Steele refuses to believe someone's out to get her-until she's held at knifepoint in her own ambulance. With every emergency call to the paramedics turning into an attack on Sherri's life, it still takes her high school crush, deputy sheriff Cole Donovan, to convince her she needs protection. Cole is certain Sherri has a stalker-worse, his brother's the lead suspect. (Romantic Suspense from Love Inspired [Harlequin])
Happy reading!