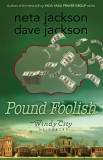 Ever wonder whether the "prosperity gospel" would work for you—or would you end up "penny wise and pound foolish"?
Before we visit today's authors, I want to announce that the winner of the signed copy of
The Yuletide Rescue
, by Margaret Daley, is:
littleronm@ . . .
and the winner of the signed copy of
Love Never Fails
, by Martha Rogers, is:
julesreffner@ . . .
Congratulations! I'll email you today to get your mailing addresses, and we'll get your books to you right away.
I encourage readers to keep commenting and/or subscribe at right (above my list of books) in order to participate in future book give-aways! Subscribers are entered a second time when they comment.
And now let's meet novelists
Neta and Dave Jackson
, authors of
Pound Foolish
(Castle Rock Creative Inc, October 2014).
Neta and Dave Jackson are a husband and wife writing team, and are the authors or co-authors of more than 120 books that have sold over 2.5 million copies. They are best known for Neta's Yada Yada Prayer Group series and their forty-volume Trailblazer series.
They both grew up on the west coast but settled in the Chicago area, which inspires many of the settings and characters for their novels. Their life-journey has included a passion for racial reconciliation and understanding what it truly means for the different parts of the Body of Christ to "need each other" (1 Cor. 12).
They raised two children who in turn rewarded them with four grandchildren who keep them hopping and young at heart.
Please tell us three random things we might not know about you.
--Dave is a farmer at heart and grows wonderful vegetables in our back yard.
--Neta had an imaginary horse and two imaginary dogs as pets while growing up.
--Dave and Neta have been married an amazing 48 years!
You're such an inspirational couple, Dave and Neta!
Please tell us a bit more about the plot of Pound Foolish.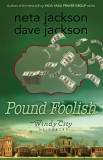 Greg Singer coordinates sports shows for powerboats, four wheelers, snowmobiles, and jet skis—macho toys for outdoor men like himself. But the job puts tremendous stress on his marriage with Nicole, who for the first time notices the handsome lawyer who lives at the end of their block. ("Greener pastures"?)
When the recession hits Greg's industry, he decides the crisis is merely an opportunity for God to bless him with unmatched prosperity—a promise he hears preached each Sunday at his megachurch—and he steps out in bold faith. But is he being "pound foolish"?
The fourth in the Windy City Neighbors series,
Pound Foolish
returns us to Beecham Street, a typical urban neighborhood. Intersecting with
Penny Wise
(book 3), the Jacksons employ the innovating storytelling technique of "parallel novels." Though each book follows its own story arc, the characters lives become intertwined and affect one another—and brings new meaning to prosperity.
What is it about Greg that will make your readers care about him?
Greg is well-meaning but a little clueless about how to support his homeschooling wife. He plans surprises for her but they're not what really matters to her. He's not a bad guy—he's faithful, loves his wife and kids, wants to do the right thing by his family—so you want him to succeed even though you want to shake some sense in his head when he goes off like the Lone Ranger, trying to make things work out on his own. As "head of the family," he doesn't want to burden her with how bad things really are when he loses his job—but in the process ends up leaving her out.
You can't believe he keeps making bad decisions, each one supposedly destined to be "the" answer, the quick fix to all their problems. But knowing he really does love his wife and kids, you hang in there with him because you know he's either going to crash and burn or he's going to get a wakeup call that finally opens his eyes. And you want to be there when it happens.
If you were the casting director for the film version of your novel, who would play your lead roles?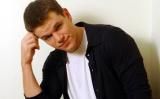 Matt Damon (Greg Singer);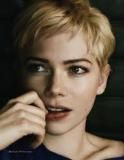 Michelle Williams (Nicole Singer);
Louis Gossett Jr. (Harry Bentley);
Della Reese (Estelle Bentley)
If the sky were the limit, what is one writing-related gift you would love to receive for Christmas?
Movie contract for
The Yada Yada Prayer Group
or
Lucy Come Home.
Wouldn't that be wonderful?!
What is the last novel you read that you would recommend?
Dave:
Wayfaring Stranger
by James Lee Burke. He's a superb artist of literary imagery that makes you feel the characters and settings of his stories..
Neta:
The Known World
by Edward P. Jones. Amazing characterizations, painfully honest about the realities of slavery in the few years just before the Civil War, and yet many of the characters, both white and black, are complex, not all good, not all bad (though some are very very bad!). Won a Pulitzer Prize.
What are you working on now?
The fifth and final book in the Windy City Neighbors series, tentatively titled,
Snowmaggedon
. Projected release date: May 2015.
Where else can readers find you online?
Our web site:
www.DaveNeta.com
FaceBook
Twitter
The book can be purchased in fine book stores and online via the following buttons:
Finally, what question would you like to ask my readers?
What do you see as the advantages or disadvantages of a series of novels that are interrelated—sharing characters, building on a history, a "world" that you enter that carries over into multiple books—vs. the stand-alone novel.
Or . . .
What would you, as a reader, be willing to do to help promote one of your favorite authors?
Thanks, Neta and Dave, for visiting with us and telling us about your novel. Readers, Neta and Dave have offered to give a signed copy of their book to the winner of our drawing on Monday, January 5.
To enter, leave a comment below in answer to Neta and Dave's question, above. "Please enter me" won't get you entered.
Leave your email address, in case you win, like so: trish[at]trishperry[dot]com.
Also, I'd love it if you'd connect with me on Facebook. Just click on my name at the right of today's post.
Annoying legal disclaimer: drawings void where prohibited; open only to U.S. residents; the odds of winning depend upon the number of participants. See full disclaimer
HERE
.