Ellie Quicke has no great opinion of herself, but in listening to others and by the exercise of common sense, she solves crimes in the community.
Before we visit today's author, I want to announce that the winner of the signed copy of
The Lady and the Officer
, by Mary Ellis, is:
klmc_37@ . . .
and the winner of the signed copy of
Speak No Evil
, by Mary Hamilton, is:
Sonja
Congratulations! I'll email you today to get your mailing address, and we'll get your book to you right away.
Sonja, you didn't leave your email address, so get that to me as soon as possible, if you'd like to get your signed book. You can leave your email as instructed in the comments section of this post.
I encourage readers to keep commenting and/or subscribe at right (above my list of books) in order to participate in future book give-aways! Subscribers are entered a second time when they comment.
And now let's chat with novelist
Veronica Heley
, author of
Murder in Time
(Severn House Publishers, September 2014.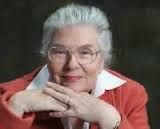 Veronica Heley celebrates the publication of her 73rd book in 2014, having been in the business for over 40 years. She is currently writing two gentle crime series; the Ellie Quicke Mysteries and the Abbot Agency series. She also writes a short story once a quarter for the
Methodist Recorder
.
Her early books, which include more crime and some historical novels, are currently being brought out as E-books.
She's involved with her local church and community affairs, likes to break for coffee with friends and does the garden when she has time.
Please tell us three random things we might not know about you.
--I love chocolate but hate coconut.
--I like to have something flowering in the garden, all year round.
--My favourite colour is blue.
Please tell us a bit more about the plot of Murder in Time.

Ellie Quicke opens the door with her grandson in her arms – and recoils. A stranger is standing there, who is instantly recognisable as the man who raped Ellie's young housekeeper at a party when Vera was still a schoolgirl. Abdi, powerful and moneyed, wanted nothing to do with Vera or his son then, but now he has no legitimate heir he plans to pay off Vera and adopt Mikey – much to their dismay.
To protect Vera and Mikey, Ellie has to unravel the sequence of events on the fateful night of the party so long ago – where the host's father was also killed. No one wants to talk about it now, but Abdi will stop at nothing to get what he wants, so Ellie has to act fast.
What is it about Ellie that will make your readers care about her?
She is a housewife of a certain age who knows she ought to go on a diet, and hasn't much of a dress sense. She is continually being harassed by her greedy daughter Diana. But, she understands people and when she has to put her foot down, she manages to do so. She has a nice sense of humour, which is helpful when she finds herself in difficulties.
If you were the casting director for the film version of your novel, who would play your lead roles?
Ellie would be a gift for any older actress. All the lead roles here are for character actors and actresses. And the 12 year old Mikey is no conventional boy hero, either.
Do you ever attend writers' conferences? At what point in a writer's career do you think she or he should consider attending conferences, and why? Or why not?
I usually teach at one a year. This year I'm doing Murder One at the Warwick University's Writers' Festival. Most writers benefit from contact with others, supporting one another, and sharing tips and information. A conference is the best place to find such people. And, if you need to brush up your craft, this is where you can find those who can help you to do so. Some conferences also give writers a chance to meet agents and editors, but be prepared to listen and take on board the advice given to you – even if you later decide to reject that advice, it is given by those who will know more about the business than you do.
What is the last novel you read that you would recommend?
Love, Nina: A Nanny Writes Home
, by Nina Stibbe. It's fun and it's light, but it's also an insight into a school-leaver growing up while working as an au pair in London. She rubs shoulders with people such as Alan Bennett and playwright and Jonathan Miller, without realising who they are.
What are you working on now?
I'm working on another Ellie Quicke, in which suspicion is cast upon her temporary and inefficient housekeeper. Beryl the Tearful seems to be acting under the orders of the self-styled prophet of a dodgy 'church' which is trying to tap into Ellie's trust fund for money. But, any minute now I'm going to have to drop that to attend to the copy editing of another Bea Abbot story. I do find it difficult to leave one story just as it's getting interesting, to look at commas and full stops in a story which I've stopped thinking about some time ago.
Where else can readers find you online?
Readers can find me online at
www.veronicaheley.com
. Also at my blog which is
blog.veronicaheley.com
and my e-books can be found at:
www.veronicaheley.com/ebooks
There are over twenty of my backlist now available on e-books, and more to come. These include some more crime books, and some historicals, as well as the early Ellie Quicke and Bea Abbot stories.
The book can be purchased in fine book stores and online via the following buttons:
Finally, what question would you like to ask my readers?
I like cats. Both Ellie and Bea have been adopted by cats, who appear in their later stories. Do you think they should go on the covers, too?
Thanks, Veronica, for visiting with us and telling us about your novel. Readers, Veronica has offered to give a PDF copy of her book to the winner of our drawing on Thursday, September 11.
To enter, leave a comment below in answer to Veronica's question, above. "Please enter me" won't get you entered.
Leave your email address, in case you win, like so: trish[at]trishperry[dot]com.
Be sure to check out my interview with
Vickie McDonough
, below. Leave an appropriate comment at the bottom of the post to enter the drawing for a signed copy of the book.
Also, I'd love it if you'd connect with me on Facebook. Just click on my name at the right of today's post.
Annoying legal disclaimer: drawings void where prohibited; open only to U.S. residents; the odds of winning depend upon the number of participants. See full disclaimer
HERE
.