Taylor Dixon knew having his younger sister at camp would be a pain, but he never expected the pain to go so deep.
Before we visit today's author, I want to announce that the winner of the signed copy of
Romancing the Widow
, by Davalynn Spencer, is:
ruth_mangabhai@ . . .
Congratulations! I'll email you today to get your mailing address, and we'll get your book to you right away.
I encourage readers to keep commenting and/or subscribe at right (above my list of books) in order to participate in future book give-aways! Subscribers are entered a second time when they comment.
And now let's chat with novelist
Mary Hamilton,
author of
Speak No Evil
(HopeSprings Books, August 2014).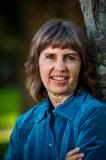 Mary L. Hamilton grew up at a youth camp in southern Wisconsin, much like the setting for her Rustic Knoll Bible Camp series. She is a graduate of the Long Ridge Writers' Group and a member of ACFW.
When not writing, Mary enjoys knitting, reading and being outdoors. She and her husband raised three children and make their home in Texas with a rescued Golden Retriever.
Please tell us three random things we might not know about you.
-- I used to hide gourmet chocolate chunk cookies in the freezer to enjoy when my kids were napping.
-- Though I love being with people, I tend to be a cocooner. I force myself to get out of the house.
-- I'm not a very random person.
Please tell us a bit more about the plot of Speak No Evil.
At 15, Taylor Dixon dreams of getting his driver's license and driving racecars when he's older. But his younger sister's adventurous spirit keeps landing him in trouble, which means Dad refuses to let him get his license. Dad's convinced Taylor is heading for the same jail cell as his once-favored older brother.
Taylor returns to Rustic Knoll Bible Camp, expecting softball, swimming and sermons. Then he discovers a classic Mustang in the camp's machine shed, and the owner's invitation to help restore it fuels his dream of driving.
But when Marissa falls for his snobbish cabin mate, the ensuing war of words and pranks escalates, threatening to destroy both the car and his dreams for the future.
Will Taylor end up in jail, fulfilling Dad's prediction? Or will he finally learn the message found in the old Mustang's engine?
What is it about Taylor that will make your readers care about him?
Taylor is a bit of an antihero. His bullying ways haven't endeared him to many of the other campers. But we see him hungering for some positive attention from his dad. And his subtle devotion to his younger sister is another likeable quality. He fears losing her because she's the only one who believes in his dreams.
Do you ever attend writers' conferences? At what point in a writer's career do you think she or he should consider attending conferences, and why? Or why not?
I try to attend one writers' conference a year, even if it's only a small local one. The benefits of a conference are many, from learning the business of writing and getting a feel for the industry to networking with other beginning writers and learning from more experienced writers.
Attending a large national conference can be overwhelming for a novice writer, so start small and work up. By the time you're ready to submit your work to an agent or editor, then you need to attend one of the national conferences. But even then, look at the agents and editors who will be there and plan to attend one where you'll get a chance to meet with the ones you think would be most interested in your work.
What is the last novel you read that you would recommend?
The last novel I read was Tim Shoemaker's
Below the Surface
. I highly recommend his Code of Silence series for middle grade readers. The characters are four kids in junior high school who stumble into some pretty heavy crimes. Even as an adult, I couldn't put the books down, and I even cried near the end of the second book,
Back Before Dark
.
What are you working on now?
I'm working on
See No Evil
, the third book in my Rustic Knoll Bible Camp series. It features Steven Miller, the blind but capable camper from the first two books. He'll be training for a half-triathlon while dealing with a possible stalker, and the book will touch on the issue of pornography as well.
Where else can readers find you online?
www.maryeellis.wordpress.com
Facebook
Twitter
Pinterest
The book can be purchased in fine book stores and online via the following buttons:
Finally, what question would you like to ask my readers?
Taylor dreams of driving race cars when he's older. When you were a kid, what did you dream of doing when you were older?
Thanks, Mary, for visiting with us and telling us about your novel. Readers, Mary has offered to give a signed copy of her book to the winner of our drawing on Thursday , August 28.
To enter, leave a comment below in answer to Mary's question, above. "Please enter me" won't get you entered.
Leave your email address, in case you win, like so: trish[at]trishperry[dot]com.
Be sure to check out my interview with
Mary Ellis
, below. Leave an appropriate comment at the bottom of the post to enter the drawing for a signed copy of the book.
Also, I'd love it if you'd connect with me on Facebook. Just click on my name at the right of today's post.
Annoying legal disclaimer: drawings void where prohibited; open only to U.S. residents; the odds of winning depend upon the number of participants. See full disclaimer
HERE
.