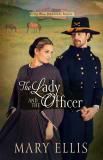 Madeline Howard had never intended to become a spy, but when military intelligence lands in her lap, how could she not serve her country behind enemy lines?
Before we visit today's author, I want to announce that the winner of the signed copy of
Seeking Sophie
, by Melody Balthaser, is:
cpk153@ . . .
Congratulations! I'll email you today to get your mailing address, and we'll get your book to you right away.
I encourage readers to keep commenting and/or subscribe at right (above my list of books) in order to participate in future book give-aways! Subscribers are entered a second time when they comment.
And now let's chat with novelist
Mary Ellis
, author of
The Lady and the Officer
(Harvest House Publishers, August 2014).
Mary Ellis has written twelve bestselling novels set in the Amish community.
Before "retiring" to write full-time, Mary taught middle school and worked as a sales rep for Hershey Chocolate. She has enjoyed a lifelong passion for American history and is an active member of the local historical society.
She is currently working on several romances set during the Civil War.
The Lady and the Officer
is her current release.
Please tell us three random things we might not know about you.
--I have recently discovered I'm gluten intolerant. When did that happen?
--I'm not afraid of snakes, bugs, or toads. But crowds of people send me to the restroom to hide.
--I believe I can eat some form of corn every meal of the day.
I would not have pegged you as shy or an introvert, Mary! Your charm shines right through in person, and you're very comfy to be around.
Please tell us a bit more about the plot of The Lady and the Officer.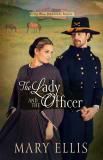 As a nurse after the battle of Gettysburg, Madeline Howard saves the life of Elliot Haywood, a colonel in the Confederacy. But even though she must move to the South, her heart belongs to General James Downing, a Union Army corps commander.
Colonel Haywood has not forgotten the beautiful nurse, and when he unexpectedly meets her again in Richmond, he's determined to win her.
While spending time with army officers and war department officials in her uncle's palatial home, Madeline overhears plans for Confederate attacks against the Union soldiers. She knows passing along this information may save the life of her beloved James, but at what cost? Can she really betray the trust of her family and friends?
Two men are in love with Madeline. Will her faith in God show her the way to a bright future, or will her choices bring devastation on those she loves?
What is it about your lead characters that will make your readers care about them?
My heroine and hero are not too "big" that they can't admit when they've made a mistake. They experience tremendous spiritual and emotional growth during the story, as should we all when life tests our mettle.
If you were the casting director for the film version of your novel, who would play your lead roles?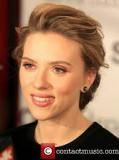 Let's see…I would love to see Scarlett Johansson play my heroine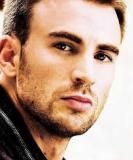 and Chris Evans play hero because they have such chemistry together.
Do you ever attend writers' conferences? At what point in a writer's career do you think she or he should consider attending conferences, and why? Or why not?
I have attended the Blue Ridge Mountains Writers' Conference, along with RWA and ACFW conferences many times. Fifteen years ago, I attended to learn my craft. Now although I continually try to improve my writing, I attend mainly to network and find out where the industry is headed. There is no bad time to attend. If an author can afford the cost, the money is well spent.
Excellent answer.
What is the last novel you read that you would recommend?
I just finished
Cajun Hearts
, a collection of three novellas by Kathleen Y'Barbo. I love how her settings become a bigger-than-life character.
What are you working on now?
I am putting the finishing touches on
The Last Heiress
, a stand-alone romance also set during the Civil War. When heiress Amanda Dunn sails to North Carolina to reestablish the cotton trade for her father's mills, she discovers a city embroiled in war, her estranged twin sister, and an irresistible shopkeeper.
Where else can readers find you online?
www.maryellis.net
www.maryeellis.wordpress.com
Facebook
The book can be purchased in fine book stores and online via the following buttons:
CBD.com
Finally, what question would you like to ask my readers?
Have you ever had to go against your family to maintain your ethical convictions?
Thanks so much, Trish, for inviting me back!
Always a pleasure, Mary! Thanks for visiting with us and telling us about your novel. Readers, Mary has offered to give a signed copy of her book to the winner of our drawing on Thursday , August 28.
To enter, leave a comment below in answer to Mary's question, above. "Please enter me" won't get you entered.
Leave your email address, in case you win, like so: trish[at]trishperry[dot]com.
Be sure to check out my interview with
Davalynn Spencer
, below. Leave an appropriate comment at the bottom of the post to enter the drawing for a signed copy of the book.
Also, I'd love it if you'd connect with me on Facebook. Just click on my name at the right of today's post.
Annoying legal disclaimer: drawings void where prohibited; open only to U.S. residents; the odds of winning depend upon the number of participants. See full disclaimer
HERE
.