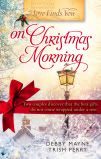 Two couples discover that the best gifts do not come wrapped under a tree.
Happy Thanksgiving, fellow fiction lovers. During this brief holiday break, I'm not interviewing an author, but I do have gifts! This is essentially a repeat of my blog post from last Thanksgiving, and I'm eager to hear this year's feedback from you.
But first, I want to announce that the winner of
Seeking Mr. Perfect
, by Yvonne Lehman, is:
donvelma@ . . .
Congratulations! I'll email you today to get your mailing address, and we'll get your book to you right away.
I encourage readers to keep commenting and/or subscribe at right (above my list of books) in order to participate in future book give-aways!
Now about those gifts. . .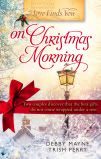 I'd like to give away three signed copies of Love Finds You on Christmas Morning,
(Summerside Press, 2011) the two-novel set I wrote with my dear friend, Debby Mayne. Here are the quick blurbs about the two stories:
Deck the Halls, by Debby Mayne
In 1925 the wealthy William Tronnier becomes smitten with the lovely but penniless Lillian Pickard. Not one to give up easily, William pursues Lillian even though she does everything in her power to resist falling in love with a man from a completely different social class.
As Christmas descends on the picturesque town of Cary, North Carolina, William plans to make Lillian a proposal she can't refuse.
'Tis the Season, by Trish Perry
When Nikki Tronnier moves back home to Cary, North Carolina, she plans to fulfill a lifelong dream and buy back the family home built by her great-grandfather for his bride. But before she is able to make an offer, someone else buys the house.
Just as she's preparing for a fight, Nikki meets the handsome new owner, Drew Cornell, who wants her help restoring the home to its historic beauty in time for Christmas.
The book can be purchased in fine book stores and online via the following buttons:
CBD.com
Next week I will draw three winners from commenters who answer my question, below.
Each Thanksgiving I'm full of gratitude for so many of the things we all appreciate: family, home, employment, good health. That list covers those things most important in my life (and usually in the lives of everyone), and I try never to take any of my blessings for granted. We're especially blessed in this country, whether we realize it or not.
I'm thankful for the little things, too. The silly things. It all comes from Him, so let's give thanks where thanks are due. I'm thankful for Greek food. For body lotion. For songs that make me want to dance. For the little microphone on my phone that lets me
speak
my texts and transmits what I actually say, save some very awkward Autocorrect misfires.
So here's my question. What little thing(s) are you thankful for? Something other than the standard, the obvious. Surprise us, make us laugh, and I'll pull three names from those of you who comment. Remember, "Please enter me" doesn't cut it!
Leave your email address, in case you win, like so: trish[at]trishperry[dot]com.
I'll announce the drawing winners next week.
Finally, I'd love it if you'd connect with me on Facebook. Just click on my name at the right of today's post.
Annoying legal disclaimer: drawings void where prohibited; open only to U.S. residents; the odds of winning depend upon the number of participants. See full disclaimer
HERE
.