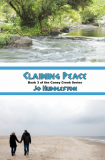 Facing her lowest moments, Callie's life begins to crumble and she searches for peace to endure what lies ahead for her and her family.
Before we visit today's author, I want to announce that the winner of the signed copy of
Warning Signs
, by Katy Lee, is:
worthy2bpraised@ . . .
Congratulations! I'll email you today to get your mailing address, and we'll get your book to you right away.
I encourage readers to keep commenting and/or subscribe at right (above my list of books) in order to participate in future book give-aways! Subscribers are entered a second time when they comment.
Now let's revisit with novelist
Jo Huddleston
, author of
Claiming Peace
(Sword of the Spirit Publishing, September 20, 2013).
Jo Huddleston is a multi-published author of books, articles, and short stories. Her debut novels are in the 3-book Caney Creek Series.
Jo's more than 200 articles and short stories have been published in more than fifty well-known periodicals and she wrote a regular newspaper column for seven years. She is a member of American Christian Fiction Writers and a member of the Literary Hall of Fame at Lincoln Memorial University (TN).
She holds a M.Ed. degree from Mississippi State University. Jo's career has spanned being a high school classroom teacher, high school guidance counselor, private secretary, state-wide political campaign secretary, owner-operator of two small businesses, and a real estate agent.
Please tell us three random things we might not know about you.
--I don't like being in the dark.
--I fear snakes.
--I don't do elevators well.
Please tell us a bit more about the plot of Claiming Peace.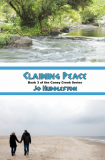 Visit again the Callaway family and friends in 1951 who live in the Southern Appalachians of East Tennessee.
Why did Callie have an appointment with a neurologist? Will she work her way through whatever lies ahead for her and her family?
Does Emmajean's attraction for the young lawyer, Terry, blossom further or die on the vine when he wants her to meet his parents?
Can Caroline and Jim find happiness in their long-delayed marriage?
You'll meet some new characters as the Callaway saga continues. Follow the Callaway family throughout the Caney Creek Series—live their triumphs, sorrows, achievements, and losses.
What is it about Jim that will make your readers care about him?
Jim Callaway is the oldest of five siblings and after their parents die, it is Jim they all turn to with their problems. Jim willingly puts their needs ahead of his own, with no grumbling or aggravation.
When he left the family farm to move to town he made some unwise decisions, which led to bumpy consequences. After he reaches out to God to return to his life, Jim is now a devout, amiable Christian, keeping God's love the center of his life and that of his family.
At one point in this series Jim's fiancé loses her patience with him for taking care of everyone else, not leaving time for being in love.
If you were the casting director for the film version of your novel, who would play your lead roles?
A young Rock Hudson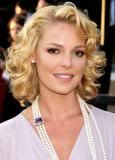 and the current Katherine Heigl (as a blond).
Put yourself into your lead character's voice and give us an applicable sentence that incorporates the words, "goodbye" and "honestly" (or "honesty").
"Saying good-bye to a loved one is honestly the hardest to thing I can imagine."
What is the last novel you read that you would recommend?
The Pastor's Wife Wears Biker Boots
. This novel's theme shows that anyone in any position of life can be a witness for Jesus. At times the book had me in tears and then at other times laughing out loud. The book's theme is presented in a light and enjoyable way.
What are you working on now?
I'm promoting
Claiming Peace.
I have ideas for another series but nothing official yet.
Where else can readers find you online?
Website/Blog:
www.johuddleston.com
Fa
cebook
Goodreads
Shoutlife
The book can be purchased in fine book stores and online via the following buttons:
Finally, what question would you like to ask my readers?
If you have lost a loved one or been around someone who has, what do you think the best things folks can say or not say to give the bereaved one comfort?
Thanks, Jo, for visiting with us and telling us about your novel. Readers, Jo has offered to give a signed copy of her book
to the winner of our drawing on Thursday, November 7. To enter, leave a comment below in answer to Jo's question, above. "Please enter me" won't get you entered.
Leave your email address, in case you win, like so: trish[at]trishperry[dot]com.
Be sure to check out my interviews with
Kathryn Mackel
and
Margaret Brownley
, below. Leave an appropriate comment at the bottom of each post to enter the drawing for a signed copy of the book.
Finally, I'd love it if you'd connect with me on Facebook. Just click on my name at the right of today's post.
Annoying legal disclaimer: drawings void where prohibited; open only to U.S. residents; the odds of winning depend upon the number of participants. See full disclaimer
HERE
.