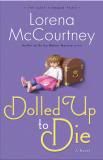 Assistant Private Investigator Cate Kinkaid is called to a triple homicide and finds victims that are certainly dead enough – but a little short on human DNA.
Before we visit today's author, I want to announce that the winner of the signed copy of
King
, by R. J. Larson, is:
tiff@ . . .
Congratulations! I'll email you today to get your mailing address, and we'll get your book to you right away.
I encourage readers to keep commenting and/or subscribe at right (above my list of books) in order to participate in future book give-aways! Subscribers are entered a second time when they comment.
Now let's revisit novelist
Lorena McCourtney
, author of
Dolled Up to Die
(Revell, July 2013).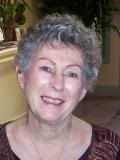 Lorena started writing in the fifth grade. All her stories were about horses. This love of horses carried her through a degree in agriculture from Washington State University. Her first job, however, was with a big meat-packing company in the Midwest, and she quickly discovered that writing about hogs and sausage making was not how she wanted to spend her life.
Marriage and motherhood intervened, and when she finally got back to writing, she knew fiction was what she wanted to write. She wrote many short stories for both children and women readers, and eventually turned to book-length romances. Now her books are faith-based mystery/romances, which she feels is my real writing home.
Dolled Up to Die,
her current release (and 43rd book altogether), is Book #2 in her Cate Kinkaid Files mystery series.
Please tell us three random things we might not know about you.
--All of my early books were first written by hand on notebook paper, and I had to use a certain ink pen, not just any old ballpoint, to write with.
--I didn't get a driver's license until I was 35 years old, and then only because I figured if I didn't hurry up, my son would get a license before I did.
--My husband always groans, "Oh, no," when I tell him I found a new recipe, and that's what we're having for dinner. (Sometimes he groans even more after he tastes it.)
If he really loved you, Lorena, he would smile, dig in, and rub his tummy to signal his approval, no matter how horrible your cooking is. That's always been my stance in the kitchen.
Please tell us a bit more about the plot of Dolled Up to Die.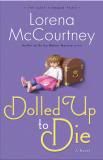 As in Book #1,
Dying to Read
, Kate Kinkaid is still an assistant private investigator, with her uncle (and boss) still insisting Belmont Investigations doesn't do murders.
But now Cate receives a frantic call from a woman about a triple homicide. A head blown off, a face destroyed, a bullet in a chest! But when Cate arrives, she finds these victims are a little short on human DNA. They're dolls. But then there's the matter of the very human but also very dead ex-husband in the next room, and it soon becomes obvious that both this woman and a number of others have reasons to want him dead.
And Cate is up to her elbows in murder again. With a beautiful trophy wife, a woman who claims she can tell you all about your past lives, a wedding and a wig, hunky Mitch Berenski – and a killer who's willing to kill again.
What is it about Cate that will make your readers care about her?
Cate isn't exactly an expert private investigator, but she's full of determination, loyalty, curiosity, and an oddball sense of humor.
What is the last novel you read that you would recommend?
Ann Tatlock's
Sweet Mercy
. This book is about a 17-year-old young woman, set in the 1930's Great Depression. It is a hard-to-put-down story of her life in that era, her young romances, dreams and disappointments, and her moral dilemma. Beautiful writing and great characterizations give a reader the feeling of a deep connection with this young woman.
What are you working on now?
I'm working on
Death Takes a Ride
, Book #3 in the Cate Kinkaid Files Mystery series. I'm hoping it might do as well as Book #1,
Dying to Read
, which hit a
New York Times
Bestseller list.
How fantastic!
Where else can readers find you online?
At
www.lorenamccourtney.com
My Lorena McCourtney Author page on Facebook
My Lorena McCourtney Profile page on Facebook (Send me a friend invitation!)
Amazon, Nook, Kobo, etc.
The book can be purchased in fine book stores and online via the following buttons:
CBD.com
Finally, what question would you like to ask my readers?
How interested are you in reading mysteries with a historical setting, say from 1930s or farther back?
Thanks, Lorena, for visiting with us and telling us about your novel. Readers, Lorena has offered to give a signed copy of her book
to the winner of our drawing on Monday, August 5. To enter, leave a comment below in answer to Lorena's question, above. "Please enter me" won't get you entered.
Leave your email address, in case you win, like so: trish[at]trishperry[dot]com.
Be sure to check out my interview with
Louise Gouge
, below. Leave an appropriate comment at the bottom of the post to enter the drawing for a signed copy of the book.
Finally, I'd love it if you'd connect with me on Facebook. Just click on my name at the right of today's post.
Annoying legal disclaimer: drawings void where prohibited; open only to U.S. residents; the odds of winning depend upon the number of participants. See full disclaimer
HERE
.