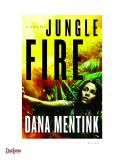 Missionary Nurse Nina Truman is about to find out that the deadliest animals in the Guatemalan jungle are the two legged kind.
Before we visit today's author, I want to announce that the winner of the signed copy of one of my books is:
amberdawnwhitlock@ . . .
Congratulations! I'll email you today to get your mailing address, and we'll get your book to you right away.
I encourage readers to keep commenting and/or subscribe at right (above my list of books) in order to participate in future book give-aways!
Now let's revisit novelist
Dana Mentink
, author of
Jungle Fire
(River North, July 2013).
Dana is a 2009 American Christian Fiction Writer's Book of the Year finalist for romantic suspense and an award winner in the Pacific Northwest Writers Literary Contest. Her novel,
Betrayal in the Badlands,
won a 2010
Romantic Times
Reviewer's Choice Award. She has enjoyed writing a mystery series for Barbour Books and more than thirteen novels to date for Harlequin's Love Inspired Suspense line.
Please tell us three random things we might not know about you
.
--I'm the keeper of a cranky box turtle.
--I'm a third grade teacher.
--I competed on a national level in college speech and debate.
Please tell us a bit more about the plot of Jungle Fire.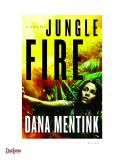 When smugglers pursue missionary nurse Nina Truman, her only hope of escape is Shaw Wilder, a man who blames her for his sister's death. Should she flee into the Guatemalan jungle with Shaw? Or stand and face the enemies who seek to destroy her? Nina's choice may leave them both imprisoned in a jungle from which neither will escape.
What is it about Nina that will make your readers care about her?
Nina is outwardly doing all the right things, serving the underserved, striving to be the hands and feet of Jesus in a difficult situation. She goes through her own personal wrestling match with God when she's confronted by challenges that shake up her life and her faith. I think we can all relate to the "bad things happening to good people" scenario and there's a little Nina inside everyone who faces challenges while we firmly believe we are doing God's will.
If you were the casting director for the film version of your novel, who would play your lead roles?
Well, I don't get out much really so I'm not too up on the stars, but I would say Kristin Kreuk would make a good Nina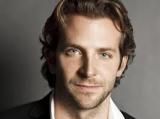 and Bradley Cooper for Shaw. If nothing else, they'd both be lovely to look at!
Right! Very interesting couple, looks-wise.
Author Robin Jones Gunn has said that all Inspirational novelists eventually get a sense of an overall theme God has given them for their stories. At this point, what do you think your overall theme is?
I would say my overall theme is forgiveness. It seems to creep into every novel that I write so I'm getting the sense that's the message God would like me to share.
I love when that happens. I hadn't noticed it until Robin talked about it.
What is the last novel you read that you would recommend?
I loved
Major Pettigrew's Last Stand
. It was lovely and lyrical, both humorous and deeply moving. You can't go wrong with a book like that!
What are you working on now?
How much time have you got? Ha! Little joke there. I write consistently for Harlequin's Love Inspired Suspense line so I've got a three book natural disaster series (Stormswept) which debuts in August. I'm also just finishing an Olympic themed book for them. I'm working on an ABA mystery and most importantly perhaps, I teach third grade so I'm mentoring a whole gaggle of eager little writers!
Wow! How nice to be so busy so far in advance!
Where else can readers find you online?
I'm at the usual cyber hangouts (Twitter, Facebook,
www.danamentink.com
) and I have a writing related blog called Stranger Than Fiction (
www.dmentink.wordpress.com
).
The book can be purchased in fine book stores and online via the following buttons:
CBD.com
Finally, what question would you like to ask my readers?
You know, I've been a dedicated library patron since I was a toddler. I've always thought it would be interesting to see a list of everything I've borrowed over the years to see how my reading tastes have changed. For instance I went through a sci fi period where I devoured everything in the genre. Now, I'm not really a sci fi fan at all. Have your reading interests changed over the years? I'd love to hear about it if you'd like to share.
Thank you so very much for having me, Trish!
Thank you, Dana, for visiting with us and telling us about your novel. Readers, Dana has offered to give a signed copy of her book
to the winner of our drawing on Thursday, July 4. To enter, leave a comment below in answer to Dana's question, above. "Please enter me" won't get you entered.
Leave your email address, in case you win, like so: trish[at]trishperry[dot]com.
Be sure to check out my interview with
Margaret Daley
, below. Leave an appropriate comment at the bottom of the post to enter the drawing for a signed copy of the book.
Finally, I'd love it if you'd connect with me on Facebook. Just click on my name at the right of today's post.
Annoying legal disclaimer: drawings void where prohibited; open only to U.S. residents; the odds of winning depend upon the number of participants. See full disclaimer
HERE
.