Will Libby's journey to compassion mean giving up her most treasured possession? One choice will change her life forever.
Before we visit with today's author, I want to announce that the winner of the signed copy of
A Dream for Tomorrow
, by Melody Carlson, is
myersalicem@ . . .
Congratulations! I'll email you today to get your mailing address, and we'll get your book to you right away.
I encourage readers to keep commenting and/or subscribe at right (above my list of books) in order to participate in future book give-aways!
Now let's meet novelist
Lois Walfrid Johnson
, author of
Escape into the Night
(Moody Publishers, February 2013).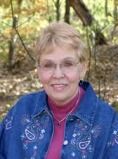 Lois Walfrid Johnson is a speaker, teacher of writing, and former instructor for Writer's Digest School. She is the author of 38 books, including
Girl Talk,
the Gold Medallion Book Award winning Let's-Talk-About-It Stories for Kids series, the bestselling Adventures of the Northwoods mysteries, and the much-loved Riverboat Adventures. In the Viking Quest series Mikkel, Bree, and her brother Devin sail from Ireland to Norway, Iceland, and Greenland, then join Leif Erikson on his trip to the New World.
Though targeted for boys and girls ages ten and older, as well as young people, Johnson's novels are enjoyed by all ages. Readers from more than 40 countries have written to say, "I love your books. I can't put them down!" and "Your books changed my life!"
Please tell us four random things we might not know about you.
-- On a beautiful spring day when I was 9 years old, I was especially naughty. My mother knew she couldn't send me to my room. I would just read a book. Instead, she sent me out to clean the leaves from prickly, thorn-filled barberry bushes. That was the day I decided to become an author.
I started writing my first mystery novel that evening. Even then, I ended every chapter with a cliffhanger because I wanted others to love reading the way I do. Eventually that first novel was published as
Runaway Clown
, the eighth book in the Northwoods series. (With a bit of rewriting, of course!)
-- My husband, Roy, a teacher in inner-city Minneapolis schools for 28 years, is my favorite resource person.
As I wrote one of the later novels in the Northwoods series, I told him, "I like doing this. Will you think about what we can do after Northwoods?" The next morning Roy went out for breakfast. Norwegians always think best when drinking coffee. He took up a pen and wrote down an idea. That evening he told me, "Your story family could live on a steamboat and travel up and down the Mississippi River." "That's it!" I said.
-- To research what became the Freedom Seekers series, Roy and I lived in a small RV and traveled from St. Paul to St. Louis a number of times. Soon we discovered that the Underground Railroad frequently crossed the Mississippi River. As we prayed about our stops and starts, the Lord repeatedly led us to exactly the right person at the needed time. Often we could have missed that librarian or historian by five minutes.
-- I love to cycle, take photos, camp, and enjoy our state and national parks. I enjoy being with family and friends and talking with kids, teens, and people of all ages who also love books. I soon discovered that novels about people of other times broaden our perspective and help us with whatever we face in our own life.
Lois, I love how your journey into and through the writing life sounds so much like an adventure itself.
Please tell us a bit more about the plot of Escape into the Night.
Travel back to 1857 with Libby, Caleb, and Jordan, who face questions still important today: Who can I trust? What do I really care about? How can I live my belief in the freedoms sought in the Declaration of Independence and the Constitution? What does freedom really mean?
As Libby looks down from a hotel window toward her father's steamboat, she sees one shadow, then a second, and a third. Soon Libby hears barking dogs, coming closer. Bloodhounds straining at their leashes! Then eight or ten men, lanterns held high.
When Libby comes to live on the Christina, her curiosity ensnares her in the mystery. What is the closely-held secret of Caleb, the cabin boy who seems determined to make her life miserable? Though rich in material things, Libby recognizes her emotional poverty when she discovers Caleb's secret and dangerous work as a conductor in the Underground Railroad. Then a fugitive slave named Jordan takes refuge on the Christina, and another family, Emma and little Henry, push Libby toward a choice. Will her journey to compassion mean giving up her most treasured possession? One choice will change Libby's life forever.
What is it about Libby that will make your readers care about her?
In the years after her mother died, Libby Norstad stayed with her aunt in Chicago. Then, on a visit to her father, captain of the steamboat Christina, Libby puts her ear to a keyhole and hears her aunt say, "Libby embarrasses me in front of my friends! I'm ready to give up on that girl!" As though a knife pierced her heart, Libby feels the pain of those words. Auntie Vi wants to give up on me? But Captain Norstad finds Libby listening and draws her into the room. "If I live on the Christina, I want a never-give-up family," she tells him. "I want a family that believes in me, even when I'm not perfect."
A sob rises in Libby's throat, but she keeps on. "A family that sticks together, even though it's hard."
Captain Norstad makes a promise. "We can be that family for each other. And Caleb and the other people who work on the Christina will be our larger family."
Mention a scene in your novel and name a piece of music that would make good background music for that scene.
Let My People Go
In chapter 12, Libby finds Caleb and Jordan high on the Christina's top deck. As Libby watched, Caleb dipped a cloth into a bowl of clean water. Gently he washed the great open wounds that crisscrossed Jordan's back.
Libby gasped. Whip marks!
Turning, Jordan looked up into her face. "I don't want no pity."
"You don't have my pity," Libby answered quickly. "You have my respect." And my sadness, she added to herself.
"Riggs beat him," Caleb explained.
Libby didn't have to be told…. When Jordan began to sing quietly and softly, as if afraid of being heard, she leaned forward to catch the words. "When Israel was in Egypt land--"
Jordan's lips moved in a whisper. "Let my people go!"
What is the last novel you read that you would recommend?
Randy Alcorn,
Safely Home
, Tyndale House Publishers. Contrast an American businessman who travels to China and renews his friendship with a former college roommate. Contrast the businessman, who seems to have it all, with Li Quan, who lives daily with the persecution of the true church. Learn to know and love Quan, his wife Ming, who holds up more than half of their little sky, and their son Shen.
As I read, I needed to ask myself, How can these people change my life? What are my priorities for eternity? And what does it truly mean to hear the words, "Well done, thou good and faithful servant" and know that you are safely home?
What are you working on now?
Reading the page proofs and study guides for the six novels in the Freedom Seekers series. Preparing a book for the German publisher, Christliche Literatur-Verbreitung e. V.
Where else can readers find you online?
My website:
www.LWJbooks.com
The book can be purchased in fine book stores and online via the following buttons:
CBD.com
Finally, what question would you like to ask my readers?
What gives you the certainty that authors have earned the right to speak because of the way they have lived and expressed their faith?
Thank you, Lois, for visiting with us and telling us about your novel.
Readers, Lois has offered to give a signed copy of her book to the winner of our drawing on Thursday, March 7. To enter, leave a comment below in answer to Lois's question, above. "Please enter me" won't get you entered.
Leave your email address, in case you win, like so: trish[at]trishperry[dot]com.
Be sure to check out my interview with
Kerry Nietz
, below. Leave an appropriate comment at the bottom of the post to enter the drawing for a signed copy of the book.
And see my post about an exciting new
cell phone plan
I started using in 2012. I'm thrilled with it--unlimited talk, text, and data for $49/month, with no contract. Send me an email through the "Email Trish" button, above, if you'd like me to send you a link to learn more about the phone plan and the income opportunity it presents.
Finally, I'd love it if you'd connect with me on Facebook. Just click on my name at the right of today's post.
Annoying legal disclaimer: drawings void where prohibited; open only to U.S. residents; the odds of winning depend upon the number of participants. See full disclaimer
HERE
.