Julia Whittaker has to find the two adult daughters that she surrendered for adoption at birth to ask if they will consider donating part of their liver to Julia's son—the brother they never knew existed.
This weekend we're talking with novelist
Kathryn Mackel
, co-author (with Shannon Ethridge) of
To Know You
(Thomas Nelson, October 2013).
Kathy Mackel is the acclaimed author of
Can of Worms
and other novels for middle readers from Putnam, HarperCollins, and Dial Books.
Writing as Kathryn Mackel, she is the author of the YA fantasy series, The Birthright Books, and of supernatural thrillers including the Christy-finalist
The Hidden
. She was the credited screenwriter for Disney's
Can of Worms
and for
Hangman's Curse
, and has worked for Disney, Fox, and Showtime.
Kathryn's co-author, Shannon Ethridge, is a bestselling author, international speaker, and certified life coach with a master's degree in counseling/human relations from Liberty University. She has spoken to college students and adults since 1989 and is the author of twenty books, including the million-copy best-selling series,
Every Woman's Battle
. She is frequent guest on television and radio, and she mentors aspiring writers and speakers through her online B.L.A.S.T. Program (Building Leaders, Authors, Speakers, and Teachers).
Please tell us three random things we might not know about you, Kathryn.
-- I am an avid hiker.
-- I rarely invite people to watch Patriots football with me and my husband because I yell too loud.
-- I am left-handed.
I love that yelling one, Kathryn.
Please tell us a bit more about the plot of To Know You.
Julia and Matt Whittaker's son has beaten the odds for thirteen years only to have the odds—and his liver—crash precipitously. The last hope for his survival is a "living liver" transplant, but the transplant list is long and Dillon's time is short. His two older half-sisters, born eighteen months apart to two different fathers, offer his only hope for survival.
But can Julia ask a young woman—someone she surrendered to strangers long ago and has never spoken to—to make such a sacrifice to save a brother she's never known? Can she muster the courage to journey back into a shame-filled season of her life, face her choices and their consequences, and find any hope of redemption?
What is it about Julia that will make your readers care about her?
Julia Whittaker could be any one of us. We can make tremendous mistakes when we're young, experience God's redemption and growth, only to come smack-dab against our past decades later.
Julia has to deal with introducing herself to two young women who don't know each other exists and then—at their request—to track down their fathers so the daughters can meet them. The patience needed to allow her daughters to get to know her in the face of the ticking clock of her son's liver failure is immense.
When she has to trample into the lives of the two men who loved and left her, it's a testing that we all might wilt under.
If you were the casting director for the film version of your novel, who would play your lead roles?
Julia = Julianne Moore.
Destiny = Krysten Ritter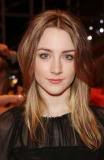 Chloe = Saoirse Ronan
Put yourself into your lead character's voice and give us an applicable sentence that incorporates the words, "goodbye" and "honestly" (or "honesty").
Julia stretched her hand across the table, staring with teary eyes at her daughter. "Please know a big chunk of my heart is still shredded from that morning I had to say good-bye. But if I had kept you . . . Tom was gone and I was alone and I had nothing to give you."
What is the last novel you read that you would recommend?
I loved
The 5th Wave
by Rick Yancey. I read it in one night because I couldn't put it down. It's among the wave of YA dystopian novels and it's the best I've read. It's got thematic elements matched with superb writing that refused to let me go to bed until I had finished. And Rick snuck in the spiritual elements skillfully and naturally.
What are you working on now?
Shannon and I are putting the final touches on
Veil of Secrets
which is the story of a marriage reconstruction under the brutal conditions of a Presidential primary. As in
To Know You
, it raises the question of how do you deal with a past that has crippled your present.
Where else can readers find you online?
www.kathrynmackel.com
and
www.shannonethridge.com
The book can be purchased in fine book stores and online via the following buttons:
CBD.com
Finally, what question would you like to ask my readers?
Christian women's fiction went through a stretch where every heroine curled up with a mug of hot coffee and gazed off somewhere. Any woman—whether in the workplace or at home—knows it is nearly impossible to curl up with a mug of anything and gaze into the distance. So readers—what do you hate that authors do too much of? The steaming mug is mine.
Wow, that's a thought-provoking one, Kathryn. I've been trying to think of my pet peeve, and it's not coming to me readily! I'm especially eager to hear what my readers suggest.
Thanks for visiting with us and telling us about your novel. Readers, Kathryn has offered to give a signed copy of her book
to the winner of our drawing on Monday, November 4. To enter, leave a comment below in answer to Kathryn's question, above. "Please enter me" won't get you entered.
Leave your email address, in case you win, like so: trish[at]trishperry[dot]com.
Be sure to check out my interviews with
Kathi Macias
and
Katy Lee
, below. Leave an appropriate comment at the bottom of each post to enter the drawing for a signed copy of the book.
Finally, I'd love it if you'd connect with me on Facebook. Just click on my name at the right of today's post.
Annoying legal disclaimer: drawings void where prohibited; open only to U.S. residents; the odds of winning depend upon the number of participants. See full disclaimer
HERE
.