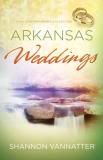 Love is never easy for three couples in tiny Romance and Rose Bud, Arkansas.
Before we visit today's author, I want to announce that the winner of the signed copy of one of my books is:
wileygreen1@ . . .
Congratulations! I'll email you today to get your mailing address and book choice, and we'll get your book to you right away.
I encourage readers to keep commenting and/or subscribe at right (above my list of books) in order to participate in future book give-aways! Subscribers are entered a second time when they comment.
Now let's revisit with novelist
Shannon Vannatter
, author of
Arkansas Weddings
(Barbour, September 2013).
Shannon Taylor Vannatter is a stay-at-home mom and pastor's wife. Her debut novel won the 2011 Inspirational Readers' Choice Award.
When not writing, she runs circles in the care and feeding of her husband, their son, and church congregation.
Home is a central Arkansas zoo with two charcoal gray cats, a chocolate lab, and three dachshunds in weenie dog heaven. If given the chance to clean house or write, she'd rather write. Her goal is to hire Alice from the
Brady Bunch.
Please tell us three random things we might not know about you.
-- I love to swim and I live ten miles from a very popular lake. But I never go to the lake because I appreciate chlorine and the lake is tourist attraction, so it's usually crowded.
-- I love white wicker furniture and my office has wicker seating and shelves.
-- I sewed most of the curtains, valances, and toppers in my house plus two bedspreads. But I don't sew clothing.
I wish I had a picture of your wicker and handiwork to show the readers, Shannon! I love white wicker, too.
Please tell us a bit more about the plots of the novellas in Arkansas Weddings.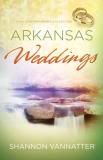 Pastor Grayson is still grieving his wife's death. Will a budding relationship with florist Adrea Welch be the healing he needs to plant new love in his life?
Laken left home eight years ago and never looked back. Now she's in Romance, Arkansas, again, but is she too close to her past—and Hayden Winters?
Shell doesn't have a good reputation. But no matter what everyone thinks, she's back in town with a job to do. Will Ryler Grant disrupt her plans. . .and change her heart?
What is it about your lead characters that will make your readers care about them?
The collection includes three titles in one, so I'll touch on each character.
Grayson Sterling is grieving his wife, trying to raise his son, and hold a church together. Adrea is still licking her wounds from a broken engagement while she provides flowers for everyone else's weddings.
Laken Kroft ran from her dysfunctional family until a much wanted promotion landed her smack in the middle of town as post master. Mail carrier, Hayden Winters blames himself for an accident that crippled his nephew.
Apartment manager, Shell Evans was raised by a promiscuous mom and has a skewed idea of what love is. Landscaper, Ryler Grant has a chip on his shoulder because his birth parents gave him up for adoption.
Students returned to classes this month. If you could attend class in any subject—even something crazy—what would it be?
I wouldn't. High school graduation was my favorite day ever. But I've often thought I'd be a good school principal. I love rules.
What is the last novel you read that you would recommend?
Barefoot Summer
by Denise Hunter. I always love Denise's books. Breath-taking romance with hunky heroes, and there's always something major I didn't see coming.
What are you working on now?
Book 6 in my Texas rodeo series,
Rodeo Song
. It releases in April 2014. Book 5 comes out November.
Where else can readers find you online?
Website:
shannonvannatter.com
Blog:
shannonvannatter.com/blog
Group Blog:
inkspirationalmessages.com
Facebook
Twitter: @stvauthor
The book can be purchased in fine book stores and online via the following buttons:
CBD.com
Finally, what question would you like to ask my readers?
On average, how many books do you read a year?
Thanks, Shannon, for visiting with us and telling us about your novel. Readers, Shannon has offered to give a signed copy of her book
to the winner of our drawing on Monday, September 9. To enter, leave a comment below in answer to Shannon's question, above. "Please enter me" won't get you entered.
Leave your email address, in case you win, like so: trish[at]trishperry[dot]com.
Be sure to check out my interview with
Christine Lindsay
, below. Leave an appropriate comment at the bottom of the post to enter the drawing for a signed copy of the book.
Finally, I'd love it if you'd connect with me on Facebook. Just click on my name at the right of today's post.
Annoying legal disclaimer: drawings void where prohibited; open only to U.S. residents; the odds of winning depend upon the number of participants. See full disclaimer
HERE
.
As you scroll down to leave your answer to Shannon's question, take a look at some of the fantastic new Inspirational fiction releasing this month!
Contemporary Romance:
Plantation Christmas Weddings
by
Lorraine Beatty
, Sylvia Barnes, Cynthia Leavelle, and Virginia Vaughan -- Will a reserved widow, a successful novelist, a divorced couple, and a jilted wedding planner find their hearts rekindled with love just in time for Christmas? (Contemporary Romance from Barbour Publishing)
A Little Bit of Charm
by
Mary Ellis
-- Rachel King wants nothing more than to work with horses, but when her handsome boss sweeps her off her feet, she starts to doubt everything in life, including her faith. (Contemporary Romance from Harvest House)
Awakened Love
by
Laura V. Hilton
-- When her Englisch sister's health worsens, Katie must find a way to balance her heart, her job, and her faith while risking her own life for the sister she never knew. (Contemporary Romance from Whitaker House)
Love Still Stands (The New Hope Amish)
by
Kelly Irvin
-- A group of dedicated families leaves Bliss Creek to establish a new community in Missouri. Among them is Bethel Graber, a beautiful young woman with a passion for teaching. But after being disabled in a terrible accident, overseeing a classroom is out of the question...and romance seems a long-lost dream. Bethel begins physical therapy, determined to make a fresh start. But that won't be easy in the town of New Hope, where the locals seem anything but eager to welcome their new Amish neighbors. Amid growing intimidation from the community, Bethel must find the strength to face her many challenges and the faith to believe that God still has a plan--and a love--for her life. (Contemporary Romance from Harvest House)
Serenity to Accept
by
Elizabeth Maddrey
-- Is there an exception to every rule? Karin Reid has never had much use for God. There's been too much pain in her life. Until she meets Jason Garcia. After his own mistakes of the past, Jason is committed to dating only Christians. He decides to bend his rule for Karin, as long as she comes to church with him. As their friendship grows, both will have to decide if they'll accept the path God has for them, even if it means losing each other. (Contemporary Romance from HopeSprings Books)
The Doctor's Family Reunion
by
Mindy Obenhaus
-- Family means everything to Dr. Trent Lockridge. Growing up without a father, he always yearned for a family of his own. One long-ago summer in Ouray, Colorado, he thought he might build a future with beautiful Blakely Daniels. But when he abruptly fled town, he broke her heart and left behind more than memories. Years later, Trent is shocked-and overjoyed-to learn he's a father. He'd like to earn back Blakely's love and trust- but it won't be easy. And the clock is ticking. He's got only a few weeks to prove that, this time, he's here to stay...forever. (Contemporary Romance from Love Inspired)
Made to Last
by
Melissa Tagg
-- Homebuilding TV show host Miranda Woodruff is out to save her career while juggling a fake husband, former fiance and nosy reporter...all under the roof of the one house she can't bring herself to finish building. (Contemporary Romance from Bethany House [Baker])
For Every Season
by
Cindy Woodsmall
-- Working hard to develop a new Amish community outside of Unity, Maine, Rhoda Byler is fully committed to rehabilitating an orchard with business partner Samuel King. But an impulsive decision has created an unexpected strain in her relationship with her beau, Samuel's brother, Jacob, threatening plans for the orchard. Amidst mounting tension in matters of the heart and business, Rhoda finds that this fledging settlement feels like the home she has always longed for, and she begins to embrace the God-given, heightened intuition that has always felt like a burden to her. She longs for Jacob to fully be free of his past, so they can work towards the future together. (Contemporary Romance from Waterbrook Multnomah [Random House])
The Nurse's Secret Suitor
by
Cheryl Wyatt
-- Trauma nurse Kate Dalton can handle any challenge-except love. The combat veteran dreams of settling down, but heartbreak is one risk she won't take. Then a chance encounter opens her heart to a masked stranger...who might not be a stranger after all! Caleb Landis, the army medic behind the disguise, has always admired Kate, even though she only saw him as her best friend's brother. What will it take for Kate to discard her fears and discover the man she's always hoped to unmask? (Contemporary Romance from Love Inspired)
Romance:
Mistletoe Memories
by
Jennifer AlLee
,
Carla Olson Gade
,
Lisa Karon Richardson
and
Gina Welborn
-- One of America's earliest summer resorts began atop the majestically wooded Schooley's Mountain where the mecca of chalybeate springs (or "magic water") drew visitors from near and far. Eventually the magic water disappeared, but the memories remained. Folks who live there tell the stories they heard from their grandparents who heard them from their grandparents. The four stories in MISTLETOE MEMORIES cover the almost 200 years after the house was built and center around a house that became a refuge that became an orphanage that became a home. (Romance from Barbour Publishing)
Contemporary Women's Fiction:
Tickled Pink: Class Reunion Series, Book 3
by
Debby Mayne
-- Priscilla Slater shows up at her 20-year reunion as a national celebrity. Her hair salon dynasty has skyrocketed, and to top it off, she has her own line of hair products. Her classmates have finally come to terms with adulthood, but they're handling it with the grace of a Southern woman wearing white after Labor Day. Asserting the maturity that her classmates have often lacked, Priscilla holds her head high. But she can't ignore everything. When she catches her mother in the arms of her former high school principal, Priscilla can't get out of town fast enough. Eager to get back to her more comfortable life, Priscilla runs head on into an ultimatum: Tim tells her they're not getting any younger-as if she has to be reminded. (Contemporary Women's Fiction from Abingdon Press)
The Prayer Box
by
Lisa Wingate
-- A young woman, an old woman, the story of a lifetime. A young woman hired to clean out an old house on Hatteras Island discovers a life-changing story in eighty-one prayer boxes kept by the former owner. (Contemporary Women's Fiction from Tyndale House)
Cozy Mystery:
A Plain Disappearance: An Appleseed Creek Mystery
by
Amanda Flower
-- It's Christmastime in Amish Country, and Chloe Humphrey has begun settling into her life in Appleseed Creek excited to see where her new relationship with Timothy Troyer will lead. Unfortunately it leads to murder when the couple discovers the body of Amish teenager Katie Lambright while on their first date. Near the scene there is evidence that Timothy's friend and auto mechanic Billy Thorpe is involved with the crime. The police reveal Billy is not really who he said he was and has been living the last decade in Knox County under a stolen alias. Now, Chloe and Timothy must find Billy, bring him to justice, or prove his innocence. (Cozy Mystery from B&H Publishing)
General Contemporary:
The Inheritance
by Jo-Anne Berthelsen -- Michael Trevelyan is determined to claim his inheritance at all costs. Bitterness consumes him and he refuses to forgive those who have betrayed him. Yet, when he meets Alexandra Hope, things begin to change. She challenges his views but also listens while he shares his pain. Can Michael move on from the past and learn to forgive? Can Alexandra hold onto her faith in God as she deals with their deepening relationship? (General Contemporary from Even Before Publishing [Wombat])
Jasmine
by
April McGowan
-- She survived her past but how can she face it? Jasmine is a survivor. She's lived through the abuse of her father, running away at age fourteen, living on the streets, and now she counsels at risk young women giving them a second chance at life. But when her mother dies, can she go home again and face the past she's forced herself to forget for the last twenty years? Or will the past she's now forgotten take over her present once again? (General Contemporary from Whitefire Publishing)
General Historical:
A Home For My Heart
by
Anne Mateer
-- Sadie Sillsby works as the assistant to the matron at the Raystown Home for Orphan and Friendless Children and dreams of the day she'll marry her beau, Blaine. But when the matron surprises everyone by announcing her own engagement, Sadie is suddenly next in line for the job. For a young woman who was once an orphan herself, a shot at such an esteemed position is a wish come true. But the matron of the Home cannot be married. Is Sadie willing to give up her dreams of a life with Blaine and a family of her own? When it's revealed that the Home is spending a lot more money than it's taking in, can Sadie turn things around before the place is forced to close forever? (General Historical from Bethany House [Baker])
All God's Children
by
Anna Schmidt
-- Quaker Beth Bridgewater came to Munich to live with her aunt and uncle and care for their daughter. But after eight years Beth longs for her home in Wisconsin. Josef Buch, son of a Gestapo agent, moves in with the family while he completes his medical studies. When Josef helps Beth rescue a young Jewish family, she realizes that he does not share his father's politics. Soon they are both drawn into the work of the White Rose-a German resistance movement intent on overthrowing Hitler. As their feelings for each other deepen, Josef and Beth risk everything for peace-and for love. (General Historical from Barbour Publishing)
Historical Romance:
A Pioneer Christmas Collection
by
Margaret Brownley
,
Kathleen Fuller
,
Marcia Gruver
,
Cynthia Hickey
,
Vickie McDonough
,
Shannon McNear
, Lauraine Snelling,
Michelle Ule
and Anna Carrie Urquhart -- Journey along with American settlers who learn that despite where the trail takes them or how primitive their lodgings may be Christmas is all about the heart. Determined to honor Christ's birth, these pioneers find a way to make Christmas happen in places like a cave, a tipi, and a dugout. Modern readers will enjoy a peek into life before commercialism took over the sacred day, distracting us from the true blessings of faith, hope, and love. (Historical Romance from Barbour Publishing)
A Log Cabin Christmas
by
Margaret Brownley
,
Wanda E. Brunstetter
,
Jane Kirkpatrick
, Kelly Eileen Hake,
Liz Johnson
,
Liz Tolsma
,
Michelle Ule
,
Debra Ullrick
,
Erica Vetsch
-- Experience Christmas through the eyes of adventuresome settlers who relied on log cabins built from trees on their own land to see them through the cruel forces of winter. Discover how rough-hewed shelters become a home in which faith, hope, and love can flourish. Marvel in the blessings of Christmas celebrations without the trappings of modern commercialism where the true meaning of the day shines through. (Historical Romance from Barbour Publishing)
The Courier of Caswell Hall
by
Melanie Dobson
-- An unlikely spy discovers freedom and love in the midst of the American Revolution. (Historical Romance from Summerside Press [Guideposts])
Golden State Brides
by
Keli Gwyn
and
Erica Vetsch
-- Sunny California is the place for two historical romances. Elenora Watkins, willful widow and single mother, is determined to best merchant Miles Rutledge in business-and love. Harvey Girl Meghan Thorson discovers the truth about horseman Caleb McBride-whom the townsfolk have branded a coward-and true love. (Historical Romance from Barbour Publishing)
The Invention of Sarah Cummings
by
Olivia Newport
-- Sarah Cummings has one goal in life--to break into Chicago's high society. Desperate to stop serving dinner and to start eating at society tables, Sarah alters cast-off gowns from the wealthy Banning women to create lustrous, flattering dresses of her own. On a whim at a chance meeting, she presents herself as Serena Cuthbert, weaving a fictitious past to go with her fictitious name. But as she gets closer to Simon Tewell, the director of St. Andrew's Orphanage, Sarah finds that she must choose between the life she has and the life she dreams of. (Historical Romance from Revell [Baker])
Beyond These Hills (Smoky Mountain Dreams)
by
Sandra Robbins
-- It's 1935, and Laurel Jackson fears the life she's always known is about to become a memory. The government is purchasing property to establish the Great Smoky Mountains National Park, and nearly all the families in Cades Cove have decided to sell. Laurel is determined to save the land her family has lived on for a hundred years. Andrew Brady, the son of a wealthy Virginia congressman, arrives in the Cove to convince the remaining landowners to sell. Sparks fly when he meets Laurel, the outspoken young woman who is determined to thwart his every effort. Will they ever be able to put aside their differences and accept what their hearts already know? (Historical Romance from Harvest House)
Romantic Suspense:
Stranded (Alaskan Courage)
by
Dani Pettrey
-- When her friend vanishes from a cruise ship, reporter Darcy St. James isn't satisfied with their explanation that she simply left her job of her own accord. Within days, Darcy learns her friend wasn't the only person to disappear mysteriously. Last summer, a woman vanished under almost identical circumstances. Gage McKenna has taken a summer-long stint leading adventure excursions for the passengers of various cruise lines that dock for a few days of sightseeing. He's surprised to find Darcy working aboard one of the ships, investigating a troubling report. Something sinister is going on and the deeper they dig the more Gage fears they've only discovered the tip of the iceberg. (Romantic Suspense from Bethany House [Baker])
Suspense:
Fatal Transaction
by
W. Richard Lawrence
-- Sara, a computer programmer, is forced by the evil Ulrich Levy to develop a scheme to steal millions of dollars from credit card companies. But when she decides to take the money for herself, she begins down a road of distrust, deceit, murder, treachery, faith, love and the ultimate sacrifice. (Suspense Thriller from Lighthouse Publishing of the Carolinas)
Happy reading!