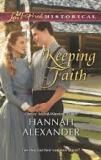 Overcoming bitterness over a broken romance from the past, Dr. Victoria Fenway and wagon train captain Joseph Rickard join forces to catch her late husband's killer and save a group of slaves from murder.
Before we visit today's author, I want to announce that the winner of the signed copy of
Captured by Moonlight
, by Christine Lindsay, is:
mac262@ . . .
Congratulations! I'll email you today to get your mailing address, and we'll get your book to you right away.
I encourage readers to keep commenting and/or subscribe at right (above my list of books) in order to participate in future book give-aways! Subscribers are entered a second time when they comment.
Now let's meet novelist
Hannah Alexander
, author of
Keeping Faith
(Love Inspired Suspense, September 2013).

Hannah Alexander is the pen name for novelist Cheryl Hodde, who writes with the editorial and research assistance of her husband, Mel. That help is especially vital when she includes medical scenes in her stories, because Mel has been an ER doc for more than two decades.
Nearing the mark of 30 published novels, Cheryl has found four vital ingredients she tends to incorporate into every story, whether historical or contemporary—romance, suspense, medicine and most important, faith in Christ. Animals and quirky secondary characters also show up as often as possible, and she has plans for more of these in the future.
Please tell us three random things we might not know about you.
--I am CFO and co-director of a new clinic in my hometown, which hasn't had a family doc in forty years. Mel is using his long ER experience to reach out into the community to offer quality medical care. It's been a wild ride.
--I once ran my pantyhose up the flagpole of my high school—which I can see from our sunroom—to protest the lack of a flag. The hose were replaced very quickly with stars and stripes.
--I grew up in California next door to Jim Arness, who was the star of Gunsmoke. I had a friend whose father was caretaker of Hopetown, a western town stage set owned by Bob Hope. I played amongst the buildings and hillsides of the fabulous set. These experiences helped develop my passion for making up stories.
Love the pantyhose story!
Please tell us a bit more about the plot of Keeping Faith.
The wagon train ride from Missouri to Kansas Territory is rife with perils, but there are bigger obstacles for Dr. Victoria Fenway than cholera or creek floods. Years ago, she and wagon train captain Joseph Rickard were deeply in love. Now Victoria is tracking the man who killed her late husband, and she is determined to continue his work rescuing slaves, with or without Joseph's help. She can't allow herself to fall for Joseph again—not when he abandoned her once before.
Joseph told Victoria he'd love her forever, and he's been as good as his word, despite a misunderstanding that led her to marry another man. But with dangerous slavers on their trail, he'll do anything to keep her safe until they reach a new home hidden away in Kansas Territory—and a second chance at love.
What is it about Victoria that will make your readers care about her?
Victoria has the strength and determination of a warrior, and she doesn't care who she offends when she takes steps to catch her husband's killer. She also struggles with a tender heart that nearly rips in two when she's faced with a decision—she can either leave the wagon train to risk her life and follow the murderer, or she can stay with the train and tend to the heartbreak of her newly orphaned young assistant.
When, to her surprise, her assistant, Heidi, follows her into the forest, Victoria is nearly killed when she leaps between Heidi and an attacking panther.
If you were the casting director for the film version of your novel, who would play your lead roles?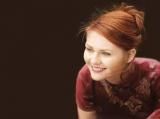 Victoria would be played by Kirsten Dunst.
And sorry, but even after all these years, I'm a die-hard
Pirates of the Caribbean
fan, so Orlando Bloom would play Joseph.
No apology necessary! I've always liked his style.
Students returned to classes this month. If you could attend class in any subject—even something crazy—what would it be?
What do they call Home Economics these days? We had the best Home Ec. teacher, and she taught us a lot, but if she were to tour my home today she'd flunk me, because I've spent too many years writing and working on accounts, and not enough years attending to my home. Time to learn all over again…when I find the time.
Family Life Sciences--that's the current term, apparently. I'm with you, though. I'm excelling at Dust 101.
What is the last novel you read that you would recommend?
When I was working on
Keeping Faith
, I read Lynn Austin's novel,
Candle in the Darkness
for research, but also to catch the beautiful flow of her words. Though my story is nothing like Lynn's, and I could never hope to achieve such a poetic voice, I was reassured by her story of a strong woman who, like Victoria, also wished to end slavery. I would recommend her novel to anyone who wished to read an excellent historical novel filled with accurate detail, romance, and taut suspense.
What are you working on now?
My work-in-progress is a contemporary romantic suspense set in Jolly Mill, which is the same village where I set
Keeping Faith
nearly 150 years in the past—and yes, I included some quirky characters and a Doberman guard dog to protect the feisty, loveable daughter of my heroine. My working title is
Reign of Fire
.
Where else can readers find you online?
I can be found at
www.hannahalexander.com
and Hannah Alexander on Facebook
The book can be purchased in fine book stores and online via the following buttons:
CBD.com
Finally, what question would you like to ask my readers?
I don't wish to be self-serving, but this would require research: Which of my other novels would you like to receive if you win a copy of
Keeping Faith
,
and why? (You can find these novels and their descriptions on
my website
.)
Thanks, Hannah, for visiting with us and telling us about your novel. Readers, Hannah has offered to give a signed copy of her book
to the winner of our drawing on Thursday September 12. To enter, leave a comment below in answer to Hannah's question, above. "Please enter me" won't get you entered.
Leave your email address, in case you win, like so: trish[at]trishperry[dot]com.
Be sure to check out my interview with
Shannon Vannatter
, below. Leave an appropriate comment at the bottom of the post to enter the drawing for a signed copy of the book.
Finally, I'd love it if you'd connect with me on Facebook. Just click on my name at the right of today's post.
Annoying legal disclaimer: drawings void where prohibited; open only to U.S. residents; the odds of winning depend upon the number of participants. See full disclaimer
HERE
.