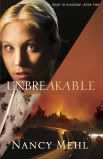 As her Mennonite town is shaken by strange incidents and outright attacks on its residents, Hope Kaufmann is forced to question all she knows and believes.
Before we meet today's author, I want to announce that the winner of the signed copy of
Rebekah
, by Jill Eileen Smith, is:
justhorsinaround730@ . . .
Congratulations! I'll email you today to get your mailing address, and we'll get your book to you right away.
I encourage readers to keep commenting and/or subscribe at right (above my list of books) in order to participate in future book give-aways! Commenters get an additional entry in the drawing.
Now let's meet novelist
Nancy Mehl,
author of
Unbreakable: Book Two in the Road to Kingdom Series
(Bethany House, February 2013).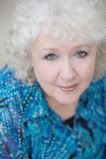 Nancy Mehl lives in Wichita, Kansas, with her husband Norman and her very active puggle, Watson. She's authored fourteen books and is currently at work on a new series for Bethany House Publishing.
The first book in her Road to Kingdom series,
Inescapable
, came out in July of 2012. The second book,
Unbreakable,
released this month.
All of Nancy's novels have an added touch – something for your spirit as well as your soul. "I welcome the opportunity to share my faith through my writing," Nancy says. "God is number one in my life. I wouldn't be writing at all if I didn't believe that this is what He's called me to do. I hope everyone who reads my books will walk away with the most important message I can give them: God is good, and He loves you more than you can imagine. He has a good plan for your life, and there is nothing you can't overcome with His help."
Please tell us five random things we might not know about you.
- I just became a grandmother for the first time! Aidan Jackson Mehl was born on Christmas Day. So, my new name is…Nana!
- - I'm a huge
Doctor Who
fan. In fact, one of the characters in
Unbreakable
, Ebbie Miller, was patterned after the tenth Doctor, David Tennant.
- Although I'm writing Mennonite fiction, I'm not Mennonite. I have a lovely friend who is a Mennonite church historian in Goessel, Kansas. Judy Unruh keeps me on track. (Thanks, Judy!)
- So far, all of my books have been set in Kansas. But the new series I'll be writing for Bethany House will take place in Missouri. Why? Because sometime in 2013 my husband and I (and Watson) will be moving to Missouri. My son, his wife, and my new grandson live there. It will be a little bittersweet to change settings, but I look forward to doing some research in the "Show Me" state.
- I love animals. All of our pets have been rescued. I'm a big believer in adopting animals that need to be rescued.
Congratulations, Nana!
Please tell us a bit more about the plot of Unbreakable.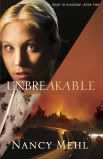 Gentle and unassuming Hope Kauffman has never been one to question church leaders in Kingdom, Kansas. She quietly helps her father run Kingdom Quilts and is looking forward to marrying the devout but shy Ebbie Miller.
Despite Hope's and other Kingdom residents' attempts to maintain the status quo, changes have already begun to stir in the small Mennonite town. The handsome and charismatic Jonathon Wiese is the leader of the move to reform, and when one of Kingdom's own is threatened by a mysterious outsider, Jonathon is one of the first to push for the town to arm itself. Hope's fiance, Ebbie, is at the forefront of those demanding the town stay true to its traditions of nonviolence.
When strange incidents around town result in outright attacks on several townspeople, Hope can't help but question what she's always been taught. As the town that's always stood so strong together is torn apart at the seams, Hope is caught between opposing sides, both represented by those she has come to care for. With tensions high and lives endangered by an unknown threat, Hope fears Kingdom can never survive in one piece.
What is it about Hope that will make your readers care about her?
Hope is the kind of person who isn't satisfied to accept what others tell her. Once she begins to question her church's beliefs, nothing stops her from searching for the truth. She is incredibly honest and true to herself.
If you were the casting director for the film version of your novel, who would play your lead roles?
Well, the part of Ebbie Miller is easy. I fashioned him after the tenth doctor in
Doctor Who
, David Tennant. Although David Tennant is probably too old now to play the part.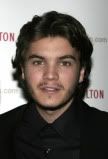 Jonathon Wiese could be played by Emile Hirsch.
As far as Hope Kaufman is concerned, I have no idea. The actress would need to have almost white-blond hair and violet eyes. There are a lot of pretty blond actresses, but I can't think of one with the innocence and honesty that embodies Hope. Maybe a newcomer?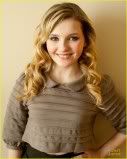 Abigail Breslin is old enough now to play young women, and she can definitely do innocent.
Mention a scene in your novel and name a piece of music that would make good background music for that scene.
At the end of Unbreakable, when Hope reveals her feelings to the man she chooses, I could envision
"Fields of Gold"
by Eva Cassidy. One of the most beautiful love songs I've ever heard, and the words would fit the rural countryside where Hope lives.
What is the last novel you read that you would recommend?
Submerged
by Dani Pettrey. This book was packed with great suspense and tremendous character development. Wonderful story! Great writing!
What an interesting coincidence. I'm currently featuring Dani and her novel, Stranded, which she'll sign and give away on Monday, February 11. I think Dani has a huge fan following.
What are you working on now?
I'm beginning work on a brand new series for Bethany House. It's Mennonite-themed suspense but with a new setting and fresh characters. I really look forward to diving into it!
Where else can readers find you online?
My Web site is located at:
www.nancymehl.com
. I blog at:
www.nancymehl.blogspot.com
and am a part of the Suspense Sisters at:
www.suspensesisters.blogspot.com
. I'm also very active on Facebook.
The book can be purchased in fine book stores and online via the following buttons:
CBD.com
Finally, what question would you like to ask my readers?
Here's something I've been wondering for quite time. Now that authors are so much more available through social networking sites, do you think it's helped or hurt your opinions toward us? Years ago, it never occurred to me that I could "know" my favorite authors. Now it's fairly easy to hook up with anyone you admire. This means you may learn more about their religious beliefs as well as their political leanings. Has this knowledge ever turned you against an author you used to like? Or drawn you to an author you'd never read before? In your opinion, does all this social networking have a positive or a negative influence?
Great question, Nancy. I'm curious about that answer, too.
Thanks for allowing me to "visit," Trish. I enjoyed it!
Thank you, Nancy, for visiting with us and telling us about your novel.
Readers, Nancy has offered to give a signed copy of her book to the winner of our drawing on Thursday, February 14. To enter, leave a comment below in answer to Nancy's question, above. "Please enter me" won't get you entered.
Leave your email address, in case you win, like so: trish[at]trishperry[dot]com.
Be sure to check out my interviews with
Loree Lough
and
Dani Pettrey
, below. Leave an appropriate comment at the bottom of each post to enter the drawing for a signed copy of the book.
And see my post about an exciting new
cell phone plan
I started using in 2012. I'm thrilled with it--unlimited talk, text, and data for $49/month, with no contract. Send me an email through the "Email Trish" button, above, if you'd like me to send you a link to learn more about the phone plan and the income opportunity it presents.
Finally, I'd love it if you'd connect with me on Facebook. Just click on my name at the right of today's post.
Annoying legal disclaimer: drawings void where prohibited; open only to U.S. residents; the odds of winning depend upon the number of participants. See full disclaimer
HERE
.