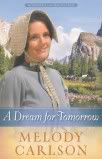 Imagine: Packing a horse-drawn covered wagon with what you need to survive five long months on the Oregon Trail and to start a new life in the western frontier—and what it takes to get there.
Before we revisit with today's author, I want to announce that the winner of the signed copy of
Amazing Grace
, by K. Dawn Byrd, is
christianbookreviewer@ . . .
Congratulations! I'll email you today to get your mailing address, and we'll get your book to you right away.
I encourage readers to keep commenting and/or subscribe at right (above my list of books) in order to participate in future book give-aways!
Now let's visit with novelist
Melody Carlson
, author of
A Dream for Tomorrow
(Harvest House, January 2013).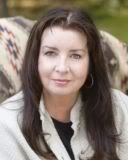 Melody Carlson has written 200 books for teens, women, and children (more than five million copies sold). She's won several awards from the Romance Writers of America, the Evangelical Christian Publishers Association, Christian Retailing magazine, and other national organizations.
Melody and her husband have two grown sons and make their home in the Pacific Northwest.
Please tell us five random things we might not know about you.
-- I traveled around the world before I turned 21.
-- I get slightly claustrophobic in large crowds.
-- I really enjoy "playing" with interior design.
-- My husband and I will celebrate 35 years of marriage this summer.
-- We adopted a Main coon cat named Harry this year.
Please tell us a bit more about the plot of A Dream for Tomorrow.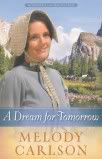 Elizabeth Martin and her family are just setting out on the second half (the more treacherous half) of the Oregon Trail. According to history, twenty percent of the Oregon Trail travelers died on the trail. But Elizabeth and her family were hardworking farmers and they planned carefully for this journey. As a result they end up helping others in their unit and even take in a widower who has fallen upon hard times.
Elizabeth, being a capable and attractive young widow, garners the attention of a couple of male admirers. But she's ever mindful that this trip was her late husband's dream—and she's not sure she's ready to share it with another man. Besides she has her parents, a faithful employee, and her brother and his new wife to help her.
However, when they reach their destination, she begins to see the sensibility of partnering with someone. A lone woman trying to settle in the frontier faces difficult challenges and having a man by her side could be the difference between life and death for her and her children. The very reason that many frontier women tossed aside all notions of marrying for love.
But Elizabeth has to ask herself if she's really ready to do that. Or would she rather wait for love, hoping that the man of her dreams loves her enough to give up his freedom and independence.
What is it about Elizabeth that will make your readers care about her?
Elizabeth is a strong and capable woman with a tender and generous heart. She is loyal to her family, but extends kindness to those around her.
If you were the casting director for the film version of your novel, who would play your lead roles?
Renee Zellwegger could play Elizabeth.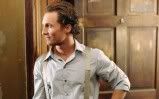 Matthew McConaughey could play Eli.
Mention a scene in your novel and name a piece of music that would make good background music for that scene.
George Winston's album titled
Plains
was probably playing in the back of my head at times. It would be the perfect background for this novel.
What is the last novel you read that you would recommend?
For some reason Kathryn Stockett's
The Help
comes to mind, although it's been quite awhile since I read it. And yet its story and characters remain vivid in my mind. This to me is the sign of a good book. I loved how it was written, how the author sneaked us right into the lives and homes of her characters, giving us a glimpse into another era and region, and bringing a new level of understanding of racism in our country.
What are you working on now?
I'm just finishing up the second (untitled) book in my new Dear Daphne series (first one is called Lock, Stock and Over a Barrel). It's a lighthearted contemporary series about a woman who's reinventing herself in a small charming town. However, she has some very strange conditions that have been placed upon her life.
Where else can readers find you online?
www.melodycarlson.com
The book can be purchased in fine book stores and online via the following buttons:
CBD.com
Finally, what question would you like to ask my readers?
What is your favorite genre (romance, suspense, historical, etc.) and why are you so drawn to it? Also, do you read outside of this genre very much? If so, why?
Thank you, Melody, for visiting with us and telling us about your novel.
Readers, Melody has offered to give a signed copy of her book to the winner of our drawing on Thursday, February 28. To enter, leave a comment below in answer to Melody's question, above. "Please enter me" won't get you entered.
Leave your email address, in case you win, like so: trish[at]trishperry[dot]com.
Be sure to check out my interview with
Kathleen Y'Barbo
, below. Leave an appropriate comment at the bottom of the post to enter the drawing for a signed copy of the book.
And see my post about an exciting new
cell phone plan
I started using in 2012. I'm thrilled with it--unlimited talk, text, and data for $49/month, with no contract. Send me an email through the "Email Trish" button, above, if you'd like me to send you a link to learn more about the phone plan and the income opportunity it presents.
Finally, I'd love it if you'd connect with me on Facebook. Just click on my name at the right of today's post.
Annoying legal disclaimer: drawings void where prohibited; open only to U.S. residents; the odds of winning depend upon the number of participants. See full disclaimer
HERE
.