If you liked
Twilight
or
The Hunger Games
, then you'll enjoy
The Solitary Tales,
especially since the fourth and final book called
Hurt
just released.
Before we meet today's author, I want to announce that the winner of the signed copy of
Thyme for Love
and
Love Will Find a Way
, by Pamela S. Meyers, is:
ibjoy195@ . . .
Congratulations! I'll email you today to get your mailing address, and we'll get your books to you right away.
I encourage readers to keep commenting and/or subscribe at right (above my list of books) in order to participate in future book give-aways! Today's winner didn't comment but is a subscriber, so the name was automatically entered. Commenters get an additional entry in the drawing.
Now let's meet novelist
Travis Thrasher
, author of
Hurt
(David C. Cook, January 2013).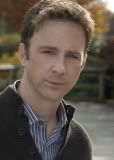 Travis Thrasher is the author of over twenty works of fiction in a variety of genres. He has collaborated with musicians, filmmakers, and pastors. His stories all feature broken characters on journeys toward redemption.
Upcoming books for 2013 include the novelization of
Home Run
and
Are You Gonna Kiss Me Or Not?
co-authored with the band Thompson Square.
Travis and his wife, Sharon, live in a suburb of Chicago and have three daughters.
Please tell us five random things we might not know about you.
--First name is William
--Hate politics
--Have never found a salsa I didn't like
--Broke a school record in tenth grade for the 300 meter hurdles
--Slightly color blind
Please tell us a bit more about the plot of Hurt.
Boy moves to creepy town junior year of high school. Falls for the wrong girl. Again. And again. Struggling with his lack of faith.
The town is full of strange people who focus on him for some reason.
A hundred questions remain unanswered until the fourth and final book where our protagonist realizes who he is and tries to become the hero he's meant to be.
Yes, it's about a teenager coming of age, but it's about a lot more. A spiritual battle centering around the soul of a boy named Chris Buckley.
What is it about Chris that will make your readers care about him?
Chris Buckley struggles and has doubts and constantly fails. He is our hero but he's real. He's got a unique sense of humor and deep down he's a good guy. He just can be stubborn and stupid sometimes.
Yep, that sounds like a real person, all right.
As we begin the new year, what do you hope to change about your life, either writing or otherwise?
I hope to win the lottery, never cut my hair, move to a foreign town, and publish books under my pseudonym: Honker Van Snoodle.
And I thought Thrasher was an eye-catching name.
What is the last novel you read that you would recommend?
I have three girls ages 6, 2 & 2. I wrote ten novels last year. Last novel I read? For some reason I'm thinking of a Hardy Boys book I read in third grade.
Clearly this is not your reading "season." I wish I could tell you girls get easier as they get older.
What are you working on now?
A memoir about an amazing couple. Also starting work on an epic supernatural series in the vein of
The Solitary Tales.
Where else can readers find you online?
www.travisthrasher.com
The book can be purchased in fine book stores and online via the following buttons:
CBD.com
Finally, what question would you like to ask my readers?
What do you do about a toddler who likes to climb out of her crib and fights going to bed. Oh, wait, is this supposed to be a literary question? Okay. What are you real thoughts about italics?
Before answering Travis' question--either one of them--take a quick look at some of the excellent inspirational fiction releasing this month!
Mind of Her Own
by
Diana Lesire Brandmeyer
-- Who knew making dinner could change your life? (Contemporary Women's Fiction from
Tyndale House
).
Waiting for Morning
by
Margaret Brownley
-- If Molly's purple attire doesn't blind you, her dazzling smile will. She doesn't just sing to cattle, she puts on a whole show with dancing and all. If only she wasn't so stubborn about her brother's care. Or so suspicious of a certain handsome doctor... (Historical Romance from
Thomas Nelson
).
Waiting for Spring
by
Amanda Cabot
-- In the second of the Westward Winds series, a young widow discovers danger and love in 1886 Cheyenne. (Historical Romance from
Revell
).
A Daughter's Redemption
by
Georgiana Daniels
-- Inheriting her estranged father's property isn't the reason Robyn Warner wanted to come back to Pine Hollow. She thought she'd make amends with her father-but his sudden death made that impossible. And when she learns the identity of the handyman fixing the run-down cabins, Robyn is ready to flee Pine Hollow again. (Romance from
Love Inspired
).
Where Treasure Hides
by
Johnnie Alexander Donley
-- Gifted artist Alison Schuyler and British officer Ian Devlin fall in love on the eve of war. But Alison's spurned Nazi suitor has his own plans for her future. Will Alison and Ian hold onto their love despite the forces against them, or is it their fate to be separated forever? (Historical Romance from
Tyndale House
).
Choices of the Heart
by
Laurie Alice Eakes
-- In this gripping story of trust, deception, and bittersweet loss, you'll discover the true meaning of choices of the heart. (Historical Romance from
Revell
).
Vanished
by
Irene Hannon
-- A tenacious reporter... A dubious PI... A secret that will shatter lives.... (Romantic Suspense from
Revell
).
Claiming Mariah
by
Pam Hillman
-- In light of her father's death, Mariah Malone sends a letter that will forever alter the lives of her family. When Slade Donovan, strong willed and eager for vengeance, shows up on her front porch, Mariah is not ready to hear his truths: her father's farm, the only home she's ever known, was bought with stolen gold.. Though Mr. Frederick Cooper, a local landowner, promises to answer her financial woes if she agrees to be his bride, Mariah finds herself drawn instead to the angry young man demanding her home. (Historical Romance from
Tyndale House
).
A Horseman's Hope
by
Myra Johnson
-- Four years after his girlfriend, Shana, became pregnant, Ryan still can't believe he's a father . . . and can't imagine being anything else. His daughter is the light of his life. Now if only Shana could embrace motherhood and the three become a real family. . . . (Contemporary Romance from
Heartsong Presents
).
Denali Dreams
by
Ronie Kendig
and
Kimberley Woodhouse
-- Vast and rugged, Denali National Park brings adventure and love into the lives of four courageous women. Will cancer survivor Karon reach Mt. McKinley's summit? Will heiress Jolie survive against the terrain and an assassin? Will flightseeing tour guide Deline save her stalling business? Will love conquer all for ranger Deanna? (Romantic Suspense from
Barbour Publishing
).
Lily's Plight
by Sally Laity and Dianna Crawford-- Amid threats of impending Indian attacks, two people find themselves facing an entirely different challenge...forbidden love. (General Historical from
Barbour Publishing
).
A Mother's Promise
by
Anna Schmidt
-- The third and final book in the Women of Pinecraft series. Set in the Amish/Mennonite community of Pinecraft on the Gulf Coast of Florida readers have fallen in love with these strong women who meet life's challenges with faith and courage. (General Contemporary from
Barbour Publishing
).
Path of Freedom
by
Jennifer Hudson Taylor
-- 1850 - When Quakers Flora Saferight and Bruce Millikan embark on the Underground Railroad, they agree to put their differences aside to save the lives of a pregnant slave couple. With only her mother's quilt as a secret guide, the foursome follows the stitches through unknown treachery. As they begin their perilous journey, they hope and pray that their path is one of promise where love sustains them, courage builds faith, and forgiveness leads to freedom. (Historical Romance from
Abingdon Press
).
Doctor to the Rescue
by
Cheryl Wyatt
-- A former Air Force combat doctor and single dad returns from deployment to raise his daughter and enters a childcare barter with a neighbor that lends to unexpected blessings. (Contemporary Romance from
Love Inspired
).