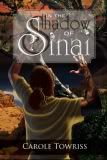 Can an artisan conquer his anger and see his ability as a gift from El Shaddai, or will he let his resentment rob him of his chance to build a masterpiece?
Before we meet today's author, I want to announce that the winner of the signed copy of
Texas Wildflowers
, by Anita Higman, is:
carlyberd@ . . .
Congratulations! I'll email you today to get your mailing address, and we'll get your book to you right away.
I encourage readers to keep commenting and/or subscribe at right (above my list of books) in order to participate in future book give-aways! Commenters get an additional entry in the drawing.
Now let's visit with novelist
Carole Towriss
, author of
In the Shadow of Sinai
(DeWard Publishing Company, November 2012).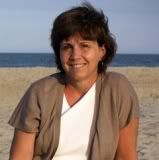 Carole Towriss grew up in beautiful San Diego, California. Now she and her husband live just north of Washington, DC.
In between making tacos and telling her four children to pick up their shoes for the third time, she reads, watches chick flicks, writes and waits for summertime to return to the beach.
Please tell us five random things we might not know about you.
-- I love chocolate and Mexican food.
-- I have four children, three of whom are adopted from Kazakhstan.
-- I love sappy movies.
-- I love the beach and we vacation there each summer.
-- I was a Navy brat, but we never moved.
Mmm, chocolate and Mexican food. I'm dieting right now, and both of those sound so much better than romaine lettuce.
Please tell us a bit more about the plot of In the Shadow of Sinai.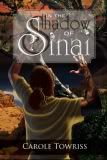 Bezalel is a Hebrew slave to Ramses II. An artisan of the highest order, Ramses has kept him in the palace even when all other Israelites have been banned. Bezalel blames El Shaddai for isolating him from his people.
When Moses and Aaron appear one summer, and El Shaddai shakes Egypt to its core, Bezalel must reexamine his anger. Over the course of the next year, Bezalel's life becomes intertwined with those of an Egyptian child-slave, the captain of the guard, and especially a beautiful, young concubine.
When spring arrives, all of them escape with the young nation of Israel. But that's only the beginning…
That really sounds fascinating, Carole! Different from the typical Inspirational storyline.
What is it about Bezalel that will make your readers care about him?
Bezalel has to decide whether or not to trust God when some earth-shattering events shake his world. Like all of us, the trials in his life threaten his faith, and he considers giving up. His grandfather had told him, "You can trust God, or be blown about like a leaf in a desert wind." We can either fight against God's will in our lives, or we can rest in it. He really struggles with that choice.
If you were the casting director for the film version of your novel, who would play your lead roles?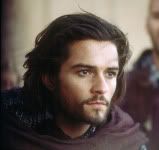 I think maybe a young Orlando Bloom looks the most like what I pictured in my mind. I saw a picture of him with long hair and a beard.
Great choice. Sometimes he has such a classic beauty about him.
As we begin the new year, what do you hope to change about your life, either writing or otherwise?
I really want to be more disciplined. In my writing, my spiritual life, exercise—everything.
Ah, yes, discipline. I wonder if we ever feel disciplined enough?
What is the last novel you read that you would recommend?
I like pretty much everything I read. That's what makes me a terrible reviewer! I just finished this morning Nicole O'Dell's
The Shadowed Onyx
. It's a young adult novel about spiritual warfare and it really made me think about the power of prayer.
What are you working on now?
I'm doing final edits on the sequel,
By the Waters of Kadesh
. I've also been plotting the third of the series in my head.
Where else can readers find you online?
www.caroletowriss.com
,
Twitter
,
Facebook
,
Pinterest
The book can be purchased in fine book stores and online via the following buttons:
Finally, what question would you like to ask my readers?
All right—my first daughter was born after eight years of trying on Christmas Eve Day. We took her home on Christmas Day. What was the best Christmas present you ever received?
Great question. Congratulations! Thanks, Carole, for visiting with us and telling us about your novel.
Readers, Carole has offered to give a signed copy of her book to the winner of our drawing on Thursday, January 24. To enter, leave a comment below in answer to Carole's question, above. "Please enter me" won't get you entered.
Leave your email address, in case you win, like so: trish[at]trishperry[dot]com.
Be sure to check out my interview with
Jennifer Hudson Taylor
, below. Leave an appropriate comment at the bottom of the post to enter the drawing for a signed copy of the book.
And see my post about an exciting new
cell phone plan
I started using in 2012. I'm thrilled with it--unlimited talk, text, and data for $49/month, with no contract. Send me an email through the "Email Trish" button, above, if you'd like me to send you a link to learn more about the phone plan and the income opportunity it presents.
Finally, I'd love it if you'd connect with me on Facebook. Just click on my name at the right of today's post.
Annoying legal disclaimer: drawings void where prohibited; open only to U.S. residents; the odds of winning depend upon the number of participants. See full disclaimer
HERE
.