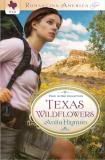 Romance is in full bloom for four McBride sisters living in Texas.
Before we meet today's author, I want to announce that the winner of the signed copy of
Catherine's Pursuit
, by Lena Nelson Dooley, is:
judyjohn2004@ . . .
Congratulations! I'll email you today to get your mailing address, and we'll get your book to you right away.
I encourage readers to keep commenting and/or subscribe at right (above my list of books) in order to participate in future book give-aways! Commenters get an additional entry in the drawing.
Now let's revisit novelist
Anita Higman
, author of the novella collection,
Texas Wildflowers
(Barbour Publishing, November 2012).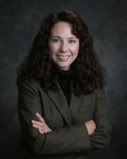 Best-selling and award-winning author, Anita Higman, has over thirty books published (several coauthored) for adults and children. She's been a Barnes & Noble "Author of the Month" for Houston and has a BA degree, combining speech communication, psychology, and art. Anita loves good movies, exotic teas, and brunch with her friends.
What are 5 things that your readers might not know about you?
-- While I was in college I tried working in a pillow factory. I was terrible at it. I got so weary with the repetition I started yakking with the woman next to me. We got reprimanded over and over until I quit. I discovered one thing from that college job—talking is something I excel at.
-- I once won a hog-calling contest at a banquet. I was not embarrassed, but I should have been.
-- I have a bird phobia, and yet I love birds! (That is, from a distance.) My house is filled with the fake kind—prints on the walls, statues, and general bird doodads. Go figure.
-- I keep some interesting treasures near me when I write—a wooden jewelry box my son made me when he was in school, a candle from the 1960s, a hat once owned by a famous mystery writer, the inner parts of a music box, a birthday card that plays The Twilight Zone theme song, and an old family toy helicopter that says, "Going up."
-- Thirty-four years ago I rappelled off a cliff alongside the man I was dating. We kissed in mid-air while dangling off that cliff. I ended up marrying that man, and we've celebrated our 33rd wedding anniversary! Texas Wildflowers is a 4-in-1 novella collection through Barbour Publishing. Each novella is set in an exotic location in Texas. They are lighthearted romances, and they're all tied together with the four McBride sisters.
Ornithophobia. I always have to look up the different phobia names. (Which might mean I'm a logophile.)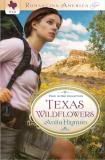 Which of the four novellas was the most fun to write?
They were each fun to write in their own way, but my favorite character was Lily, the counselor, in
Forget Me Not Lily
. She was quirky and fun, relatable and loveable. At least that's what I hope readers will feel.
Was it hard to write four separate stories and keep them fresh?
That task was very hard, because it is so easy to repeat plot elements and character traits and bits of dialogue. I had to constantly check myself to make sure the stories and characters were as unique as they could be. All these novellas are set in Texas.
Are the towns and parks real?
Yes, in fact one of the novellas is set in Big Bend National Park, where my husband and I went on vacation. So, when you read about the characters on certain trails, they're real, and we hiked them!
Did you have a favorite book when you were a child?
I loved fairytales. Cinderella was my favorite.
Do you have a vacation spot you'd love to visit?
I'm dreaming of Ireland. My husband and I plan to travel there next summer. Can't wait! Then I'm going to use the emerald isle as a setting in one of my novels.
When readers finish the last page of Texas Wildflowers, what do you want them to come away with?
I would love for them to be inspired, challenged, and entertained. If I accomplished even one of those things I would feel my writing time wasn't wasted.
Where else can readers connect with you online?
Please drop by my website at
www.anitahigman.com
, or visit my Reader Page on
Facebook
.
The book can be purchased in fine book stores and online via the following buttons:
CBD.com
Finally, what question would you like to ask my readers?
What foreign country would you like to see as a setting for a novel?
Thanks, Anita, for visiting with us and telling us about your novel.
Readers, Anita has offered to give a signed copy of her book to the winner of our drawing on Monday, January 14. To enter, leave a comment below in answer to Anita's question, above. "Please enter me" won't get you entered.
Leave your email address, in case you win, like so: trish[at]trishperry[dot]com.
Be sure to check out my interview with
Travis Thrasher
, below. Leave an appropriate comment at the bottom of the post to enter the drawing for a signed copy of the book.
And see my post about an exciting new
cell phone plan
I started using in 2012. I'm thrilled with it--unlimited talk, text, and data for $49/month, with no contract. Send me an email through the "Email Trish" button, above, if you'd like me to send you a link to learn more about the phone plan and the income opportunity it presents.
Finally, I'd love it if you'd connect with me on Facebook. Just click on my name at the right of today's post.
Annoying legal disclaimer: drawings void where prohibited; open only to U.S. residents; the odds of winning depend upon the number of participants. See full disclaimer
HERE
.