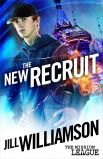 A teenage boy joins the agent development program of a Christian spy organization and travels to Moscow on a training mission.
Before we revisit with today's author, I want to announce that the winner of the signed copy of
With Every Letter
, by Sarah Sundin, is:
richmon.abigail@ . . .
Congratulations! I'll email you today to get your mailing address, and we'll get your book to you right away.
I encourage readers to keep commenting and/or subscribe at right (above my list of books) in order to participate in future book give-aways!
Now let's visit with novelist
Jill Williamson
, author of
The New Recruit
(Marcher Lord Press, September 2012).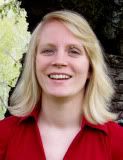 Jill Williamson is a dreamer, believer, and author of all things weird. She won two Christy Awards for her Blood of Kings trilogy and recently released
Replication
, a science fiction teen novel.
Jill lives in Eastern Oregon with her husband and two children and a whole lot of deer.
Yes, you read that correctly--Jill has won two Christy Awards already. So impressive.
Jill, please tell us five random things we might not know about you.
--I used to design wedding dresses.
--I speak very little Japanese.
--I was born in Michigan.
--I was not raised as a Christian.
--I think
Doctor Who
is awesome.
I like your Japanese comment. It sounds as if the average person speak quite a bit more Japanese than you do.
Please tell us a bit more about the plot of The New Recruit.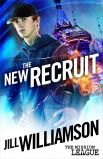 Forced to choose between military school and a Christian spy organization, skeptic Spencer Garmond signs on with the Bible geeks. But before he even boards the plane for Moscow, Spencer realizes this is no Bible club.
These guys mean business.
Stumbling onto a case involving a gang of homeless boys, a chilling tattoo, and the always beautiful Anya Vseveloda, Spencer struggles to find the faith needed to save the Mission League from enemy infiltration.
Come on, Hollywood, are you kidding me? What a fun movie this would be!
What is it about Spencer that will make your readers care about him?
Spencer is a sarcastic and tenacious teenage boy, and I think readers will find him humorous and want him to find the answers he's looking for.
If you were the casting director for the film version of your novel, who would play your lead role?
There are few boy actors out there young enough and tall enough to pull off Spencer's character and his red hair. I think Adam Hicks might be able to pull it off.
I had to look him up--a Disney protege of sorts!
Speaking of films, which novel would you like to see brought to film?
Melanie Dickerson's
The Merchant's Daughter
, which is a fairytale retelling of
Beauty and the Beast
. It's such a great love story! And its medieval. It would make a wonderful movie.
And it won the Carol Award for Young Adult Fiction this past week, to boot!
What is the last novel you read that you would recommend?
Angel Eyes
by Shannon Dittemore. It's a fabulous story about a girl, a boy, and some angels. It's an amazing page turner, and it really spoke to me about my own fear.
What are you working on now?
I'm working on
Captives
, which is the first in a dystopian trilogy coming out from Zonderkidz next February. It's based on Daniel 1 when Jerusalem in conquered by Babylon and the young people are taken into the city.
Where else can readers find you online?
Website:
www.jillwilliamson.com
Facebook:
www.facebook.com/jwilliamsonwrites
Pinterest:
pinterest.com/jillmwilliamson/
The book is available at fine book stores and for online purchase via the following buttons:
CBD.com
Finally, what question would you like to ask my readers?
What's something that you're really good at (a talent, ability, skill you've developed)?
Thank you, Jill, for visiting with us and telling us about your novel.
Readers, Jill has offered to give a signed copy of her book to the winner of our drawing on Thursday, October 4
.
To enter, leave a comment below in answer to Jill's question, above. "Please enter me" won't get you entered.
Leave your email address, in case you win, like so: trish[at]trishperry[dot]com.
Be sure to check out my interview with
Kathy Harris
, below. Leave an appropriate comment at the bottom of the post to enter the drawing for a copy of the book.
And see my post about an exciting new
cell phone plan
. I signed up recently and am truly jazzed. Send me an email through the "Email Trish" button, above, if you'd like me to send you a link to learn more about the phone plan and the income opportunity it presents.
Finally, I'd love it if you'd connect with me on Facebook. Just click on my name at the right of today's post.
Annoying legal disclaimer: drawings void where prohibited; open only to U.S. residents; the odds of winning depend upon the number of participants. See full disclaimer
HERE
.