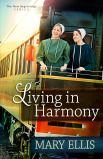 Amy King is ready for a fresh start, but discovering a shunned aunt puts her at odds with her fiancé and her ultra-conservative community.
Before we revisit with today's author, I want to announce that the winner of the signed copy of Michelle Sutton's novel,
It's Not About Her
, is:
jennydtipton@ . . .
Congratulations! I'll email you today to get your mailing address, and we'll get your book to you right away.
I encourage readers to keep commenting and/or subscribe at right (above my list of books) in order to participate in future book give-aways!
Now let's revisit with novelist
Mary Ellis,
author of
Living in Harmony
(Harvest House, August 2012).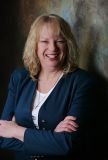 Mary Ellis grew up close to the eastern Ohio Amish, where her parents took her to farmer's markets and woodworking fairs. She loved their peaceful lifestyle, respect for the land, and strong sense of Christian community. She met her husband in college and they married six days after graduation. They now live close to the largest population of Amish in the country—a four-county area in central Ohio.
Mary enjoys reading, traveling, gardening, bicycling and swimming. Before "retiring" to write full-time, Mary taught Middle School and worked as a sales rep for Hershey Chocolate for twenty years—a job with amazingly sweet fringe benefits.
Her debut Amish fiction, A Widow's Hope, was a finalist in the ACFW Carol Awards for 2010 and a runner-up in the 2010 Holt Medallion Awards. She has since written nine Amish fiction books, all best-sellers.
Please tell us five random things we might not know about you.
--I love to sit in hotel pools and read. I tune out the world and focus on the story.
--I once ran a six minute mile. Now I can barely walk to the corner without huffing.
--I applied to Harvard University, just for the heck of it.
--I don't like crowds.
--My husband and I are always the oldest people in the roller coaster line at amusement parks.
How funny, about the roller coaster lines, Mary! I've often thought about that as well--I'm not ready to give up those "safe" thrills!
Please tell us a bit more about the plot of Living in Harmony.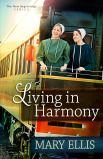 Amy King—young, engaged, and Amish—faces life-altering challenges when she suddenly loses both of her parents in a house fire. Her fiancé, John Detweiler, persuades her to leave Lancaster County and make a new beginning with him in Harmony, Maine, where he has relatives who can help them.
John's brother Thomas and sister-in-law, Sally, readily open their home to the newcomers. Wise beyond his years, Thomas, a minister in the district, refuses to marry Amy and John upon their arrival, suggesting instead a period of adjustment.
While trying to assimilate in the ultraconservative district, Amy discovers an aunt who was shunned. Amy wants to reconnect with her, but John worries that the woman's tarnished reputation will reflect badly on his beloved bride-to-be. Can John and Amy find a way to overcome problems in their relationship and live happily in Harmony before making a lifetime commitment to each other?
What is it about Amy that will make your readers care about her?
Amy has an independent streak, which isn't always appreciated in the Amish world. She has the ability to walk a thin line between obedience and free thinking.
If you were the casting director for the film version of your novel, who would play your lead roles?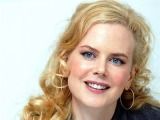 I guess it would have to be Nicole Kidman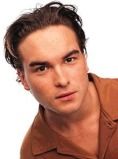 and Johnny Galecki (from the
Big Bang Theory
).
What is one of your favorite opening lines from a novel?
"In my younger and more vulnerable years my father gave me some advice that I've been turning over in my mind ever since. 'Whenever you feel like criticizing any one,' he told me, 'just remember that all the people in this world haven't had the advantages you have had.'"
From
The Great Gatsby
by F. Scott Fitzgerald
What is the last novel you read that you would recommend?
The Believer
by Ann H. Gabhart. I love Ann's style and also loved learning about this extinct culture—the Shakers.
What are you working on now?
I'm working on book 3 of the New Beginnings series, tentatively called
Living in Charm.
Where else can readers find you online?
www.maryellis.net
The book is available at fine book stores and for online purchase via the following buttons:
CBD.com
Finally, what question would you like to ask my readers?
Which book would you love to see a movie made from?
Thank you, Mary, for visiting with us and telling us about your novel.
Readers, Mary has offered to give a signed copy of her book to the winner of our drawing on Thursday, September 6
.
To enter, leave a comment below in answer to Mary's question, above. "Please enter me" won't get you entered.
Leave your email address, in case you win, like so: trish[at]trishperry[dot]com.
Be sure to check out my interview with
Kathryn Cushman
, below. Leave an appropriate comment at the bottom of the post to enter the drawing for a copy of the book.
And see my post about
cell phones
. Leave me a comment if you'd like me to email you an invitation to hear more about this exciting new opportunity.
Finally, I'd love it if you'd connect with me on Facebook. Just click on my name at the right of today's post.
Annoying legal disclaimer: drawings void where prohibited; open only to U.S. residents; the odds of winning depend upon the number of participants. See full disclaimer
HERE
.