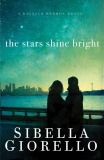 The FBI has disciplined Special Agent Raleigh Harmon for stealing evidence, and now they're offering her a chance to redeem herself by going undercover at a horse-racing track.
Before we revisit with today's author, I want to announce that the winner of the e-book version of
Deception
, by Lillian Duncan, is:
sugarpyhun@ . . .
Congratulations! We'll get your e-book to you right away.
I encourage readers to keep commenting and/or subscribe at right (above my list of books) in order to participate in future book give-aways!
Now let's visit with novelist
Sibella Giorello
, author of
The Stars Shine Bright
(Thomas Nelson, July 2012).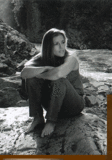 Sibella Giorello grew up in Alaska, majored in geology at Mount Holyoke College, and rode a motorcycle across the country. For ten years she worked as a features writer for the
Richmond Times-Dispatch
where her stories won state and national awards, including two nominations for the Pulitzer Prize.
She now lives in Washington state with her husband and sons.
Please tell us five random things we might not know about you.
-- I'm addicted to running long distances.
-- My kids are homeschooled by the grace of God.
-- My husband is a dynamite Blues musician who plays the harmonica.
-- I grew up Jewish with one Catholic grandmother. As a reporter I was sent to cover a Pentecostal tent revival. That was the first time I met Jesus.
-- Like my protagonist, I enjoy dipping my French fries in mayonnaise.
That's a fantastic story, Sibella, about the tent revival. I didn't know that. Very cool.
Please tell us a bit more about the plot of The Stars Shine Bright.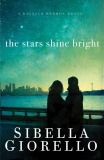 Raleigh Harmon's in deep trouble. Her mother's confined to a mental hospital, and the FBI is ready to suspend her unless her new assignment goes well. But while working undercover to solve a horse race-fixing scandal, she realizes horses are being killed, and her own life is in danger.
Meanwhile she's not sure if her only contact with the FBI, Special Agent Jack Stephanson, is friend or foe. With only a few days left before the track closes for the season, Raleigh returns to her forensic geology skills, hoping to dig herself out of this hole, and come face-to-face with the enemy.
What is it about Raleigh that will make your readers care about her?
Raleigh Harmon's life is a mess. Her mother's crazy, the Bureau doesn't appreciate her tendency to stretch boundaries, and her fiance is demanding she marry him -- now -- just when Raleigh's starting to doubt the whole engagement. But through it all she never gives in to self-pity, and never doubts that when life get dark, stars shine bright.
If you were the casting director for the film version of your novel, who would play your lead roles?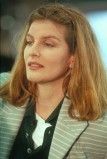 Ever watch Rene Russo in
Lethal Weapon 3
? She's one part Raleigh.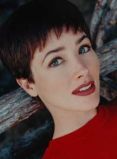 The other part is Janine Turner in
Northern Exposure
. I know, they're too old now. But I don't watch much current television.
Well, we can capture them in their youth, thanks to Google.
What is your favorite book on the craft of writing?
The favorite is usually what's helping at the moment. Right now, for instance, I'm reading
Outlining Your Novel: Map Your Way to Success
by K.M. Weiland. It's good enough to make me rethink being a seat-of-the-pants writer.
Just having the norm tweaked is a big help, isn't it?
What is the last novel you read that you would recommend?
The Silence of Murder
by Dandi Daley Mackall. It just won the Edgar Award for Young Adult mystery. Dandi reels out clues in a pitch-perfect teenage voice, while keeping all the characters lively and interesting.
What are you working on now?
The next Raleigh Harmon mystery. I'm actually writing two at the same time, which is why I need a book such as
Outlining Your Novel
.
Yeesh. Back-to-back, I've done. But simultaneous stories would make me twitchy.
Where else can readers find you online?
Come visit my website,
www.sibellagiorello.com
I show up on Facebook too, which you can find through the website. Be sure to sign up for my newsletter. I love hearing from readers.
The book is available at fine book stores and for online purchase via the following buttons:
CBD.com
Finally, what question would you like to ask my readers?
Your plane crashes on a deserted island. You're alive, but your rescue will take another two years. If you could have one novel with you during those two years, what would it be? Why?
Thank you, Sibella, for visiting with us and telling us about your novel.
Readers, Sibella has offered to give a signed copy of her book to the winner of our drawing on Monday, August 6
.
To enter, leave a comment below in answer to Sibella's question, above. "Please enter me" won't get you entered.
Leave your email address, in case you win, like so: trish[at]trishperry[dot]com.
Be sure to check out my interview with
Mary Manners
, below. Leave an appropriate comment at the bottom of the post to enter the drawing for a copy of the book.
And I'd love it if you'd connect with me on Facebook. Just click on my name at the right of today's post.
Annoying legal disclaimer: drawings void where prohibited; open only to U.S. residents; the odds of winning depend upon the number of participants. See full disclaimer
HERE
.