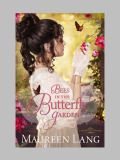 All Ian Maguire wants to do is stop Meg Davenport from following in her father's footsteps. He was, after all, a thief—just like Ian.
Today we're talking with novelist
Maureen Lang
, author of
Bees in the Butterfly Garden
(Tyndale House, June 2012).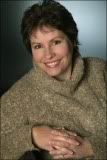 Maureen is the author of a dozen novels and her Inspirationals have earned various writing distinctions as a finalist for the Rita, Christy and four times in the Carol Awards. She's won a Holt Medallion and Holt Award of Merit as well as the Inspirational Reader's Choice Award.
In addition to investigating various eras in history (such as Victorian England, First World War, and America's Gilded Age), Maureen loves taking research trips to get a feel for the settings of her novels.
She lives in the Chicago area with her husband, children, and Labrador retriever.
Please tell us five random things we might not know about you.
--I like to collect items that have a special connection to each one of my books. A small music box that plays a song from Whisper on the Wind, a small sand globe that was just like the one my hero in My Sister Dilly gave my heroine, a fossil that my hero from The Oak Leaves would have saved, a butterfly tea cup for Bees in the Butterfly Garden and others…
--I don't like coconut, even a hint of it.
--I've fallen several times in the last few years, convincing me I should always wear sensible shoes and move carefully to avoid a new ouch!
--I absolutely love dogs! I think they're one of God's best gifts. But I was bitten by one when I was a child, and I'm secretly afraid of dogs that aren't my own.
--I'm a member of a book club and love reading books I probably wouldn't have known about except for the wide and varied tastes of my fellow members.
Please tell us a bit more about the plot of Bees in the Butterfly Garden.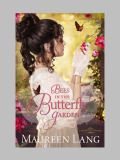 Raised in an exclusive boarding school among Fifth Avenue's finest, Meg Davenport has all she's ever needed . . . but none of the things she's wanted most, like family, or dreams of a future that includes anything other than finding a suitable match. So when her distant father dies, she seizes the chance to throw etiquette aside and do as she pleases. Especially when she learns that John Davenport wasn't the wealthy businessman she thought, but one of the Gilded Age's most talented thieves.
Poised to lead those loyal to Meg's father, Ian Maguire knows the last thing his mentor would have wanted is for his beloved daughter to follow in his footsteps. Yet Meg is determined, and her connections to one of New York's wealthiest families could help Ian pull off his biggest heist yet. But are they both in over their heads? And in trying to gain everything, will they end up losing it all?
What is it about Meg that will make your readers care about her?
It's a special challenge for me to expect readers of Christian fiction to like a would-be thief! I hope I succeeded, because even from the very first chapter I loved Meg. Even though she's been raised in an exclusive school, had every outward need filled, inside she's lived a very lonely life. She's never known the love of a family, and so when her father dies—taking with him her last hope that she would ever find that family love—she's determined to prove how wrong he'd been to shut her away from him.
She intends proving she could have been just like him—a thief. Her reasoning might be flawed, but I'm hoping her vulnerability will cover a multitude of her sins, until she discovers he'd done the right thing by protecting her from the truth.
If you were the casting director for the film version of your novel, who would play your lead roles?
I was so thrilled with the cover model that I'd search for her! If Tyndale would release her name, of course. ☺ I actually didn't have a famous person in mind this time, although I sometimes do when I'm writing. Audrey Hepburn comes to mind (actually she's been an inspiration to me for several of my dark-haired heroines) but she'd have to wear blue lenses to cover her brown eyes this time around.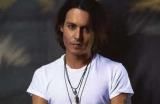 And for my hero . . . a young Johnny Depp would definitely work.
If a novel were published today, based on your life, what would be an appropriate title?
Oh, man, I've been title-challenged my whole life. This is difficult for an author to admit, but I'd have to consult my editor for an answer on this one! Something along the lines of
Grateful for Second Chances
.
What is the last book you read that you would recommend?
Fall of Giants
by Ken Follet. I admit it took me over 200 pages to really get into it, but the characters are interesting enough to keep those pages turning. I think using nearly 1,000 pages to tell this story was an effective way to emphasize the length of the First World War. It probably had too much detail for a lot of readers, but that's one of my favorite eras so I enjoyed it.
What are you working on now?
The second book in my Gilded Age series, currently titled
Great Deeds Never Die
. It's set in 1887 Denver, about a hero and heroine harboring secrets they believe prevents them from ever finding love. Everything the hero represents is based on his secret, short-lived career as a thief, and the heroine has a heart for prostitutes for a reason tied to her past. Love and redemption . . . two of my favorite elements in a story!
Where else can readers find you online?
www.maureenlang.com
The book is available at fine book stores and for online purchase via the following buttons:
CBD.com
Finally, what question would you like to ask my readers?
What's the most common reason you put down a book and have no desire to pick it up again? Here are a few ideas to get you started, but please feel free to agree or to give me your own reason:
I couldn't connect to the characters.
The plot was weak/confusing/unlikely.
Not enough action/romance/mystery (not enough of whatever genre element is expected).
Writing style got in the way.
The story didn't match the cover.
Story didn't follow through on the promise of the back cover blurb or what I was expecting.
Too long/has boring parts.
Thanks for having me on your blog, Trish! I enjoyed your questions.
Thank you, Maureen, for visiting with us and telling us about your novel.
Readers, Maureen has offered to give a signed copy of her book to the winner of our drawing on Thursday, June 7
.
To enter, leave a comment below in answer to Maureen's question, above. "Please enter me" won't get you entered.
Leave your email address, in case you win, like so: trish[at]trishperry[dot]com.
Be sure to check out my interview with
Martha Rogers
, below. Leave an appropriate comment at the bottom of her post to enter the drawing for a signed copy of the book.
And I'd love it if you'd connect with me on Facebook. Just click on my name at the right of today's post.
Annoying legal disclaimer: drawings void where prohibited; open only to U.S. residents; the odds of winning depend upon the number of participants. See full disclaimer
HERE
.