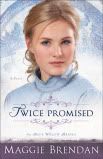 Two beautiful brides. One unsuspecting groom. Three weeks to figure it all out.
Before we revisit with today's author, I want to announce that the winner of the signed copy of
Found in the Woods
, by LoRee Peery, is
kfp10596@ . . .
Congratulations! I'll email you today to get your mailing address, and we'll get your book to you right away.
I encourage readers to keep commenting and/or subscribe at right (above my list of books) in order to participate in future book give-aways!
Now let's revisit with novelist
Maggie Brendan
, author of
Twice Promised
(Revell, October 2012).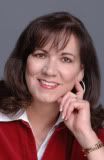 Maggie Brendan is a CBA bestselling author, was nominated for the Rita, a 2012 finalist for Inspirational Reader's Choice awards and a The Heart of Excellence award for
Deeply Devoted
. She is the author of the Heart of the West series. Her latest series is The Blue Willow Brides.
When she's not writing, she enjoys reading, singing, painting, scrapbooking and being with her family.
She is a member of the Author's Guild, the American Christian Fiction Writers, Romance Writers of America, Faith, Hope and Love and Georgia Romance Writers.
Please tell us five random things we might not know about you.
--My brother, Jess McCreede was an author of seven novels.
--I used to paint with oil and acrylics before my book contracts.
--I assisted for a couple of years with the filming of my pastor's (Bryant Wright)
One Minute of Your Time
spots for radio and TV.
--I'm the youngest of eight.
--I sewed an entire duvet, dust ruffle and dressing table of black and white toile for my guest room.
Goodness, that right hemisphere is just buzzing for you, isn't it?!
Please tell us a bit more about the plot of Twice Promised.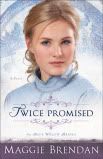 Greta Olsen arrives in Central City, Colorado, as a mail-order bride, expecting to marry Jess Gifford, the man she's come to know through his tender letters. But when the dust clears, she meets Cora Johnson and discovers she's not the only bride waiting at the train station for Jess.
Already shocked to find they must compete for Jess's affection, the young women can hardly believe it when not Jess but his brother Zach picks them up from the station—and reveals that Jess knows nothing about any mail-order bride, let alone two. Will either bride make the match she hopes for?
Filled with surprises, misunderstandings, and tender romance,
Twice Promised
is the story of how two unlikely women become twice blessed.
What is it about Greta that will make your readers care about her?
Greta is independent and very energetic but has a broken heart and is looking for the kind of love that her sister found through being a mail order bride.
If you were the casting director for the film version of your novel, who would play your lead roles?
Scarlet Johansson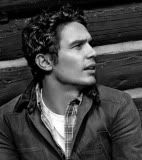 and James Franco.
What would you say was the turning point in your path to becoming a published author?
My brother's sudden death. I had just submitted my query letter that he helped me tweak. I was all the more determined to make him proud of me from heaven.
Oh, I'm so sorry about your loss, Maggie. I lost my sister years ago, rather suddenly, too. That loss was instrumental in my coming to Christ. Interesting, isn't it, how the Lord will use tragedy in our lives.
What is the last novel you read that you would recommend?
Tamera Alexander's
A Lasting Impression
—actually not finished with it because of my own deadline. I love Tamera's writing and enjoy reading historical novels. I can't wait to get back to it.
What are you working on now?
I just submitted the third book for The Blue Willow Brides--
Perfectly Matched.
I'm starting a new series, Virtues and Vices of the old West.
Where else can readers find you online?
www.MaggieBrendan.com
www.SouthernBelleWriter.blogspot.com
www.BustlesAndSpurs.com
Twitter @MaggieBrendan
The book is available at fine book stores and for online purchase via the following buttons:
CBD.com
Finally, what question would you like to ask my readers?
Do you read the author's historical notes? I work very hard on them, and would like to hear if readers take the time to read them.
Thank you, Maggie, for visiting with us and telling us about your novel.
Readers, Maggie has offered to give a signed copy of her book to the winner of our drawing on Monday, October 29
.
To enter, leave a comment below in answer to Maggie's question, above. "Please enter me" won't get you entered.
Leave your email address, in case you win, like so: trish[at]trishperry[dot]com.
Be sure to check out my interview with
Tamera Alexander
, below. Leave an appropriate comment at the bottom of the post to enter the drawing for a signed copy of the book.
And see my post about an exciting new
cell phone plan
I started using recently. I'm thrilled with it--unlimited talk, text, and data for $49/month, with no contract. Send me an email through the "Email Trish" button, above, if you'd like me to send you a link to learn more about the phone plan and the income opportunity it presents.
Finally, I'd love it if you'd connect with me on Facebook. Just click on my name at the right of today's post.
Annoying legal disclaimer: drawings void where prohibited; open only to U.S. residents; the odds of winning depend upon the number of participants. See full disclaimer
HERE
.