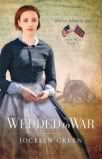 When Civil War erupted, Charlotte Waverly traded a life of privilege for a chance at a life of significance.
Before we revisit with today's author, I want to announce that the two winners of the signed copies of my books are
pmk56@ . . .
and
jeanereads@ . . .
Congratulations! I'll email each of you today to get your mailing address, and we'll get your books to you right away.
I encourage readers to keep commenting and/or subscribe at right (above my list of books) in order to participate in future book give-aways!
Now let's visit with novelist
Jocelyn Green,
author of
Wedded to War
(River North Fiction, July 2012).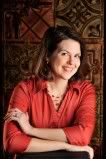 Jocelyn Green is an award-winning author and freelance writer. A former military wife, she authored, along with contributing writers, the Faith Deployed devotional books for military wives. Jocelyn also co-authored of
Stories of Faith
and
Courage from the War in Iraq & Afghanistan
, and
Stories of Faith and Courage from the Home Front,
which inspired her first novel:
Wedded to War
.
Jocelyn graduated from Taylor University in Upland, Indiana, with a B.A. in English, concentration in writing. She is an active member of the Evangelical Press Association, Christian Authors Network, the Advanced Writers and Speakers Association, American Christian Fiction Writers, and the Military Writers Society of America.
Jocelyn lives with her husband Rob and two small children in Cedar Falls, Iowa.
Please tell us five random things we might not know about you.
--I once was a nanny in Mexico.
-- I once shared an apartment building with a suspect for the 9-11-01 terrorist attacks. (I lived in Arlington and worked on Capitol Hill during the time.)
--My favorite brain food is almonds, and my favorite indulgence is chocolate, so Toblerone is a gift from God.
--In every home I've ever lived in, I've painted at least two walls the color red.
--I'm a sucker for Broadway musicals. Favorites include
Mama Mia
and
Les Miserables
.
Oh, I'm a huge fan of Les Miserables! Saw it at the Kennedy Center during its premier year--the set design just blew me away, as did the music.
Please tell us a bit more about the plot of Wedded to War.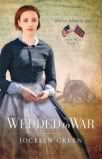 It's April 1861, and the Union Army's Medical Department is a disaster, completely unprepared for the magnitude of war. A small group of New York City women, including 28-year-old Charlotte Waverly, decide to do something about it, and end up changing the course of the war, despite criticism, ridicule and social ostracism.
Charlotte leaves a life of privilege, wealth-and confining expectations-to be one of the first female nurses for the Union Army. She quickly discovers that she's fighting more than just the Rebellion by working in the hospitals. Corruption, harassment, and opposition from Northern doctors threaten to push her out of her new role.
At the same time, her sweetheart disapproves of her shocking strength and independence, forcing her to make an impossible decision: Will she choose love and marriage, or duty to a cause that seems to be losing?
What is it about your lead character that will make your readers care about her/him?
We root for Charlotte because she tries to break the mold of what privileged Victorian women are expected to do (or rather, not do), not because she is rebellious, but because she desperately wants to serve and make a contribution to society.
If you were the casting director for the film version of your novel, who would play your lead roles?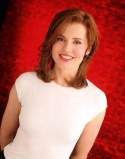 Geena Davis might be a good fit for Charlotte Waverly.
And Ryan Gosling would be a good Caleb Lansing.
Ah, what is it about Ryan Gosling? He's not really that good looking. But I just wasted half an hour looking at his pictures.
What would you say was the turning point in your path to becoming a published author?
The first contract. I knew I wanted to be an author for years, but it took three years to sell the first book. (Yes, I was agented for all those three years, and still am.) After the first book, I've been publishing at least two per year.
Good for you! Not all of us have that consistent a publishing history. What is the last novel you read that you would recommend?
Still Life in Shadows
by Alice J. Wisler. I would highly recommend it because it gives a perspective on the Amish life from a former-Amish character, who helps other young people escape their Amish communities. I found it to be a balanced and refreshing read, and the fact that the main character was based on a real person makes it all the more worthwhile.
What are you working on now?
I just turned in
Widow of Gettysburg,
which is book 2 in the Heroines Behind the Lines series.
Wedded to War
was book 1. So I'll be editing that for a little while, working with the publisher. I also recently contracted with Moody to work on a
5 Love Languages Military Edition
book with Dr. Gary Chapman, so I need to get cracking on that, too.
Wow, that's an exciting project--the Love Languages edition!
Where else can readers find you online?
www.heroinesbehindthelines.com
www.jocelyngreen.com
www.facebook.com/jocelyngreenauthor
The book is available at fine book stores and for online purchase via the following buttons:
CBD.com
Finally, what question would you like to ask my readers?
I love reading Civil War and World War 2 stories. What is your favorite time setting to read?
Thank you, Jocelyn, for visiting with us and telling us about your novel.
Readers, Jocelyn has offered to give a signed copy of her book to the winner of our drawing on Monday, October 15
.
To enter, leave a comment below in answer to Jocelyn's question, above. "Please enter me" won't get you entered.
Leave your email address, in case you win, like so: trish[at]trishperry[dot]com.
Be sure to check out my interview with
Susan Lyttek
, below. Leave an appropriate comment at the bottom of the post to enter the drawing for a signed copy of the book.
And see my post about an exciting new
cell phone plan
I started using recently. I'm thrilled with it--unlimited talk, text, and data for $49/month, with no contract. Send me an email through the "Email Trish" button, above, if you'd like me to send you a link to learn more about the phone plan and the income opportunity it presents.
Finally, I'd love it if you'd connect with me on Facebook. Just click on my name at the right of today's post.
Annoying legal disclaimer: drawings void where prohibited; open only to U.S. residents; the odds of winning depend upon the number of participants. See full disclaimer
HERE
.