Thirty-something Beth Schurmer has her hands full running The Yarn Shop on Cedarburg's historic Washington Avenue and caring for her aging grandfather, so the last thing she needs is romance…although a guy who's a brownie expert might be the exception.
Before we revisit with today's author, I want to announce that the winner of the signed copy of Mary Ellis's novel,
Living in Harmony
, is:
CarolNWong@ . . .
Congratulations! I'll email you today to get your mailing address, and we'll get your book to you right away.
I encourage readers to keep commenting and/or subscribe at right (above my list of books) in order to participate in future book give-aways!
Now let's visit with novelist
Cynthia Ruchti
, author of
Maybe Us
, in the
Cedar Creek Seasons
novella collection (Barbour Publishing, September 2012).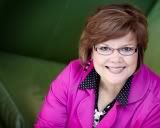 Cynthia Ruchti wrote and produced The Heartbeat of the Home radio ministry for 33 years. She was past president of American Christian Fiction Writers and now serves as ACFW's professional relations liaison.
Whether through novels, devotionals, non-fiction, or speaking to women's groups, writers, or her grandchildren, she's engaged in telling stories of Hope-that-glows-in-the-dark. www.cynthiaruchti.com
Please tell us five random things we might not know about you.
--I connected with my agent, Wendy Lawton, while we were both celebrating our 35th wedding anniversaries on an Alaskan cruise.
--I once worked for a world-famous knitting and wool supplies enterprise and as a sidelight to that job knit bulky v-neck vests for a high-class boutique in California.
--My first job out of college was in a chemistry lab.
--I discouraged would-be muggers on the mean streets of Chicago one time by facing off with, "If we had any money on us, do you think we'd be walking in this neighborhood?" I was 18 and from small town America. What did I know?
--My third child was born 45 minutes after I arrived at the hospital. The OB nurses commented, "She's still smiling! And she didn't even mess up her eye makeup!" ☺ Don't ask about the labor story for my second child!
Quite a variety there, Cynthia!
Please tell us a bit more about the plot of Maybe Us.
Beth Schurmer has her hands full running her deceased grandmother's Yarn Shop in the charming community of Cedarburg, Wisconsin and caring for her aging grandfather. It's not what she would have chosen for a career, but she knows she's needed and serves from a grateful heart.
When a new shop opens two doors down—Life by Chocolate—and Derek the owner turns out to be not only 7 feet tall but a world-class brownie expert, more than the smell of cocoa and autumn are in the air. She can't afford to divide her heart or affections. Not now. Or is she missing the point? And what's with the secret everyone seems to know but her?
What is it about Beth that will make your readers care about her?
Beth cares deeply about offering her grandfather whatever he needs in the waning years of his life, even at the expense of her own dreams. Her respect for him sometimes makes her lose touch with what her own heart needs. Haven't we all been there?
Trust your sweet nature to think so, Cynthia. I think I can be just the opposite--focusing more on my own needs at the expense of others. But don't tell anyone. It will be our little secret.
Still, that would make me even more drawn to a sweetheart character like Beth.
If you were the casting director for the film version of your novel, who would play your lead roles?
Beth has hair the color of a roasted marshmallow, but if she'd be willing to visit a quirky hair salon, I think Meg Ryan could play the role. Derek is uber-tall, with copper corkscrew curls. I don't know what actor would play his part, but the young man I sat next to on the plane to St. Louis one time would be perfect for the part!
I found it impossible to find a picture of Meg Ryan with dark hair, so we'll have to settle for dark blond and good imaginations. I can't think of a striking red-haired male--maybe you have ideas, readers?
Speaking of films, which novel would you like to see brought to film?
Not just because she's my friend, but I think Becky Melby's recent series, beginning with
Tomorrow's Sun
(Barbour Publishing), would lend themselves to fascinating visual productions. She writes so the books become mind-movies. How great would it be to see them on the big screen?
What is the last novel you read that you would recommend?
I'm rereading
Havah
by Tosca Lee, the story of Eve told through her eyes and Tosca's imagination (plus a wealth of research). I consider it must-reading for every woman. Relationship-changing…both in my relationship with my husband and in my relationship with God.
Tosca's writing is as gorgeous as she is. I loved Havah, too.
What are you working on now?
I recently turned in edits for a full-length novel—
When the Morning Glory Blooms
(Abingdon Press)—which releases in April of 2013. So much of my heart is in that book. I'm working on edits for a non-fiction releasing in July of 2013—
Ragged Hope: Surviving the Fallout of Other People's Choices
(Abingdon Press Christian Living), a book I pray has a hope-giving impact for readers. And I'm at work on another full-length novel—
All My Belongings
—which releases in 2014 (Abingdon Press). Another challenging project, but one that moves my own heart as I write.
Where else can readers find you online?
www.cynthiaruchti.com
www.hopethatglowsinthedark.com
www.facebook.com/cynthiaruchtireaderpage
www.twitter.com/cynthiaruchti.net
www.pinterest.com/cynthiaruchti
www.linkedin.com/cynthiaruchti
That's probably enough, huh? Connecting with readers and other authors is a deep joy-producer for me, so I do hope your readers will come visit!
The book is available at fine book stores and for online purchase via the following buttons:
CBD.com
Finally, what question would you like to ask my readers?
Cedarburg's cultural and artistic community coupled with a beautiful and historically rich setting made it a perfect spot from which to tell a story. What location is a favorite of yours? What makes it seem as if it's already plump with stories ripe for the picking?
Thank you so much, Trish. It's an honor to share some time with you and your readers here.
Thank you, Cynthia, for visiting with us and telling us about your novel.
Readers, Cynthia has offered to give a signed copy of her book to the winner of our drawing on Thursday, September 13
.
To enter, leave a comment below in answer to Cynthia's question, above. "Please enter me" won't get you entered.
Leave your email address, in case you win, like so: trish[at]trishperry[dot]com.
Be sure to check out my interview with
Ronie Kendig
, below. Leave an appropriate comment at the bottom of the post to enter the drawing for a copy of the book.
And see my post about
cell phones
. I just signed up today and am truly jazzed. Send me an email through the "Email Trish" button, above, if you'd like me to send you a link to learn more about this exciting new opportunity.
Finally, I'd love it if you'd connect with me on Facebook. Just click on my name at the right of today's post.
Annoying legal disclaimer: drawings void where prohibited; open only to U.S. residents; the odds of winning depend upon the number of participants. See full disclaimer
HERE
.