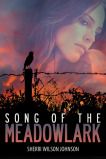 When trusting others causes nothing but pain and rejection, and loving ends only in loss, what will it take to restore hope again?
Today we're visiting with novelist
Sherri Johnson
, author of
Song of the Meadowlark
(Oak Tara, July 2012).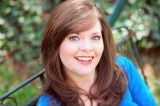 Sherri Wilson Johnson is the author of
To Dance Once More
(2011) and S
ong of the Meadowlark
(2012). She is from Georgia, has been married since 1988, and is a former homeschooling mom. She loves to write, read, and make people laugh. She loves Jesus and hopes to spread His love to the whole world through her writing.
Please tell us five random things we might not know about you.
-- I once put on a bark collar and barked to see if it was working because my Labrador wouldn't stop barking.
--I laugh when I find out bad news. I don't know why I do this. I guess it's a defense mechanism.
--I have lived in Georgia in only two counties my entire life.
--I was a preacher's daughter.
--I met my husband when I was fourteen.
I definitely want to hear more about those first two items, Sherri. We'll talk.
Please tell us a bit more about the plot of Song of the Meadowlark.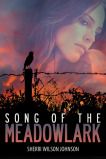 Shamed by the uncovered truth about her missing husband's secret life, Cora Buchanan sets out on a road trip for home to mend her broken relationship with her parents. While traveling through Georgia—through a town experiencing missing and murdered women—her car breaks down leaving her stranded. Cora stays at the struggling Southern Hope Ranch until she can get back on the road.
While there, a bond develops between Cora and little Susie O'Reilly, who unexpectedly fills a void in Cora's heart.
Cora is abducted and then soon after learns the news of her absent husband's murder. She finally journeys home but wants to return to Georgia to help save the ranch and to aid the family when the crimes hit too close to home.
Will Rex O'Reilly, the bitter widower angry with God—and father to Susie—stand in her way?
What is it about Cora that will make your readers care about her?
Cora's husband abandoned her, was arrested and later killed. She has to find a way to start over financially and relationally. In an effort to heal her broken relationship with her parents, broken because of their opposition to the marriage, she travels home—a humbling experience.
If you were the casting director for the film version of your novel, who would play your lead roles?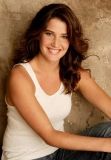 Cobie Smulders for Cora.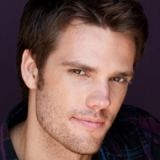 And Michael Stegall for Rex, possibly.
What is one of your favorite opening lines from a novel?
"Scarlett O'Hara was not beautiful, but men seldom realized it when caught by her charm as the Tarleton twins were."
from
Gone with the Wind
. (All heroines should be like this.)
What is the last novel you read that you would recommend?
Short-Straw Bride
by Karen Witemeyer was the last book I read and, yes, I would highly recommend reading it. She is an awesome writer! She gets into the head of her characters. She uses great description without going overboard.
What are you working on now?
I am polishing my third novel,
After the Raging Storm
, and beginning edits on my debut novel's sequel,
To Laugh Once More.
I'm also working on agent proposals.
Where else can readers find you online?
sherriwilsonjohnson.com
Finally, what question would you like to ask my readers?
When the heroine of the story has a jumbled up life and she's trying to make a better way of living for herself, do you find it easier to connect with her or harder?
Thank you, Sherri, for visiting with us and telling us about your novel.
Readers, Sherri has offered to give a signed copy of her book to the winner of our drawing on Thursday, August 16
.
To enter, leave a comment below in answer to Sherri's question, above. "Please enter me" won't get you entered.
Leave your email address, in case you win, like so: trish[at]trishperry[dot]com.
Be sure to check out my interview with
Kathi Macias
, below. Leave an appropriate comment at the bottom of the post to enter the drawing for a copy of the book.
And leave a comment below my post about
cell phones
to be entered into a drawing for any one of my books--your choice.
And I'd love it if you'd connect with me on Facebook. Just click on my name at the right of today's post.
Annoying legal disclaimer: drawings void where prohibited; open only to U.S. residents; the odds of winning depend upon the number of participants. See full disclaimer
HERE
.