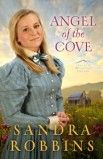 When a young woman goes to study with a mountain midwife in 1894, she must decide between following her dream of being a nurse in New York or staying in the mountains with the people she's come to love.
Before we revisit with today's author, I want to announce that the winner of the signed copy of Lorena McCourtney's novel,
Dying to Read
, is:
lcarnley@ . . .
Congratulations! I'll email you today to get your mailing address, and we'll get your book to you right away.
I encourage readers to keep commenting and/or subscribe at right (above my list of books) in order to participate in future book give-aways!
Now let's revisit with novelist
Sandra Robbins
, author of
Angel of the Cove
(Harvest House, August 2012).
Sandra Robbins and her husband live in the small college town where she grew up. Until a few years ago she was working as an elementary school principal, but God opened the door for her to become a full-time writer. Her books have been finalists in the Daphne du Maurier Contest for excellence in mystery writing, the Gayle Wilson Award of Excellence, the Holt Medallion, and the ACFW Carol Award.
Since Sandra is a Southerner by birth, she enjoys setting her historical romance and romantic suspense books in both the past and present-day South. Her latest book
Angel of the Cove
released August 1 from Harvest House Publishers.
Please tell us five random things we might not know about you.
-- Sandra's idea of a fun night out is going to a movie with her family and then heading to the yogurt shop afterwards.
-- One place that Sandra has on her wish list for a visit is Prince Edward Island.
--Sandra enjoys cooking for her family but hates cleanup afterwards.
--Her favorite television channel is Investigation Discovery, possibly because of her interest in mystery and suspense.
--When Sandra was a senior in high school (long, long ago), she was voted the girl Most Likely to Succeed.
How exciting to know your class had that kind of confidence in you! And look how you proved them right.
Please tell us a bit more about the plot of Angel of the Cove.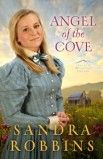 It's 1894, and new opportunities are available for young women who want to become nurses. Anna Prentiss's dream of becoming a student at Bellevue Hospital in New York and working in their maternity ward after graduation depends on the report concerning her abilities that her family gets from a legendary mountain midwife in the Smoky Mountains.
Anna is determined to prove herself as she travels to Cades Cove, Tennessee, a remote valley in the mountains, to assist a midwife who practices under primitive conditions, but she hasn't counted on meeting Simon Martin, a mountain preacher who grieves his own lost dreams. She has withstood her family's objections to going to New York, but she never expected her heart would also become her adversary.
As attraction between the two grows, Anna is determined nothing will keep her from her goal, and Simon fears he is losing his new dream of having Anna stay in the Cove with him. Will they continue to dwell on their personal desires, or can they surrender their futures to God and allow Him to make them one heart that is responsive to His will?
What is it about Anna that will make your readers care about her?
Anna Prentiss has a burning desire to accomplish her goal of becoming a nurse. She realizes the long road she must travel to reach that goal, and she is determined to learn all she can along the way. In addition she has a heart for people, and she offers love to whoever she comes in contact. Readers will enjoy seeing Anna's journey to maturity as she learns to place her future in God's hands.
If you were the casting director for the film version of your novel, who would play your lead roles?
Annasophia Robb would play Anna.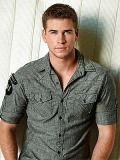 And Liam Hemsworth would play Simon. Of course he'd have to master the Appalachian twang first.
What is one of your favorite opening lines from a novel?
I love the opening line from
Wonders Never Cease
by Tim Downs, but then I'm a huge fan of his work.
"I was six years old when I saw my first angel, and nobody was too thrilled about it."
What is the last novel you read that you would recommend?
I would recommend all three of Suzanne Collins's books:
The Hunger Games
,
Catching Fire
, and
Mockingjay
. I refused to read these books at first because I had heard they dealt with children killing children. Then I decided I needed to see what all the buzz was about. Needless to say, I thought they were wonderful. These books should have great appeal to writers because they are constantly increasing the stakes. One problem gets solved and another much worse one surfaces. Keeping the readers guessing what can possibly happen next is what makes for a page turner.
I put off reading them as well, for the same reason. Now I've read the first two and look forward to reading the third. Thanks for not spoiling anything!
What are you working on now?
I am finishing the third book in the Smoky Mountain Dreams Series for Harvest House and working on a historical romance set in 1917 America.
A Lady's Choice
deals with a young woman who travels to Washington to demonstrate with suffragists outside the White House gates. The book will release from Summerside Press in their new American Tapestries line in April, 2013.
Where else can readers find you online?
Readers can connect with me online at
sandrarobbins.net
I'm also on Facebook, Twitter, and Goodreads.
The book is available at fine book stores and for online purchase via the following buttons:
CBD.com
Finally, what question would you like to ask my readers?
I'm always looking for a good book to read, so I'll ask your readers this question. What have you read lately that you would highly recommend for a friend to read?
Thank you, Sandra, for visiting with us and telling us about your novel.
Readers, Sandra has offered to give a signed copy of her book to the winner of our drawing on Monday, August 27
.
To enter, leave a comment below in answer to Sandra's question, above. "Please enter me" won't get you entered.
Leave your email address, in case you win, like so: trish[at]trishperry[dot]com.
Be sure to check out my interview with
Melody Carlson
, below. Leave an appropriate comment at the bottom of the post to enter the drawing for a copy of the book.
And see my post about
cell phones
. Leave me a comment if you'd like me to email you an invitation to hear more about this exciting new opportunity.
And I'd love it if you'd connect with me on Facebook. Just click on my name at the right of today's post.
Annoying legal disclaimer: drawings void where prohibited; open only to U.S. residents; the odds of winning depend upon the number of participants. See full disclaimer
HERE
.