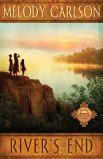 Three generations of women struggle to find family unity and repair their relationships as they converge at Shining Waters Inn on the banks of the Siuslaw River.
Before we revisit with today's author, I want to announce that the winner of the signed copy of one of my novels is:
lilsis1952@ . . .
And the winner of the signed copy of Sherri Johnson's novel,
Song of the Meadowlark
, is:
sarahackerman@ . . .
Congratulations! I'll email you both today to get your mailing addresses, and we'll get your books to you right away.
I encourage readers to keep commenting and/or subscribe at right (above my list of books) in order to participate in future book give-aways!
Now let's revisit with novelist
Melody Carlson
, author of
River's End
(Abingdon Press, August 2012).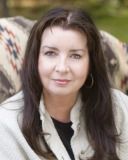 Melody Carlson is one of the most prolific novelists of our time. With around 200 books published and sales topping 5 million, Melody writes primarily for women and teens. She's won numerous honors and awards, including The Rita, The Gold Medallion and Romantic Times Career Achievement Award. Some of her books are being considered for TV movies and film.
Melody has two grown sons and one beloved granddaughter. She makes her home in the Pacific Northwest with her husband.
When not writing, Melody likes to travel, bike, camp, garden, and walk her dog Audrey in the great outdoors.
Please tell us five random things we might not know about you.
-- I've swum across a crocodile infested river in Papua New Guinea.
-- I used to be an atheist.
-- Fifty-percent of my heritage is unknown to me (because my father was adopted at birth) so I like to "make up" what my ancestors might've been. I've been "half Jewish, half Native American, half Irish..." whatever interests me at the moment.
-- I love old movies from the 30's and 40's.
-- It takes two cups of coffee to get me fully functioning in the morning.
I can't help but wonder if your first item didn't do a little something about your second...
Please tell us a bit more about the plot of River's End.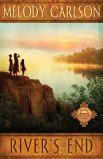 The Shining Waters series was inspired by the Siuslaw River, a coastal estuary that's near our beach cabin on the Oregon Coast. The river is named after a coastal Indian tribe (Siuslaw) that has intrigued me for years.
I heard that the Siuslaw were a matriarchal society and that, after being sent to a reservation where most perished, the government eventually offered survivors the opportunity to file land claims. Although few claims were actually filed, I decided to create a story around 'what if?'
In the first book (
River's Song
) Anna Larson returns to her family home, creating a peaceful riverside inn, where she welcomes guests and attempts to reunite broken family relationships. Her daughter Lauren returns to the river in book two (
River's Call
). And in book three (
River's End
) the granddaughter Sarah is estranged from her family.
After running away from home, Sarah chooses to live in some various commune situations, but her grandmother refuses to give up and eventually brings a broken Sarah back to the river. There she works through her issues, including unforgiveness, and ultimately finds the wholeness and family she's been searching for.
What is it about Anna that will make your readers care about her?
Anna Larson is the kind of person I'd like to be. She's generous, kind and hospitable. Best of all, she is extremely gracious. She understands the power of forgiveness from her own experiences. Anna builds the inn on the river into a place of beauty and healing. Despite her admirable qualities and lovely habitat, she has family members that challenge her peaceful existence on almost every level. And yet she never gives up on any of them. Her dream is for wholeness and healing for all and her perseverance pays off.
If you were the casting director for the film version of your novel, who would play your lead roles?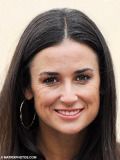 Because Anna is half Native American, and in her fifties but youthful looking, I'd choose someone like Demi Moore. But she couldn't be glammed up.
Demi even lets a little gray hair show in this shot!
What is one of your favorite opening lines from a novel?
"
Happy families are all alike: every unhappy family is unhappy in its own way
." (
Anna Karenina
)
What is the last novel you read that you would recommend?
The Sweetness at the Bottom of the Pie
by Alan Bradley because Flavia de Luce (the eleven year old main character, written by a 70 year old man) was simply delightful and unexpected. This charming English mystery is unlike anything I've read for some time. I can't wait to read the rest of the series.
I listened to that one on audiobook. It really was unusual and fun. A great character.
What are you working on now?
I'm in the midst of my Christmas novella (for 2013) which is untitled. (This year's Christmas novel is
The Christmas Pony
.)
Where else can readers find you online?
www.melodycarlson.com
The book is available at fine book stores and for online purchase via the following buttons:
CBD.com
Finally, what question would you like to ask my readers?
Where is your favorite place to read?
Thank you, Melody, for visiting with us and telling us about your novel.
Readers, Melody has offered to give a signed copy of her book to the winner of our drawing on Thursday, August 23
.
To enter, leave a comment below in answer to Melody's question, above. "Please enter me" won't get you entered.
Leave your email address, in case you win, like so: trish[at]trishperry[dot]com.
Be sure to check out my interview with
Lorena McCourtney
, below. Leave an appropriate comment at the bottom of the post to enter the drawing for a copy of the book.
And see my post about
cell phones
. Leave me a comment if you'd like me to email you an invitation to hear more about this exciting new opportunity.
And I'd love it if you'd connect with me on Facebook. Just click on my name at the right of today's post.
Annoying legal disclaimer: drawings void where prohibited; open only to U.S. residents; the odds of winning depend upon the number of participants. See full disclaimer
HERE
.