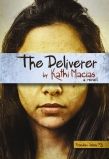 After ten years in sexual slavery, Mara is finally free—but can she ever be free of the hatred that spurs her on to seek revenge against those who betrayed and abused her?
Before we revisit with today's author, I want to announce that the winner of the signed copy of
The Stars Shine Bright
, by Sibella Giorello, is:
heidivargas@ . . .
Congratulations! We'll get your book to you right away.
I encourage readers to keep commenting and/or subscribe at right (above my list of books) in order to participate in future book give-aways!
Now let's revisit with novelist
Kathi Macias
, author of
The Deliverer
(New Hope Publishers, August 2012).
Kathi Macias is a multi-award winning writer who has authored nearly 40 books and ghostwritten several others. A former newspaper columnist and string reporter, Kathi has taught creative and business writing in various venues and has been a guest on many radio and television programs.
Kathi is a popular speaker at churches, women's clubs and retreats, and writers' conferences, and she won the prestigious 2008 Member of the Year award from AWSA (Advanced Writers and Speakers Association), as well as 2011 Author of the Year from BooksandAuthors.net. Her novel Red Ink was a 2011 Carol Award finalist and won 2011 Novel of the Year from Golden Scrolls.
A wife, mother, grandmother, and great grandmother, Kathi "Easy Writer" Macias lives in Homeland, CA, with her husband, Al, where the two of them spend their free time buzzing around in their new ride: Al's 2005 sunburst orange Corvette.
Please tell us five random things we might not know about you.
-- My husband and I are Harley riders.
--I spent a day on Death Row at San Quentin.
--I helped David "Son of Sam" Berkowitz edit his prison memoirs.
--I've known my husband since we were six years old.
--I was once introduced as Rosey Grier's bodyguard!
I'm sure Rosey was glad he had you on his side!
Please tell us a bit more about the plot of The Deliverer.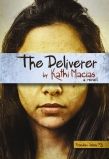 The Deliverer
picks up about six months after book two in the series,
Special Delivery
, leaves off.
Lawan, the young girl who had been trapped in a brothel in Thailand, is now free and winging her way to join her new family in San Diego, though she struggles with fears of the unknown and self-imposed shame from her past.
Mara, still living in San Diego and working as a waitress at a seaside café, has struggles of her own, including her attraction to Bible college student Jonathan Flannery and her hatred toward her family, who sold her into slavery as a young girl.
Jonathan too wrestles with his feelings for Mara, knowing her sordid past as well as the anger that drives her. Ultimately, only the Deliverer Himself can bring resolution and peace to each of them, though each must submit control to His sovereignty.
What is it about Mara that will make your readers care about her?
Mara is the primary character, and though few can relate to the horror she has experienced, all can relate to the struggle to yield our own plans and desires to God's, especially when His plans seem so unfair in light of what we have experienced.
If you were the casting director for the film version of your novel, who would play your lead roles?
Being unfamiliar with current Hollywood names, I would be open to suggestion. In fact, I'd love to hear some ideas from readers!
What is one of your favorite opening lines from a novel?
"It was the best of times, it was the worst of times."
from
A Tale of Two Cities
. I feel this sums up so well the times we're living in today.
What is the last novel you read that you would recommend?
My favorite all-time novel, which I always recommend, is
Cry the Beloved Country
by Alan Paton. It challenged me at the very roots of my faith, and I believe it will do the same for others.
Yes. A lovely book. I watched the film version just last month, and it just couldn't live up to the book.
What are you working on now?
I'm currently working on my new "Patches of Courage" trilogy, which begins releasing in January 2013 with the first novel,
The Moses Quilt
, a contemporary story of an interracial romance, told against the backdrop of a quilt made to honor the life of Harriet Tubman.
Where else can readers find you online?
In addition to
www.kathimacias.com
or
www.boldfiction.com
they can find me on Facebook (Kathi Macias author) and Twitter (@alandkathi) and at
www.thetitus2women.com
The book is available at fine book stores and for online purchase via the following button:
CBD.com
Finally, what question would you like to ask my readers?
What topics would it take to move you beyond reading for pleasure or escape to reading with the intention of being challenged and changed?
Thank you, Kathi, for visiting with us and telling us about your novel.
Readers, Kathi has offered to give a signed copy of her book to the winner of our drawing on Monday, August 13
.
To enter, leave a comment below in answer to Kathi's question, above. "Please enter me" won't get you entered.
Leave your email address, in case you win, like so: trish[at]trishperry[dot]com.
And I'd love it if you'd connect with me on Facebook. Just click on my name at the right of today's post.
Annoying legal disclaimer: drawings void where prohibited; open only to U.S. residents; the odds of winning depend upon the number of participants. See full disclaimer
HERE
.