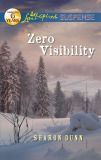 Two strangers find themselves stranded on a mountain during a freak storm pursued by three thieves who are bent on killing them.
Before we revisit with today's author, I want to announce that the winner of the signed copy of
Homefront Hero
, by Allie Pleiter, is:
lanehillhouse@ . . .
Congratulations! I'll contact you today for your snail mail address, and we'll get your book to you right away.
I encourage readers to keep commenting and/or subscribe at right (above my list of books) in order to participate in future book give-aways!
Now let's visit novelist
Sharon Dunn
, author of
Zero Visibility
(Love Inspired Suspense, July 2012).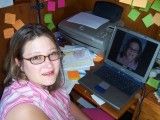 Sharon Dunn is an award-winning writer of both humorous mysteries and romantic suspense. Her second Love Inspired book,
Night Prey
, received the Carol Award for short suspense.
When she isn't writing, she spends time with her three children, husband and very nervous border collie.
Please tell us five random things we might not know about you.
--I quit eating almost all processed sugar this year.
--My home is next to a hiking trail and a river.
--I love the Agatha Christie Poirot mysteries starring David Suchet.
--I used to think I was a cat person, but since getting our border collie Bart, I starting to think I might be a dog person.
--I love using coupons when I shop.
Sharon, you're the second person in a row who mentioned more healthy eating in your list of five. I hear you! I find that, as I get older, I'm forced to eat better. The "good old days"--when I ate as much junk as I wanted--seem to have gone the way of disco, perfect skin, and a youthful waistline!
Please tell us a bit more about the plot of Zero Visibility.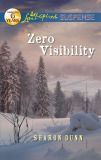 While taking a shortcut on a road trip, college student Merci Carson gets robbed. She is rescued by Nathan McCormick who is visiting his family property on the mountain one last time before he sells it. When the thieves pursue Merci and Nathan, they start to think it is more than a random robbery.
Nathan and Merci must fight the elements as well as the thieves bent on killing them. The book explores what it takes to survive and not lose hope under extreme circumstances.
What is it about Merci that will make your readers care about her?
I love Merci's optimism and I love that even though she came from a rich family, she chose to pay her way through college. It's Merci's optimism that often saves her and Nathan as they fight for survival on the mountain. I also love that Merci always wants to think the best of people.
If you were the casting director for the film version of your novel, who would play your lead roles?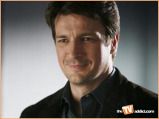 The role of Nathan would be played by Nathan Fillion from
Firefly
and
Castle
.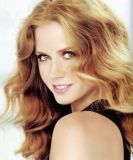 The role of Merci would be played by Amy Adams.
My son has been playing Firefly reruns this week, so Nathan Fillion comes swiftly to mind and seems perfect for a heroic role. And Amy Adams seems to be such a versatile actress. Good choices! You'll have to let us know when the film releases.
What is your favorite book on the craft of writing?
Love James Scott Bell's
Plot & Structure
.
What is the last novel you read that you would recommend?
Melody Carlson's
Finding Alice
. Very compelling and a strong sense of voice.
What are you working on now?
I have a mystery with a working title of
Patchwork of Lies
that will be part of the Creative Woman mystery series. And I have another Love Inspired suspense coming out in March 2013 called
Guard Duty
. It's part of a series that features a K-9 police unit in a mid size Texas town. Love writing about those doggies.
Where else can readers find you online?
www.sharondunnbooks.net
The book is available at fine book stores and for online purchase via the following buttons:
CBD.com
Finally, what question would you like to ask my readers?
Do you define yourself as a cat person or a dog person?
Thank you, Sharon, for visiting with us and telling us about your novel.
Readers, Sharon has offered to give a signed copy of her book to the winner of our drawing on Thursday, July 26
.
To enter, leave a comment below in answer to Sharon's question, above. "Please enter me" won't get you entered.
Leave your email address, in case you win, like so: trish[at]trishperry[dot]com.
Be sure to check out my interview with
Vannetta Chapman
, below. Leave an appropriate comment at the bottom of the post to enter the drawing for a copy of the book.
And I'd love it if you'd connect with me on Facebook. Just click on my name at the right of today's post.
Annoying legal disclaimer: drawings void where prohibited; open only to U.S. residents; the odds of winning depend upon the number of participants. See full disclaimer
HERE
.