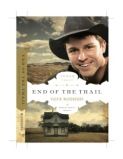 He won a ranch in a card game. She claims the ranch is her inheritance. He's not leaving--and neither is she.
In today's bonus post, we're revisiting novelist
Vickie McDonough
, author of
End of the Trail
(River North, a division of Moody Publishing, June 2012).
Vickie McDonough is an award-winning author of 25 books and novellas. Her novel,
Long Trail Home
, is a finalist in the 2012 Booksellers' Best Awards, and her books have won the Inspirational Reader's Choice Contest, Texas Gold, the ACFW Noble Theme contest, and she has been a multi-year finalist in ACFW's BOTY/Carol Awards.
She is the author of the fun and feisty Texas Boardinghouse Brides series from Barbour Publishing and author of
Long Trail Home
and
End of the Trail
, books 3 & 6 in the Texas Trails series by Moody Publishers, in which she partners with Susan Page Davis and Darlene Franklin to write a series which spans 50 years of the Morgan family and incorporates actual events of Texas history.
Vickie is currently serving her third year as the ACFW treasurer.
Vickie and her husband live in Oklahoma. She has been married for thirty-six years and is the mother of four grown sons and grandma to a precocious six-year-old girl. When she's not writing, Vickie enjoys reading, gardening, watching movies, antiquing, and traveling.
Please tell us five random things we might not know about you.
---- When I was 14, I bought a motorcycle with money I'd made from babysitting. I couldn't get a driver's license until I was 16, but I could get a motorcycle license at 14.
---- When I was a girl, I dreamed of growing up and marrying a rancher. Instead, I married a sweet computer geek who is scared of horses.
---- I write in my recliner in my living room, using my laptop, and quite often, I'm wearing my pajamas. I sometimes have to make a mad dash to my bedroom to throw on my clothes when I hear the UPS truck coming our way.
---- I've never drank a cup of coffee in my life. When I have caffeine, I like it cold, in the form of a Coke.
---- I've visited all but 15 of the states in the U.S. It's a dream of mine to visit all 50 before I die.
I had to laugh, Vickie. I'm drinking a nice hot cup of coffee as I edit this post.
Please tell us a bit more about the plot of End of the Trail.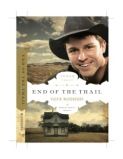 Brooks Morgan is quick on the draw, but his weapon of choice is his smile. He's smart and witty and has charmed his way through much of life, but now he's growing older—and a bit wiser. He wants to stop drifting and settle down. He sees his chance when he wins Raven Creek Ranch in a poker game, but when he goes to claim his prize, a pretty woman with a shotgun says the ranch belongs to her.
Brooks isn't leaving his one and only chance to make something of his life—but neither is she.
Can they reach an agreement? Or will a greedy neighbor force a showdown, causing them both to lose they want most in life?
What is it about Brooks that will make your readers care about him?
Brooks is a charmer. He jokes a lot, but often times, it's to hide pain or to avoid getting serious. (Like Rick Castle in the
Castle
TV show.) He doesn't know how to deal with pain, so he acts cocky, hoping to charm his way out of tough situations. I hope readers will understand that he's a man in pain from past mistakes but he doesn't like to dwell on them.
If you were the casting director for the film version of your novel, who would play your lead roles?
The picture on the cover of the book reminds me of Robert Redford in his younger days.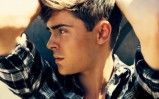 If I had to pick an actor closer to Brook's real age, I'd pick Zac Efron.
Whom do you consider a fascinating fictional character?
One of the first people to come to mind is Tony Dinozzo on
NCIS
. We've been watching
NCIS
since it's beginning. TV characters are stronger in my mind because I see them most weeks. I find Special Agent Tony Dinozzo interesting. He tries to play things tough, but he's a big tease and joker, and loves making connections between movie scenes and actual things that happen. He cares deeply for those on his team, but he wouldn't dare let them know that. He portrays himself as a lady's man, but deep inside, I believe he's longing for "the one" woman to step in and change his world.
I especially liked a recent scene in a church when Tony thought he was alone and started talking to God. Very revealing. Tony is a fun character, and I love the banter that carries on between him and Ziva and him and McGee.
Hmm. You're a good advertiser for the series. I've never watched it, but I like the sound of that character.
What is the last book you read that you would recommend?
The Homesteader's Sweetheart
by Lacy Williams. It's a great book—a poor man/wealthy woman story. The hero and heroine are both interesting characters, but there is a huge supporting cast which adds humor, tension, and drama. This is just Lacy's second book, but she did a great job with it.
What are you working on now?
I'm putting together a proposal for a new book.
Where else can readers find you online?
My website is
www.vickiemcdonough.com
and I'm also on Facebook and Twitter. Moody created a fabulous website for the Texas Trails series.
www.texastrailsfiction.com
The book is available at fine book stores and for online purchase via the following buttons:
CBD.com
| | |
| --- | --- |
| | |
Finally, what question would you like to ask my readers?
I tend to write a good chunk of the hero's point of view in most of my books. I suppose that has to do with the fact that I raised four sons and am comfortable writing men. What characteristics do you like to see in heroes that you read about. What traits do you not like to see?
Thank you, Vickie, for visiting with us and telling us about your novel.
Readers, Vickie has offered to give a signed copy of her book to the winner of our drawing on Monday, June 25
.
To enter, leave a comment below in answer to Vickie's question, above. "Please enter me" won't get you entered.
Leave your email address, in case you win, like so: trish[at]trishperry[dot]com.
Be sure to check out my interviews with
Rhonda Gibson
and
Louise Gouge
, below. Leave an appropriate comment at the bottom of each post to enter the drawing for a copy of the book.
And I'd love it if you'd connect with me on Facebook. Just click on my name at the right of today's post.
Annoying legal disclaimer: drawings void where prohibited; open only to U.S. residents; the odds of winning depend upon the number of participants. See full disclaimer
HERE
.